Enabling MR guided SBRT treatments for prostate cancer
Courtesy of Prof. Filippo Alongi, IRCCS ospedale. Sacro Cuore - Don Calabria, Negrar-Verona, Italy
Overview
73 years old patient with intermediate "favourable" risk prostate cancer (iPSA 6.56 ng/mL, Gleason score 3+4, no evidence of extracapsular disease at staging with pelvic RMN and Choline PET/CT).
Rectal-Spacer spacer was placed between prostate and rectum and a SBRT schedule in 5 fractions was proposed offering to the patient the opportunity to be treated by Elekta Unity MR-Linac, when compared with our previous standard of care for SBRT in prostate cancer (conventional Linac with RapidArc technique for delivery and CBCT as IGRT)
Rational for using Elekta Unity:
The superior image quality of MR imaging at time of treatment enabled to visualize in real time the tumor directly without the need of fiducials during the treatment, as well as the surrounding organs at risk.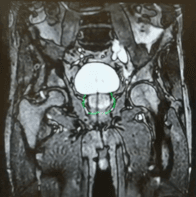 The ability to daily adapt the plan based on the size, shape and position of the anatomy (Image below) evaluated in real time during each session (see the change in bladder shape over the course of treatment in the images below), margins were reduced and dose to the surrounding OAR (bladder, rectum and urethra) limited.

Beams
The mBeam plan is equivalent in plan quality to a VMAT plan.
Note: as part of the treatment for this patient, clinicians created VMAT and mBeam plans; both plans were equivalent.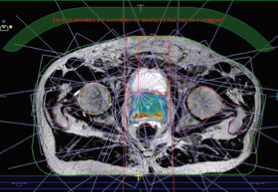 Technical planning comments
The treatment over 5 fractions was delivered using a daily Adapt to Shape workflow, with a median time per session of 50 minutes (in/out treatment room).
Report
At the end of the treatment, no acute side effects were reported. After five months, the PSA decreased to 1.09ng/mL (nadir), without late signs and/or symptoms related to the SBRT treatment.