Gamma Knife® Radiosurgery for Cerebral AVM
Institution: Parkway Gamma Knife Centre, Mount Elizabeth Novena Hospital
Location: Singapore
Author: Bengt Karlsson, MD, PhD Neurosurgeon
Overview
An arteriovenous malformation (AVM) is an abnormal tangle of blood vessels connecting arteries and veins. If a cerebral AVM ruptures, it will cause a bleeding in the brain, which could be lethal or result in a stroke.
A 31-year-old right-handed female presented with occasional episodes of migraine and a seizure in 2018. The patient was diagnosed with a large AVM in the left temporal lobe, without evidence of any earlier hemorrhage.
Why Gamma Knife Radiosurgery was chosen
It was determined that microsurgical AVM removal would present an unacceptable risk of severe complications.
Proximity to brain stem and optic pathways, as well as the large volume of the AVM, would make a steep dose gradient and a highly conformal treatment plan necessary, which is possible to achieve with Leksell Gamma Knife due to its high precision and unique dosimetry capabilities.
Different portions of the AVM were fed from different vessels, and the simplicity of fusing MR and angiogram images in Leksell GammaPlan contributes to making target definition more accurate.(Figures 1-2)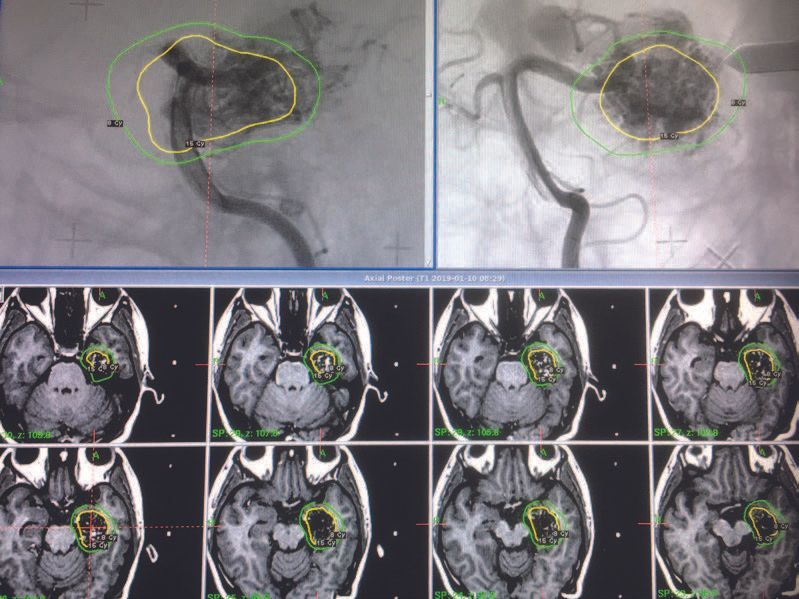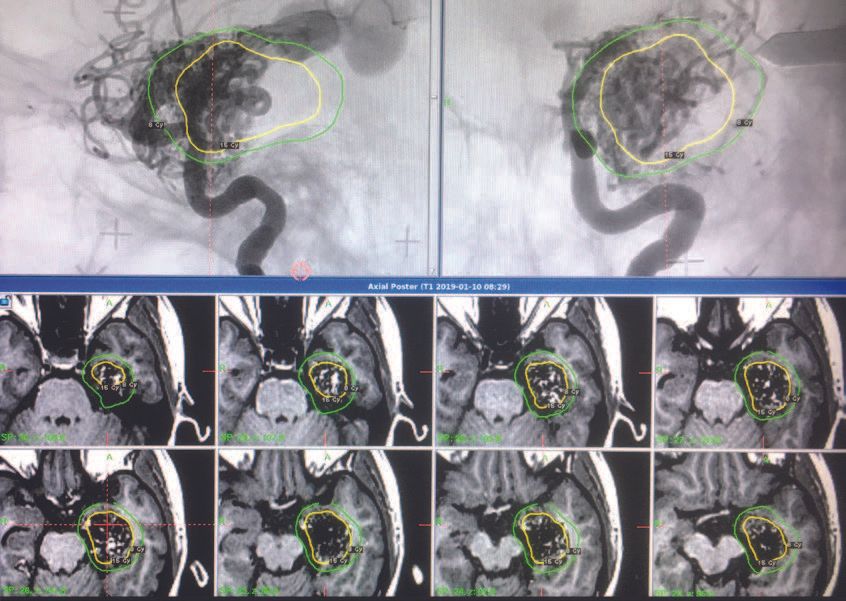 Treatment
The treatment was performed in a frame-based, single-session procedure.
The dose plan consisted of 21 isocenters using 4-, 8- and 16-mm collimators. The aim was to limit the dose to the brain stem to 8 Gy and yet include the AVM nidus within the prescription isodose line. As seen in Figure 3 this could be achieved by using the multiple isocenter concept as well as by optimally using the powerful sector tool (blocking some of the sectors for some isocenters).
The prescription dose was chosen as 15 Gy. This optimally balanced the chances of effective AVM obliteration with respect to the risk of complications and post-treatment hemorrhage.
Results
The patient has not experienced any complication or hemorrhage after Gamma Knife radiosurgery (GKRS) and the migraine ceased during the one-year follow up period.
The two year follow-up MR (Figure 4) shows that the blood flow through the AVM has significantly decreased, suggesting that the obliteration process is underway. The decreased flow does not eliminate the risk for a future hemorrhage, but it has most likely contributed to a decreased risk of seizures and migraine. The lack of edema seen in the follow-up image (right image) also suggests that the radiation impact on the surrounding healthy brain tissue is limited.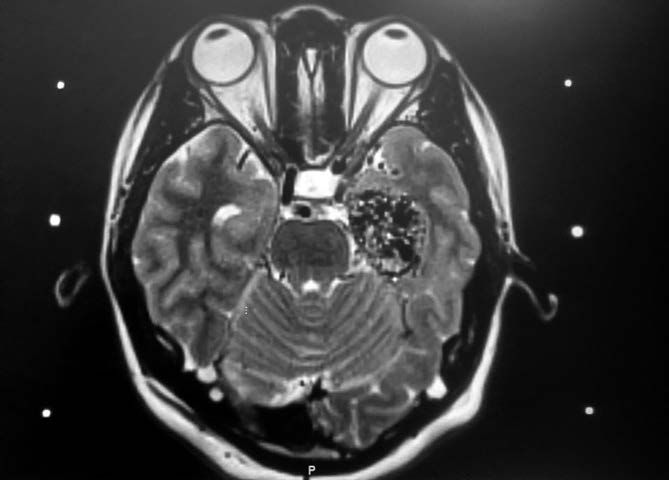 Conclusion
"Leksell Gamma Knife has proven to be superior for treatment of AVMs where high conformity, steep dose gradient at the target periphery and integration of imaging information from different MR and angiography examinations are necessary. In my 35 years of experience treating patients with Gamma Knife, I have not seen dose planning software that allows one to create a complicated treatment dose plan that not only conforms to the target volume, but also takes the surrounding critical structures into account, with such ease and user friendliness."
Dr. Bengt Karlsson
GKRS is well accepted as a standard treatment for cerebral AVMs and is included in standard neurosurgery textbooks for surgeons in training.1 The method is simple and safe and avoids the risks associated with open cranial surgeries. In addition, it permits the treatment of lesions that are inaccessible by any other means.
References
Samandouras G. The Neurosurgeon's Handbook. Oxford: Oxford University Press; 2009.