Combination therapy with Gamma Knife radiosurgery and immunotherapy for melanoma brain metastases
Case: Stage 4 melanoma with multiple brain metastases.
Contributor: Ronald E. Warnick, MD, Co-Director, Mercy Jewish Gamma Knife Center, Cincinnati, Ohio, USA
Overview
A 47-year-old female patient diagnosed with a right thigh melanoma underwent resection of the lesion in 2013 (Breslow depth 1.7 mm, Clark level IV, negative regional lymph nodes). She was diagnosed in 2016 with recurrent melanoma in the right thigh, inguinal nodes and left chest well. A staging MRI revealed two brain metastases (Figure 1); the patient reported no headaches and no neurological symptoms were detected.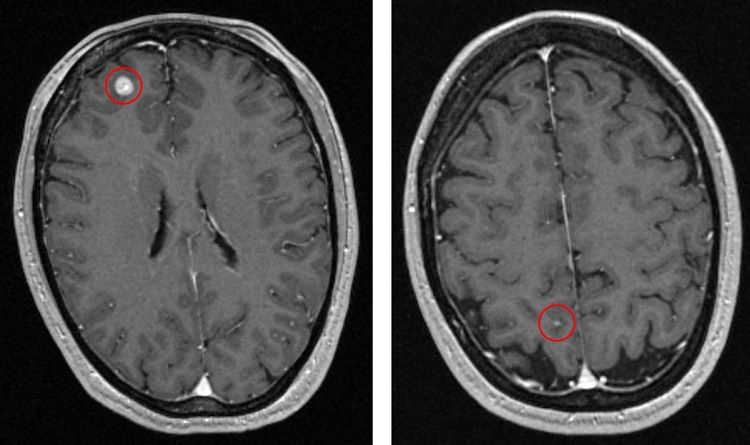 A combined approach
Due to the patient's relative youth and health, clinicians declined to consider whole brain radiation therapy (WBRT) because of the treatment's potential to cause neurocognitive deficits. Gamma Knife® radiosurgery, however, is an ideal treatment for multiple brain metastases by virtue of its ability to deliver a high integral dose to the tumor, with a rapid dose fall-off into adjacent healthy brain tissue. Moreover, Gamma Knife radiosurgery can be combined with biological and immunological agents.
In a synergistic effect, radiosurgery triggers the release of tumor antigens and activation of tumor-specific T-cells that enhance the effects of immunotherapy. Concurrent radiosurgery/immunotherapy (within four weeks) is associated with improved overall survival.1-3 Tumor pseudo progression can occur three to four months after concurrent therapy, but this generally resolves over six to eight weeks.
This patient was considered a good candidate for combination radiosurgery/immunotherapy based on the following factors:
Young age
Limited systemic disease (i.e., favorable prognosis)
Oligometastases (two lesions, small volume)
Treatment protocol
The patient underwent Gamma Knife radiosurgery on September 16, 2016. The frame-based treatment was performed in a single session and entailed the delivery of 24 Gy to the 50% isodose line to lesion A (Figure 2, left image). Six isocenters were used: 5 x 4mm isocenters and a single 8mm isocenter. Lesion B (Figure 2, right image) received a total dose of 24Gy delivered to the 83% isodose line. A single 4mm isocenter was used.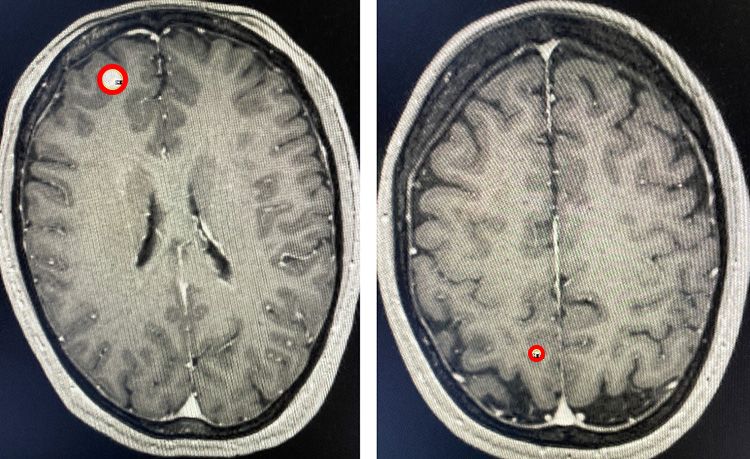 The patient received her first dose of Keytruda*(pembrolizumab), a PD-1 inhibitor, one week after radiosurgery, with subsequent doses at three-week intervals. She received 60 infusions of the immunotherapy drug Keytruda for over three years without any side effects.
*Keytruda (pembrolizumab) is an FDA-approved prescription medicine used to treat melanoma. It may be used when melanoma has spread or cannot be removed by surgery (i.e., advanced melanoma), or it may be used to help prevent melanoma from returning after it and lymph nodes that contain cancer have been removed by surgery. For more information, click here.
Results
Follow-up MRI scans showed a complete response with a small foci of hyperintensity on the T1-weighted pre-contrast pulse sequence which was consistent with melanin. The patient's complete response on the MRI scans three months after Gamma Knife radiosurgery remained consistent over the course of follow-up scans – including the most recent scan in December 2019.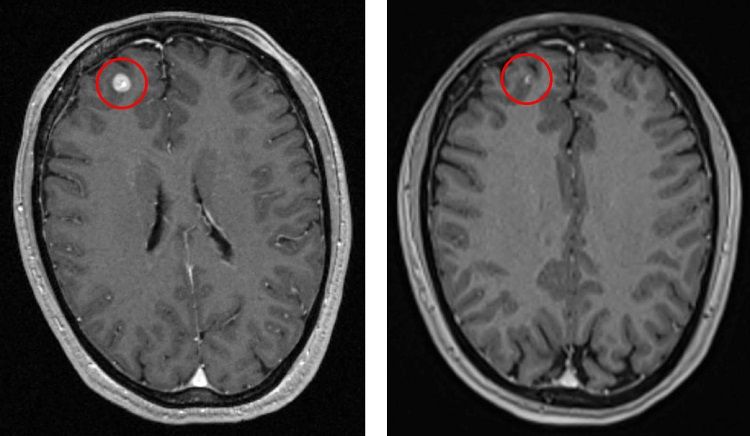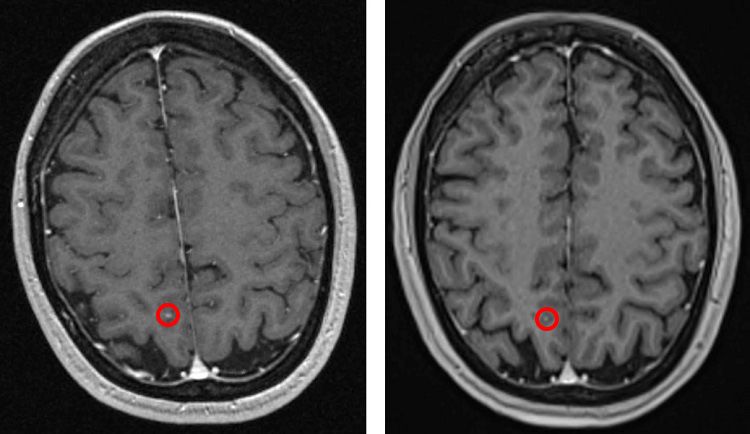 Conclusion
Gamma Knife radiosurgery combined with immunotherapy (immune checkpoint inhibitors) resulted in complete remission of the patient's metastases, both intracranial and systemic. This combination therapy has been demonstrated to improve tumor control and survival in patients with melanoma brain metastases.
Recent studies have confirmed that concurrent therapy (within four weeks) produces the best result.1-3 Ongoing studies will determine if this advantage also holds true for non-small cell lung cancer (NSCLC) treated with a similar regimen.
References
Murphy B, Walker J, Bassale S, et al. Concurrent radiosurgery and immune checkpoint inhibition: improving regional intracranial control for patients with metastatic melanoma. Am J Clin Oncol. 2019;42(3):253-257. doi:10.1097/COC.0000000000000509
Schapira E, Hubbeling H, Yeap BY, et al. improved overall survival and locoregional disease control with concurrent PD-1 pathway inhibitors and stereotactic radiosurgery for lung cancer patients with brain metastases. Int J Radiat Oncol Biol Phys. 2018;101(3):624-629. doi:10.1016/j.ijrobp.2018.02.175
Martins F, Schiappacasse L, Levivier M, et al. The combination of stereotactic radiosurgery with immune checkpoint inhibition or targeted therapy in melanoma patients with brain metastases: a retrospective study. J Neurooncol. 2020;146(1):181-193. doi:10.1007/s11060-019-03363-0