Saudi Arabian physicist leaves retirement for the other side of the table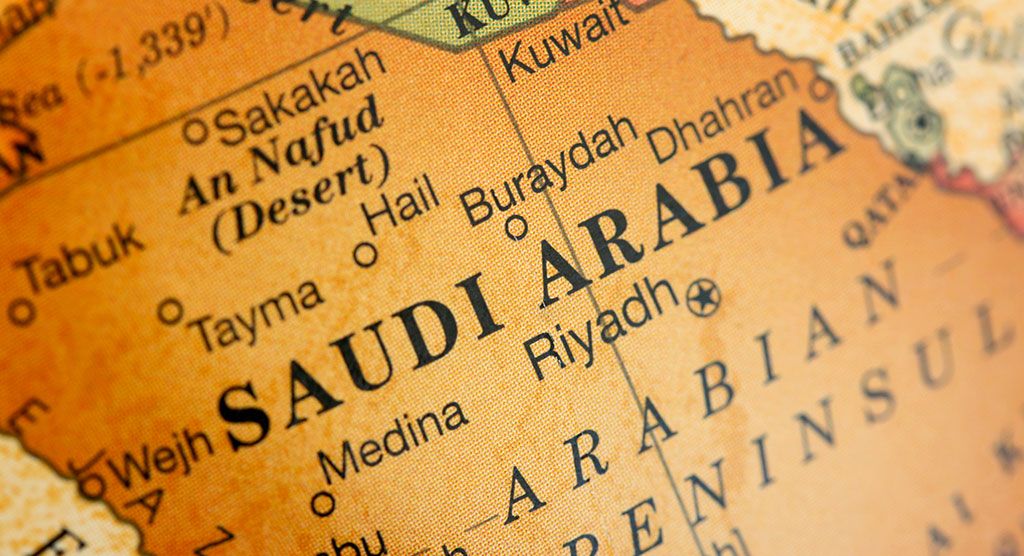 Radiotherapy
Dr. Saleh Mohammed Bamajboor reflects on his 36-year hospital career and his new role at the country's sole Elekta distributor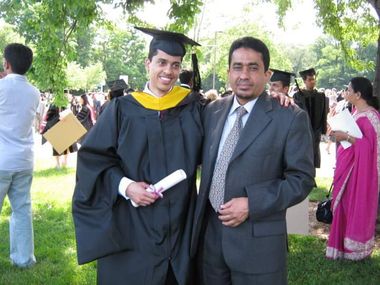 In April 2018, taking a well-deserved break from his duties as Clinical Medical Physicist at Prince Sultan Military Medical City (formerly known as Riyadh Military Hospital), Saleh Mohammed Bamajboor, BSc, MSc, began enjoying retirement with his wife, eight children and six grandchildren. However, after just a few months, device distributor Al Faisaliah Medical Systems (FMS) came calling. Because Dr. Bamajboor's professional reputation in Saudi Arabia was well-known, he would be a great choice to manage FMS's Oncology Solutions Unit. Initially he declined, but with periodic, gentle persuasion over the next several months, FMS convinced him to take the position.
Since September 2019, Dr. Bamajboor has served as FMS's Oncology Solutions Unit Manager, overseeing the distribution and installation of Elekta solutions in the Kingdom. With experience on both sides of the table now, he has developed a unique perspective of the worlds of both healthcare provider and equipment provider, as well as a keen understanding of Saudi Arabia's challenges and opportunities in the radiotherapy arena. Jerry Duncan recently spoke with Dr. Bamajboor about his past and present careers and about the status of radiotherapy in Saudi Arabia.
Jerry Duncan (JD): Can you describe the history of radiation therapy in Saudi Arabia?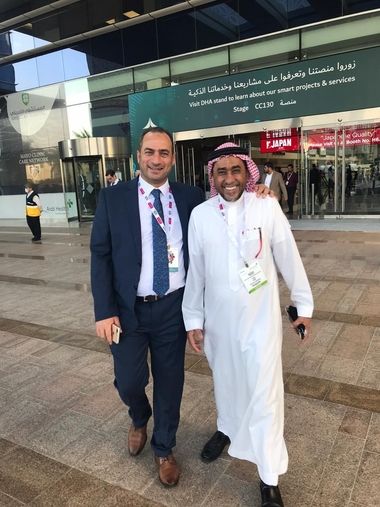 Dr. Bamajboor (SMB): It started in two major tertiary hospitals in Riyadh: King Faisal Specialist Hospital and Riyadh Military Hospital in the late 1970s. When Riyadh Military Hospital's service began operating, its radiotherapy equipment included CGR's Therac-20 "Saturn" high energy linac with a range of electron energies; an AECL Theratron-780c cobalt teletherapy machine; and a CGR Curetron Cs-137 brachytherapy afterloader. The common treatment techniques used were based on simple 2D planning.
Today, there are 11 radiotherapy centers across the country, mostly government hospitals. In terms of radiation therapy services, numbers of systems, RT human resources and expertise, Saudi Arabia is arguably the most advanced in the Middle East.
JD: What are the radiotherapy challenges in the country?
SMB: The inhabitants are rapidly moving away from large, populous cities and to a less crowded way of life in more remote areas. The problem is Saudi Arabia is very large – 830,000 square miles [2.15 million square kilometers] – so the healthcare infrastructure needs to catch up in terms of medical centers and technology, including radiotherapy systems. There are presently about 30 linacs in the country, but I estimate we need at least twice that many. The Ministry of Health [MoH] is working hard to fill the gap. In fact, a tender was released recently to procure several systems through a government entity called the National Unified Procurement Company. In addition, the MoH is reinforcing this effort through Public-Private Participation arrangements. (See SIDEBAR – MoH boosting healthcare infrastructure efforts.)
JD: When did you come on the scene?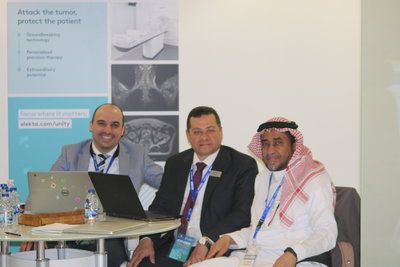 SMB: I started as a junior medical physicist at Jeddah Military Hospital in 1982. In 1985, I began a postgraduate scholarship at the University of Colorado Health Sciences Center in Denver, earning my Master of Science degree in medical physics in 1988. I transferred my job to Riyadh Military Hospital in 1989 to be enrolled in a medical physics residency program, at the hospital's Institute of Physics and Engineering in Medicine [IPEM-UK], with a subspecialty in radiation oncology clinical medical physics, obtaining my MIPEM certification in 1992. I continued working as a medical physicist at the center.
The preceding year, Riyadh Military Hospital had started its linac-based intracranial stereotactic radiosurgery [SRS] program, making it the first in the Middle East with such a service and among only a few other centers in the world. I had the honor to be on the team that developed the SRS program, which included several pieces of in-house developed hardware and software.
Over the last two decades, the hospital converted to all digital technology, replacing all the old machines and systems and introduced extracranial stereotactic radiotherapy. Today, all advanced radiotherapy techniques – IMRT, VMAT, SBRT, SRS, TBI, TSET and IORT – are available to serve cancer patients with the latest technologies. Each of the center's two linacs treats between 20 and 30 patients each day.
JD: Which intracranial indications did you treat with SRS?
SMB: The usual ones – metastases, meningiomas, acoustic neuromas – but our most successful indication was arteriovenous malformations. We had very good results for several years, comparable to any other center in the world, thanks to a micro-MLC we had acquired. We presented our work at several international conferences and people were quite interested in those results. We continued using the micro-MLC for several years until we decided in 2011 to purchase Leksell Gamma Knife® Perfexion™, the Gulf region's first-ever Gamma Knife. We began treating patients in 2013.
JD: How did the Perfexion system impact your practice?
SMB: Gamma Knife® radiosurgery replaced much of the linac-based SRS we had been performing. The most impressive results have been for patients with trigeminal neuralgia. Many times, these patients come in desperate – they've exhausted all the drugs that can be used to relieve their facial pain, and there is nothing anyone can do surgically for them. But with a single Gamma Knife session, many of these patients can have pain relief in a very short time. It's no exaggeration to say we have had more than an 80 percent success rate with these patients.
Three years ago, we expanded treatment eligibility so that not only military personnel and limited numbers of local patients could be treated. Now, everyone is eligible and can pay for treatment with government or private insurance. This coincided with the end of the Perfexion system's source life, so we decided to upgrade to Leksell Gamma Knife® Icon™, the first and only Icon in Saudi Arabia. There have been some delays in upgrading the system up and running, including COVID-19 travel restrictions. The upgrade should be complete before the end of 2020 and it will be a big event for the hospital and the country.
JD: You've been the Oncology Solutions Unit Manager at FMS for several months now – what are your thoughts about being on the technology provider side?
SMB: It's a completely different way of thinking. I still have a lot of sympathy for customers and I still feel like I'm on the customer's side, whether I'm intentionally doing it or not. Sometimes the commentary from the FMS general manager is along the lines of: 'Look, you still have some more years to go for that attitude to change.'
But people I work with think that is probably a healthy image for the company. My clinical customers know that I understand their pain and their challenges. And the oncology community is generally speaking very small, so I'm known by most in the community. In fact, I taught physics to many of the radiation oncology consultants in the country as part of their board certification. It was a big surprise for many of them that I joined the company. When I presented myself with a 'new hat' everyone was congratulating me and have been keen to work with me because they know my background.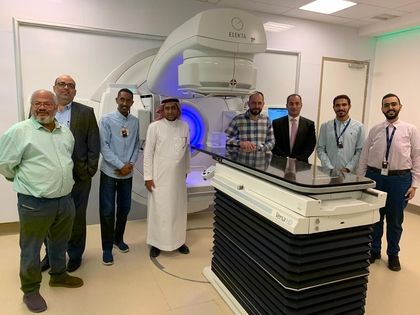 JD: What Elekta solutions has FMS sited in Saudi Arabia?
SMB: It's a wide range, including Versa HD™, Elekta Infinity™, Elekta Synergy® Platform systems, the Perfexion system – which will be upgraded to Gamma Knife Icon soon – as well as brachytherapy afterloaders, MOSAIQ® Oncology Information System and Monaco® treatment planning. The Elekta Unity MR-Linac is under consideration at two sites.
JD: What else should FOCUS readers know about the provision of radiotherapy in Saudi Arabia?
SMB: Saudi Arabia's Ministry of Health has really done an outstanding job in increasing radiotherapy access and services, investing a lot of time and financial resources into the country's healthcare infrastructure in general and radiotherapy specifically. And for those people who can't easily reach radiation therapy facilities, the MoH fully supports their treatment anywhere in the world – in the UK, in the USA and many other countries. The government has truly supported persons who need radiation therapy.
MoH boosting healthcare infrastructure effort
Beginning in 2016, the Saudi Arabia Ministry of Health (MoH) embarked on an ambitious program to greatly strengthen its healthcare infrastructure over a five-year period, in line with the government's Saudi Vision 2030 and the National Transformation Program (NTP).
To increase efficiencies and decrease costs, the government has actively explored private sector involvement in the development of the country's healthcare infrastructure. By introducing Public-Private Participation (PPP) models for healthcare, the government is working toward unleashing value in the health system and fast-tracking healthcare reform with plans to increase private sector contribution in total healthcare spending to 35% by 2020.


NTP targets for the ministry of health for 2020 include:
Increasing the number of licensed medical facilities from 40 to 100
Increasing the number of internationally accredited hospitals
Doubling the number of primary healthcare visits per capita from two to four
Decreasing the percentage of smoking and obesity incidence by 2% and 1% from baseline respectively
Doubling the percentage of patients who receive healthcare after critical care and long-term hospitalization
within four weeks from 25% to 50%
Focusing on improving the quality of preventive and therapeutic healthcare services
Increasing focus on digital healthcare innovations


Source: 2019 Saudi Arabia Healthcare Industry Overview: Toward the healthcare goals of Saudi Vision 2030. Global Health Exhibition.