Oklahoma center's stereotactic radiotherapy program thrives with linac addition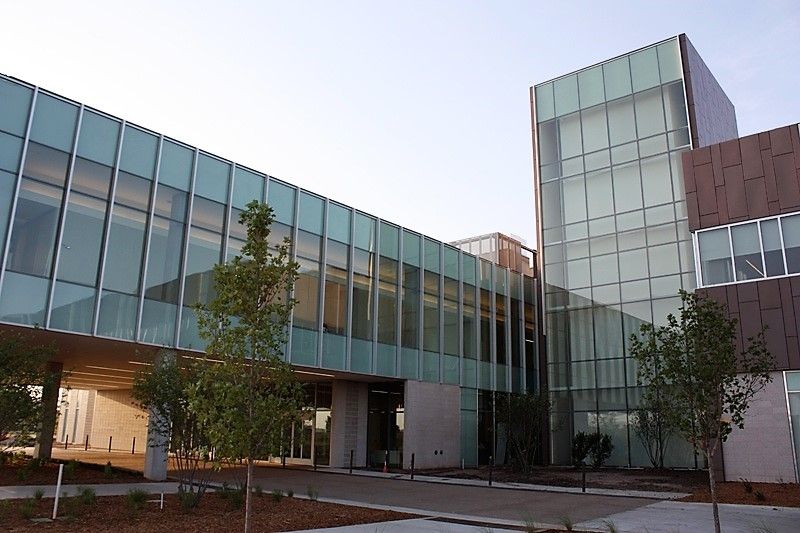 Radiotherapy
Acquisition of second Elekta Versa HD system officially launches linac-based SBRT/SRS service in 2021 at Tulsa's Oklahoma Cancer Specialists and Research Institute
In the areas of throughput, resource use, clinical capabilities and patient experience in SBRT/SRS cases, there is no substitute for an advanced, fully-equipped C-arm linear accelerator, according to officials at Oklahoma Cancer Specialists and Research Institute (OCSRI). Since 2016, the center had been limited to about five stereotactic treatments each day using a robotic radiotherapy system at its St. John's satellite clinic 10 miles from OCSRI's Tulsa main campus. Because the robotic unit was nearing the end of its useful life, OCSRI radiotherapy department clinical staff decided to replace it with a C-arm linac. The goal was to launch a SBRT/SRS service that would leverage the many advantages of a linac over a robotic system.
"A C-arm linac can do many different things – it's like a Swiss Army Knife."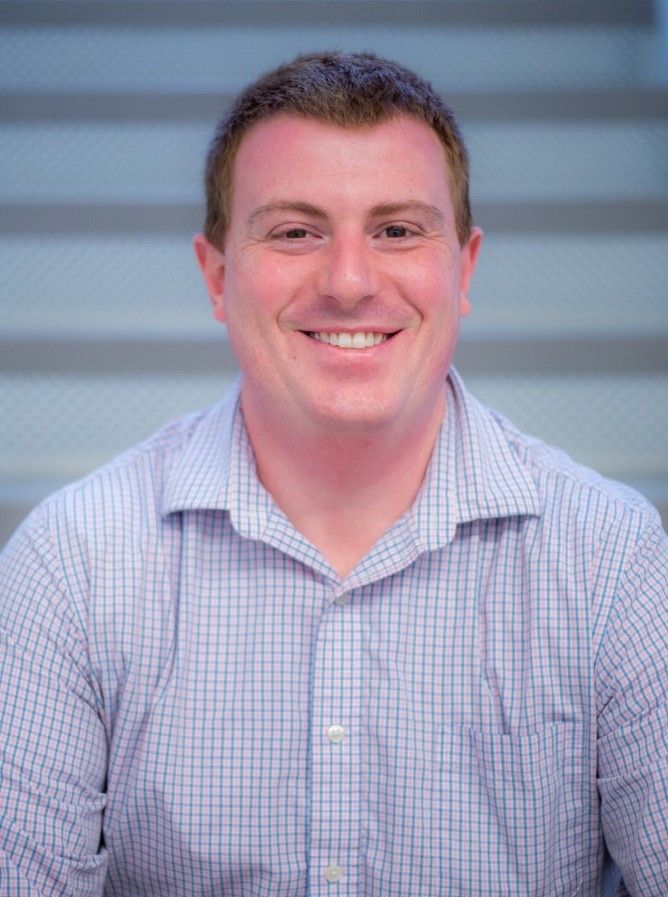 "There was a lot of physician support here for moving on to linac-based stereotaxy," says OCSRI Chief Medical Physicist Justin Silkwood, MS, DABR. "A C-arm linac can do many different things – it's like a Swiss Army Knife. You can treat regular cases, do SBRT and electron radiotherapy and you can deliver treatments faster."
Liz Hyde, MBA, Director of Radiation, Imaging, and Special Support Services, adds that acquiring a C-arm linac would eliminate the limitations and disadvantages of the robotic machine.
"The robotic system required us to use fiducial markers extensively for stereotactic cases, which is a time-consuming process," she says. "And we only had this one system, so if it went down, we couldn't transfer patients."
That system's location in downtown Tulsa also was not optimal, Hyde adds, which drove the decision to locate its C-arm replacement at OCSRI's main campus in Tulsa.
"Relocating SBRT/SRS to Tulsa would avoid sending a doctor, a physicist, a dosimetrist, two therapists and a nurse to the satellite clinic every day," she observes. "Plus, we have more physics coverage here in Tulsa and the doctors here would have greater exposure to the SBRT program."
C-arm SBRT/SRS era begins at OCSRI
For several years, OCSRI Tulsa had been operating two beam-matched Elekta linacs, so the prospect of beam-matching another Elekta system was attractive. The acquisition of a third beam-matched linac – an Elekta Versa HD – would be the foundation of OCSRI's linac-based SBRT/SRS program.
The robotic linac was decommissioned on December 31, 2020 and OCSRI began its C-arm-based SBRT/SRS service with the latest Versa HD system in January 2021.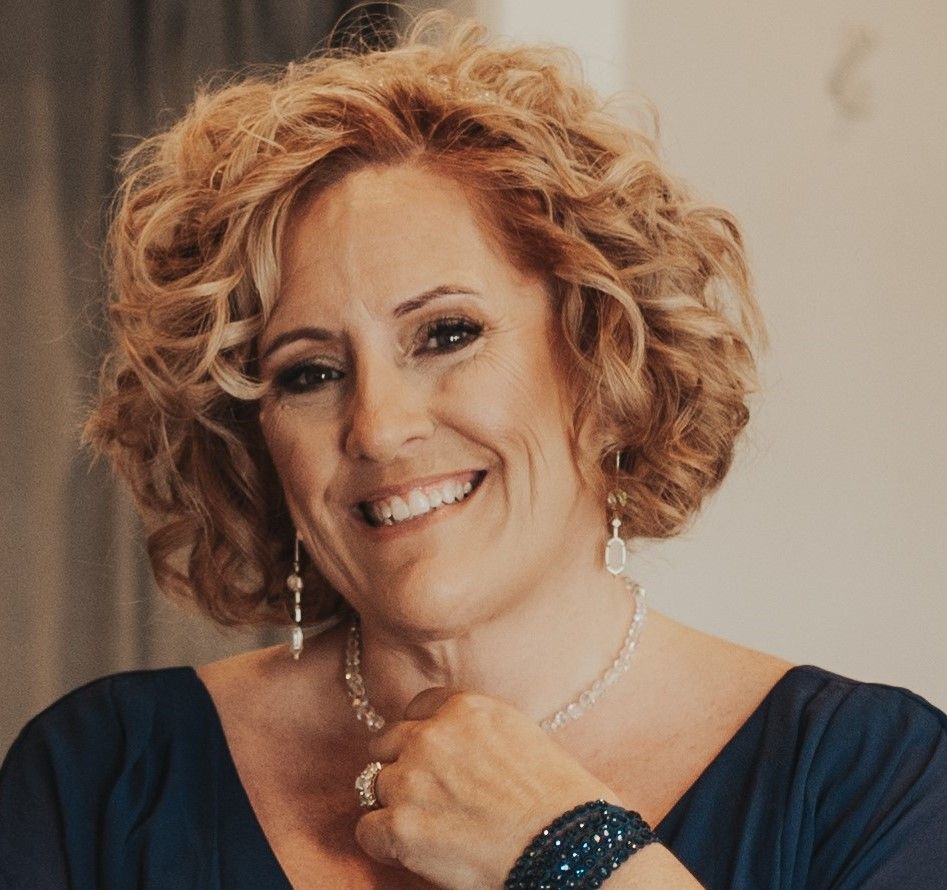 The department's Versa HD systems are mirror images of each other, not only having identical beam models, but also equipped with surface guided imaging for continuous motion management, High Dose Rate mode (i.e., flattening filter-free beam delivery, 6FFF, 10FFF), robotic positioning system, which allows six degrees of couch correction, and advanced beam shaping. All three Tulsa linacs are beam-matched with systems at OCSRI's satellite clinics in Bartlesville (Versa HD, April 2022) and McAlester (Elekta Infinity™ with Agility™ MLC, October 2020). The Elekta linacs are connected by MOSAIQ® Oncology Information System, and Monaco® treatment planning system serves as a hub for directing treatment planning to any Elekta linac under OCSRI's umbrella. In addition, MOSAIQ® Oncology Analytics assembles pertinent data for later analysis and review. To confirm the five systems' interchangeability, Silkwood had a subset of brain, prostate and extremity phantoms receive a fraction on each linac and results were intercompared.
"We determined that the energy and output agreed between the five machines, meaning that for VMAT, 3D photon and electron deliveries – if a patient's usual machine experienced unscheduled downtime – he or she could receive fractions on a different linac without any additional QA," Silkwood says.
The department of radiation oncology dedicates its new Versa HD to mostly stereotactic cases. Seventy percent of this system's daily patient load of 16-18 patients receives SBRT/SRS (10% spine, 25% lung, 20% brain and 15% palliative bone metastases), while 30 percent of the daily patient load receives IMRT for various other anatomical sites. Hypofractionated prostate treatments are also done on this system. The existing Versa HD and Elekta Infinity linacs treat 30-40 non-stereotactic cases each, including DIBH breast patients (Versa HD).
SBRT/SRS volume soars
The efficiency advantages of delivering SBRT/SRS with Versa HD became obvious in OCSRI's first two years of Versa HD use. The institute delivered 1,148 SBRT/SRS treatments in 2021, more than four times as many as in 2020. In 2022, OCSRI delivered 1,611 SBRT/SRS treatments.
The dramatic increase in SBRT/SRS treatments can be attributed to a number of Versa HD features over the robotic arm system it replaced, according to OCSRI radiation oncologist Leslie Yonemoto, MD.
"Versa HD allows us to acquire cone beam CT, whereas the robotic arm system uses orthogonal 2D x-rays, which don't have the granularity to identify the structures you want to treat," he says. "With CBCT, we can see if any changes have occurred since simulation, regarding the tumor shape, size and location. 2D x-rays don't give us much information, particularly with lung cancer, because those lesions aren't well-defined on 2D.
"With Versa HD, there has also been an 80 percent reduction in the number of fiducials we're using."
"With Versa HD, there also has been an 80 percent reduction in the number of fiducials we're using," Dr. Yonemoto adds. "Placing fiducials is not only an additional, time-intensive procedure, but it also can cause significant side effects, such as pneumothorax in lung cases."
By virtue of High Dose Rate mode (FFF) on Versa HD, VMAT deliveries have increased significantly over the last two years, the technique used for half of all cases. The use of VMAT has translated to much shorter beam-on times and slot times versus OCSRI's experience with the robotic system.
"If we're talking about VMAT versus step-and-shoot IMRT, VMAT takes less time to set up and deliver the beam," Silkwood says. "For a long time in Bartlesville all we had was step-and-shoot IMRT and those plans usually took a lot longer if you're using nine to 11 fields. They were harder to initial chart-check for physics and harder to deliver and QA. With VMAT, you can QA it all together – it's much easier."
"Initially, we used FFF for stereotactic cases only, but now we've started using it for regular IMRT cases to speed up the delivery for them as well."
"Initially, we used FFF for stereotactic cases only," says Jeanne Bailey, CMD, Supervisor, Medical Dosimetry, "but now we've started using it for regular IMRT cases to speed up the delivery for them as well."
The increase in beam delivery speed also has allowed OCSRI to expand the scope of stereotaxy to include multiple lesions, according to Dr. Yonemoto.
"You can treat multiple lesions with a single isocenter, which is something you couldn't do with the robotic arm system," he says.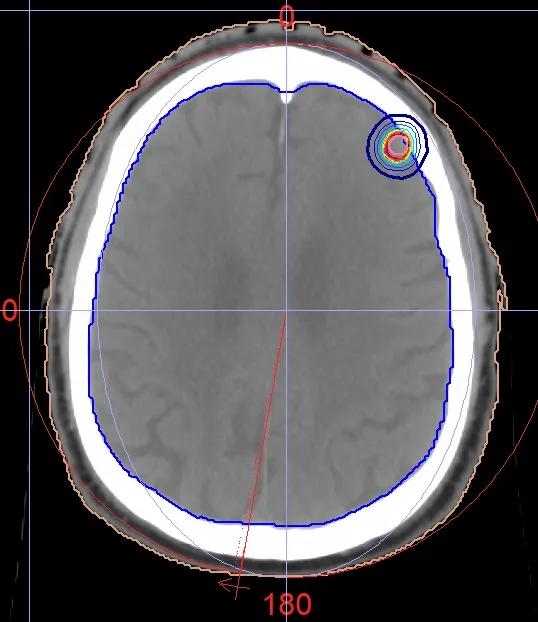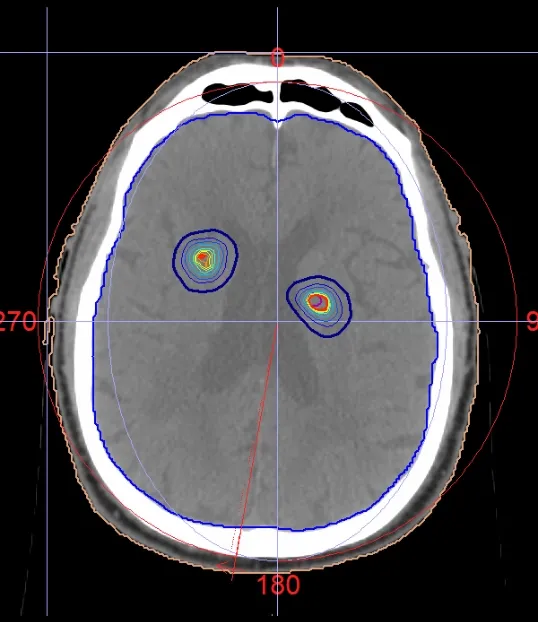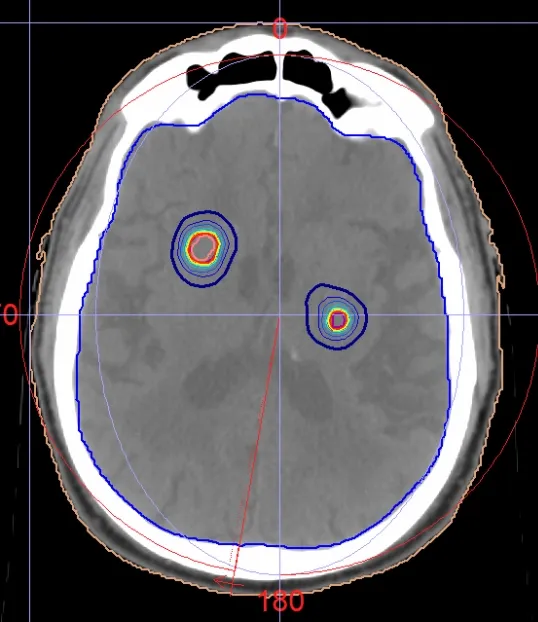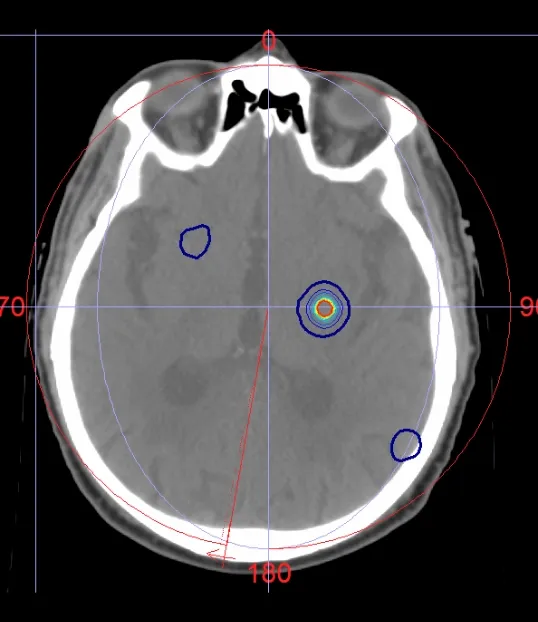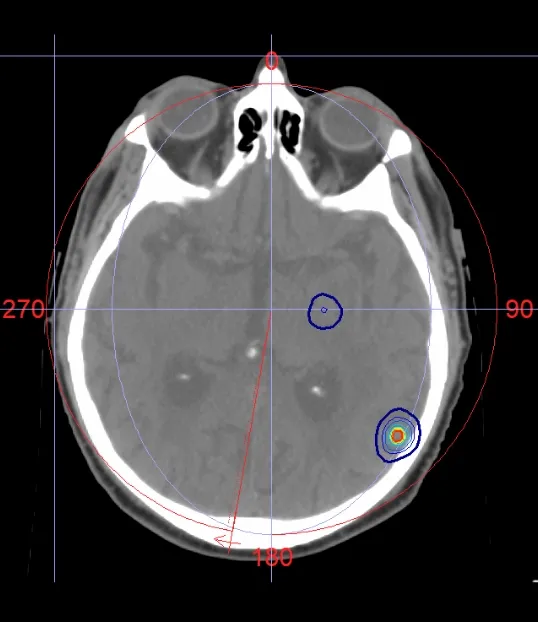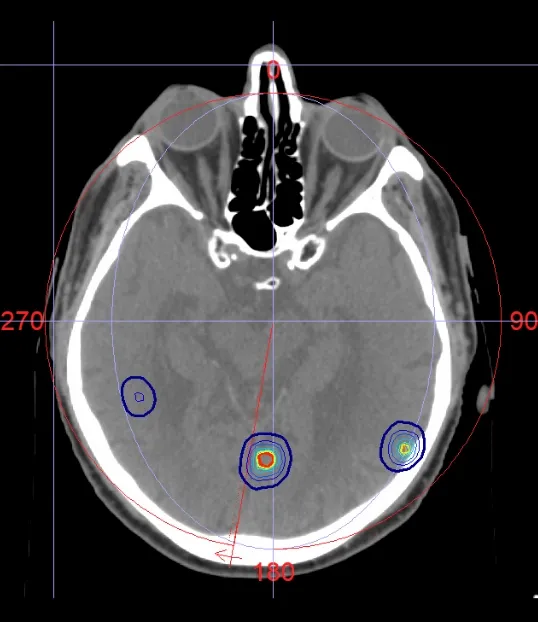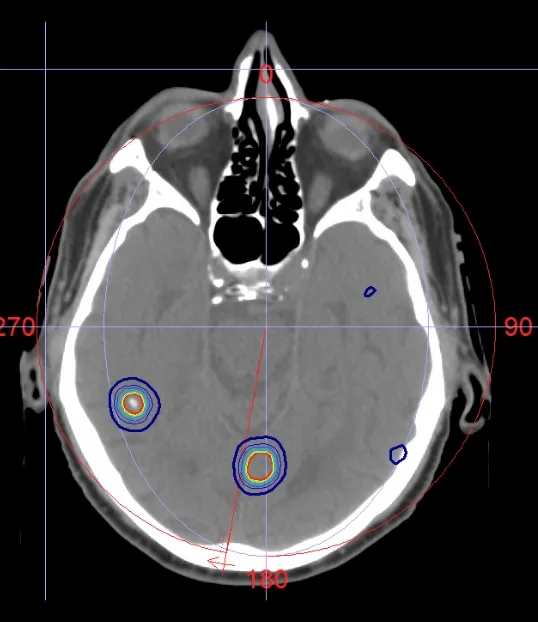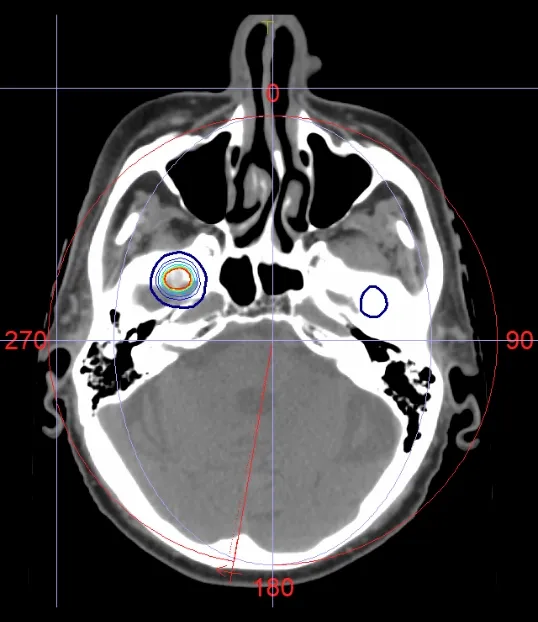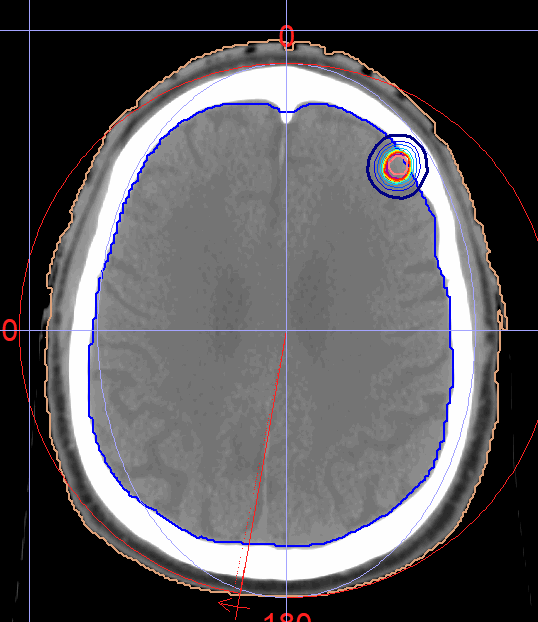 Figures 1-10  SBRT for brain metastasis. The patient previously received 30 Gy in 15 fractions of whole brain irradiation, now presenting with nine distinct brain mets scattered throughout the brain.
The images show very conformal dose distributions around each lesion achieved with Monaco treatment planning and Versa HD delivery. This patient received 30 Gy in 5 fractions to all nine mets.
The dose distribution showcases the ability of Elekta products to tightly conform dose to targets and spare previously irradiated areas while minimizing the risk of adverse effects.
Centralized planning
The benefit of operating five beam-matched Elekta linacs not only enables OCSRI to move patients between the main campus and two satellite clinics in the event of downtime, but it also facilitates centralized treatment planning with Monaco.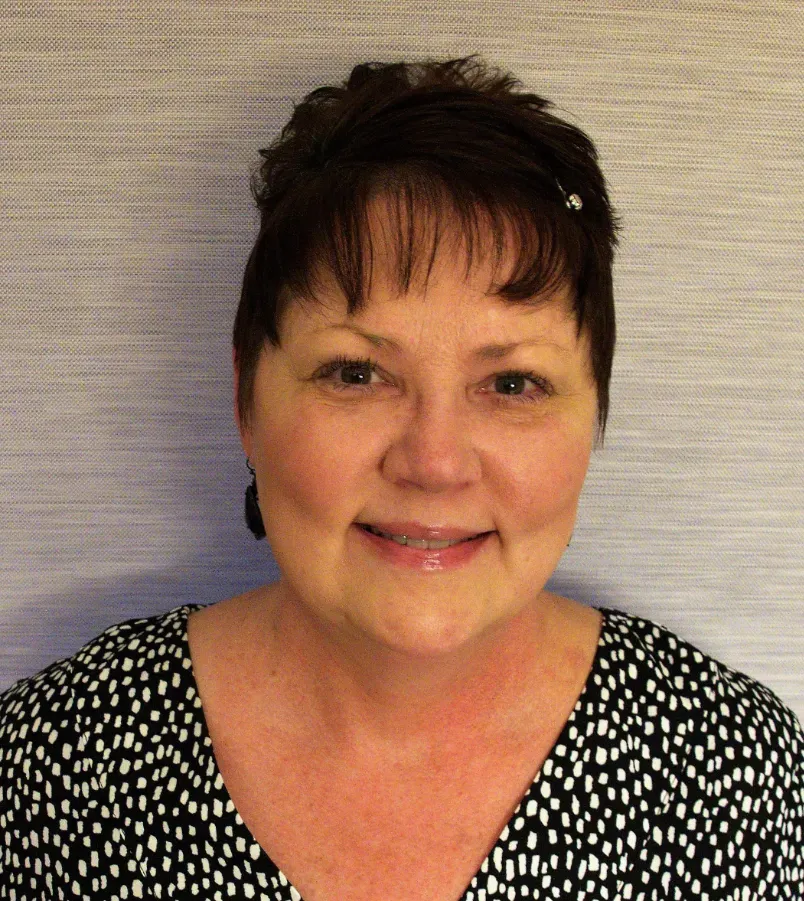 "When we had linacs from two different non-Elekta providers at the Bartlesville and McAlester sites, not all dosimetrists could plan for them," Bailey notes. "With the introduction of centralized Monaco planning it's now very easy, because everyone can plan for each of the five Elekta systems."
To enhance planning efficiency, Elekta, in 2022, provided OCSRI's Monaco planning and dosimetry groups with one-on-one training on the use of Monaco plan templates (i.e., "Robust Templates," See: Monaco Plan Templates sidebar).
"We've noticed a big change in how plans are delivered," Silkwood observes. "They're faster, they don't stop and start the VMAT arc multiple times and leaf motion is smoother. In addition, we're experiencing much fewer stops due to machine errors and inhibits than we did previously. I think it has really moved the program to the next level."
Bailey adds that her group is in the process of streamlining all the dosimetrists to use one template per disease site and dose level, so that they are all using the same constraints and the same information, thus facilitating a plug-and-play planning procedure.
"The plans are much more uniform across all the dosimetrists," she says. "The Robust Templates are designed to let Monaco's multi-criterial optimization highly optimize all the constraints without having a huge number of constraints. That's the one thing that makes Monaco very special when it comes to IMRT and stereotactic planning. Planning is much faster and less cumbersome than most systems."
A busy future for SBRT/SRS at OCSRI
According to Dr. Yonemoto, implementation of the Versa HD SBRT/SRS program at OCSRI was timely given the increased demand for the techniques and their widening scope.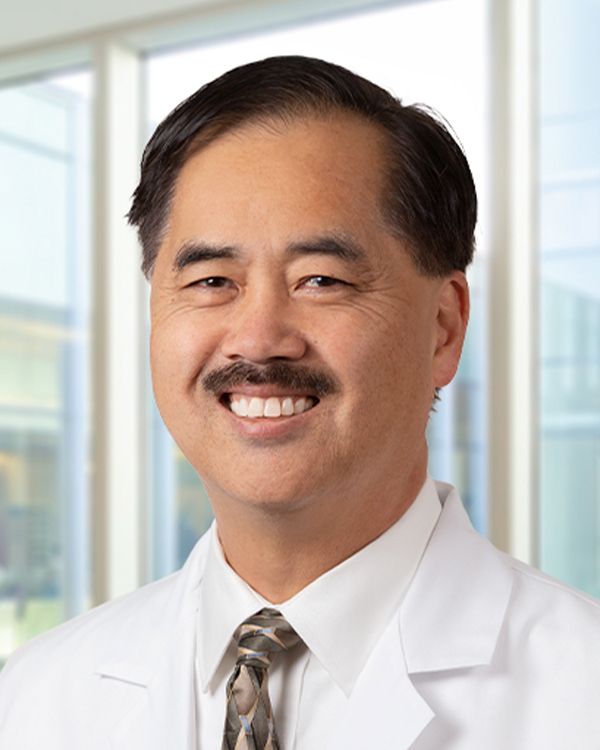 "Growth is in two main directions," he says. "One is the dramatic rise in the use and effectiveness of systemic therapy beyond chemotherapy. "The other is stereotactic radiation itself, as it has become a standard therapy in many practices. With this increased demand, we needed to expand the availability and capabilities of the machinery, and the C-arm-based system gives us that potential.
"Researchers are finding more indications for SBRT/ SRS," Dr. Yonemoto adds. "Over the next several years our volume will continue to increase accordingly."
In summarizing the success of the SBRT/SRS program at OCSRI, he notes that the organization has been able to treat more patients, with fewer resources and with a better patient experience.
"These are achievements you would want in any cancer center," he says. "Less resources in the context of less time on the machine, more efficiency and less time spent on planning, less physician time and less procedural time in terms of fiducial placement. Efficiency is better overall and when it comes to cost analysis, SBRT/SRS is less expensive if you're using fewer resources."
OCSRI radiation therapy department officials are currently discussing how to establish a SBRT/SRS service at the Bartlesville clinic, which since April 2022 has been operating a fully-equipped Versa HD, beam-matched with the main campus linacs.
"That system is already configured and ready," Hyde says. "We just need to make sure we have the stereotactic process and staffing set up there. Having a third SBRT/SRS-capable Versa HD at OCSRI would be a great advantage."
Click here to learn more about Versa HD.
Monaco Plan Templates
Within Monaco treatment planning, the user can select presupplied planning templates based on clinical criteria (RTOG), as well as create, modify and share their own planning templates. Templates contain all the information required in the planning process, including beam setup and geometry, plan prescription parameters, dose objectives for both target coverage and OAR sparing (known as IMRT constraints), and isodose display preferences. Monaco is designed to meet IMRT constraint criteria intelligently in the optimization process and includes the option for multicriterial optimization, which will exceed the constraint criteria as long as target coverage is maintained. Users can also adjust optimization parameters and obtain feedback in real time during optimization. Therefore, by the use of templates, the planning process can be largely automated, producing high quality plans that meet or exceed goals in as few as five mouse clicks.
LAROX230226