MR-guided radiotherapy a new non-invasive option for bladder cancer patients in Australia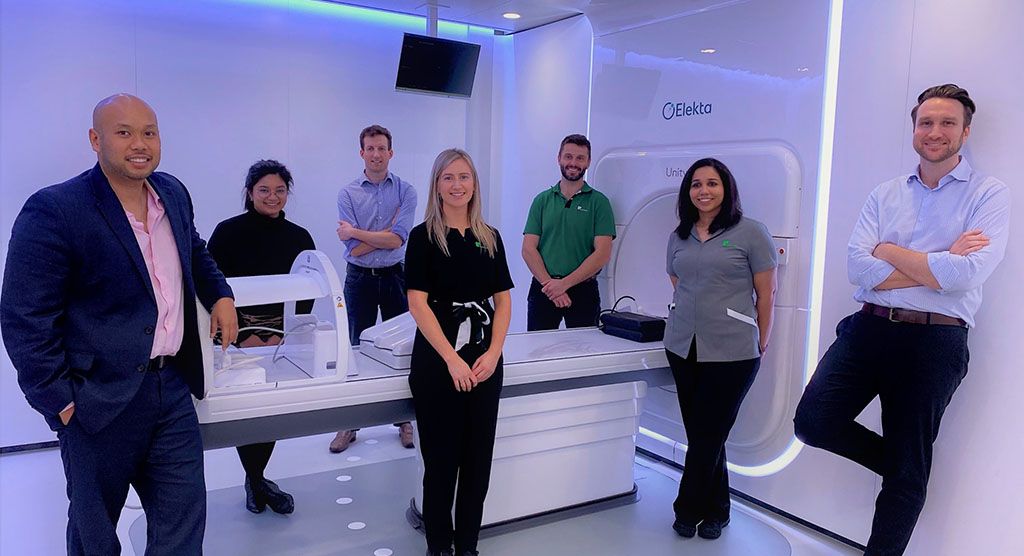 Innovation
St. Vincent's Hospital Sydney using Elekta Unity MR-Linac to precisely target cancer
The bladder can change in position, shape and size during radiotherapy treatment sessions depending on the organ's filling rate. This has required clinicians using a conventional linac to use large margins that include normal tissues, an undesirable but necessary practice to avoid a geographical target miss. With their Elekta Unity MR-Linac, however, GenesisCare radiation oncologists can obtain an unmistakable visual cue about bladder filling, enabling more focused targeting of the organ.
Doctors at the New South Wales clinic debuted their Elekta Unity bladder cancer protocol in September 2020 for the boost treatment (55 Gy: 2.75 Gy/fraction for 20 fractions) of a 72-year-old woman with muscle-invasive urothelial carcinoma and are currently treating the second patient. These two patients are the first in Australia to receive MR/RT with Elekta Unity for bladder cancer.
Elekta MR-Linac consortium collaboration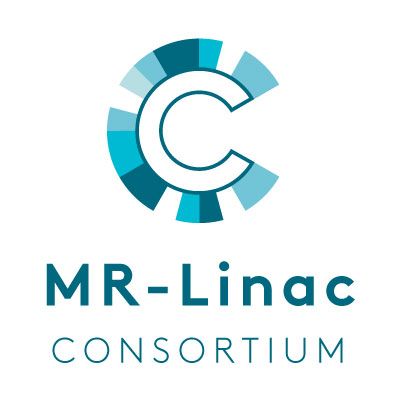 Because using Elekta Unity for bladder radiotherapy was a novel use of the system at GenesisCare St. Vincent's, Elekta facilitated collaboration with physicians at fellow Elekta MR-Linac Consortium member The Royal Marsden NHS Foundation Trust (The Royal Marsden Hospital).
"There were some emails back and forth that preceded a 90-minute Zoom call last year, during which the Royal Marsden team shared their Unity bladder protocol," says GenesisCare radiation oncologist Jeremy de Leon, MD. "They answered all of our questions and shared planning tips and tricks for bladder treatment. It highlighted the value of seeking advice from a center like The Royal Marsden that has experience with certain indications.1 This is one of the great values of the Consortium."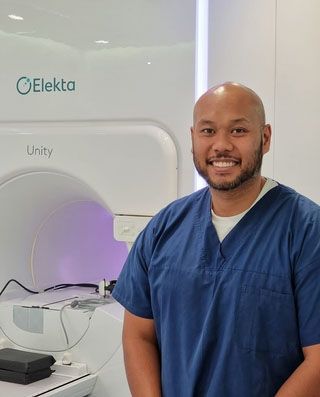 Giving patients an alternative to surgery
"There's a perception that the only way to treat bladder cancer with curative intent is with surgery," he says. "The reality is no one has ever done a head-to-head comparison of surgery and radiation therapy. We do know that the outcomes are comparable when you compare study to study. Now, patients have the option of chemotherapy with radiotherapy as a non-invasive, curative treatment."
The hospital's first patient in September had a dim view of surgery and had researched the alternatives after cystoscopy revealed residual disease cells following initial chemotherapy. She visited the Elekta website to learn more about Unity and reached out on her own to GenesisCare. Dr. de Leon discussed the details of a Unity treatment with her and after seeing the benefits she elected to proceed, he recalls.
"At her three-month follow-up her scan showed a great response, but more importantly she didn't experience any significant side effects."
"At her three-month follow-up her scan showed a great response, but more importantly she didn't experience any significant side effects," Dr. de Leon notes. "It all comes down to adapting the treatment each day to changing anatomy to target more accurately."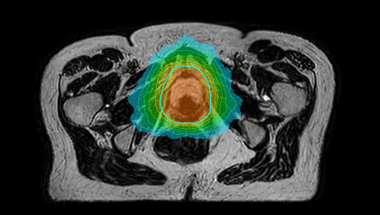 The GenesisCare Unity planning protocol calls for an MRI simulation scan for the reference scan, then a second MR 25 minutes later to gauge the bladder filling rate.
"For treatment, we use an MRI to do a complete adapt-to-shape plan adaptation, which includes recontouring the bladder and OARs," he explains. "Then we use the cine MRI functionality [MotionView] to ensure the bladder hasn't significantly changed in real time before proceeding with beam on."
"The Elekta Unity provides greater accuracy in radiotherapy treatment," Dr. de Leon says. "We looked back on the first patient's images day to day and checked the reference contour for the bladder and that would have been a geographic miss most of the time. On a standard linac, we would have compensated for that uncertainty by using larger margins. Now we can use smaller margins and treat just the bladder."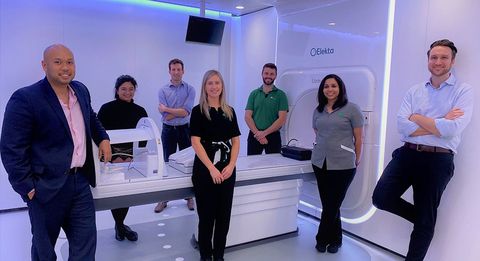 Although GenesisCare's Unity bladder radiotherapy program is in its infancy, the results so far hold the promise of reducing the fractionation schedule and escalating the dose.
"We're still using the standard radiotherapy doses, which were developed based on a regular linac protocol," he says. "However, as time goes on – and we realize we can deliver these doses with minimal toxicity – it's likely we can start to increase the dose and shorten the treatment course."
More information and clinical details.
Hunt A, Hanson I, Dunlop A, et al. Feasibility of magnetic resonance guided radiotherapy for the treatment of bladder cancer. Clinical and Translational Radiation Oncology, Volume 25, 2020, Pages 46-51, ISSN 2405-6308, https://doi.org/10.1016/j.ctro.2020.09.002.