MOSAIQ marks 30th year of easier, safer radiotherapy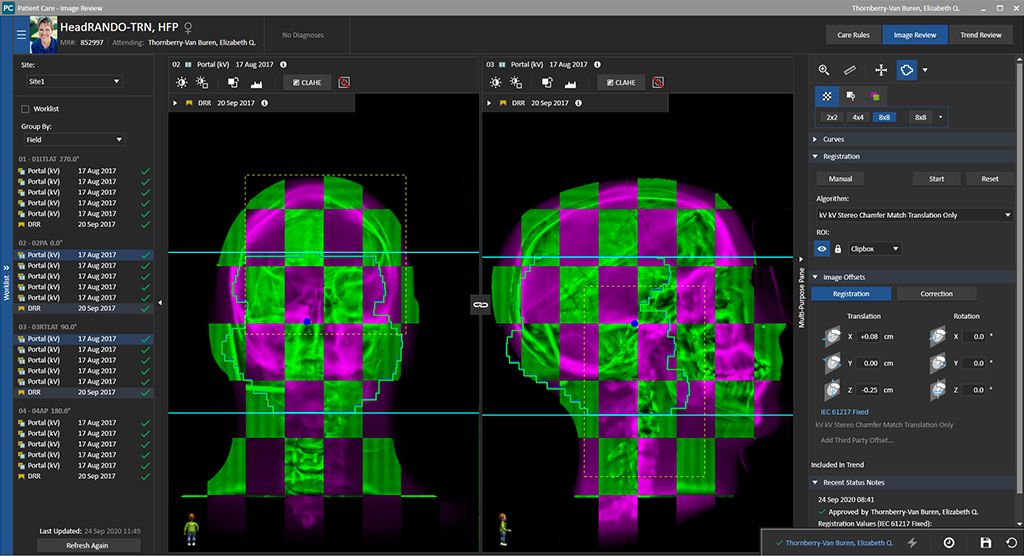 Oncology Informatics
Elekta's popular oncology information system changed the world for patients and caregivers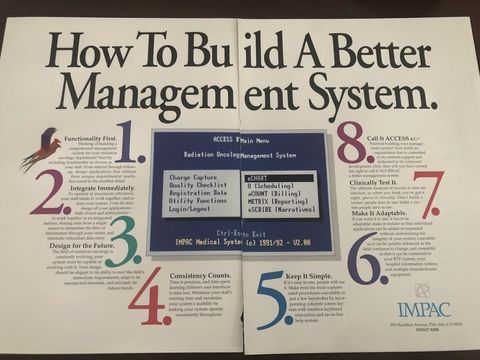 In 1991, a radiotherapy department in California became the first clinical user of IMPAC Medical Systems' ACCESS oncology information system (OIS). Three decades later, the software platform, renamed Multi-ACCESS, then MOSAIQ® – after Elekta acquired Silicon Valley-based IMPAC – is used by some 4,000 clinics worldwide and has been instrumental in the treatment of millions of patients.
IMPAC's founders created the OIS to not only enhance the functions of a paper chart, but also to make coordination of the patient's care easier, safer and more accessible. But going from paper to electronic charting represented a profound change for radiotherapy staff and there was some resistance and angst in the early years, according to Annette Coleman, Senior Product Manager, Integrated Workflow and Patient Charting.
Coleman's objective in the beginning was to create an education department to help users adjust to this paper-to-electronic shift.
"During a general training session for a department, a woman in the back of the room had tears streaming down her face for the whole two hours," Coleman recalls. "This was more than just teaching people how to use software – this was fundamentally changing how their facility functioned. A learning analogy might be transitioning from carving with a hammer and chisel to operating a CNC [computer numerical control] machine."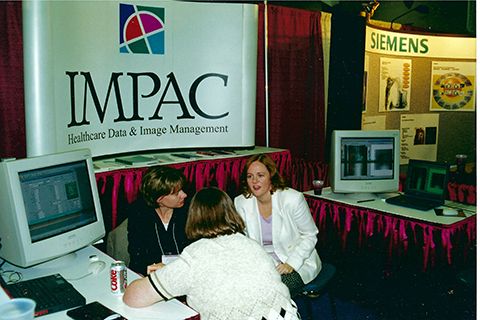 Elekta Chief Engineer, Annmarie Ison remembers a similar training session when she asked how many staff members would want the linac to move on its own.
"Not one person's hand went up," she says. "Today, automated linac motion is just expected."
Still, the IMPAC team's persistence, and the novelty and functionality of the OIS, began to have an impact, according to Grant Spencer, Director of Engineering Program Management, also known as "Employee #8" at the company.
"At the time, independent verify-and-record was something customers felt compelled to have from a safety standpoint," he says. "But no one was doing what we were with the computerized management system, which included scheduling, charge capture, electronic chart and quality checklists. Staff at oncology departments and free-standing centers really saw the benefits of it."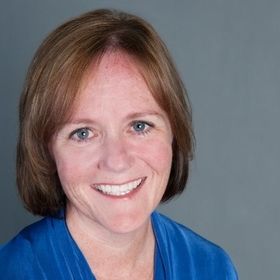 Patient as hub of information
The OIS directs focus from the radiotherapy department's machines to the patient.
"We recognized that in a clinic, everything revolves around patients and their data," Coleman observes. "When a patient enters the facility, we want everything to go as smoothly and efficiently as possible, and doing that depends on patient information; how long they're in the waiting room pre-treatment and post-treatment, or what happens with their billing because someone didn't get a pre-authorization."
Ison agrees, noting that the OIS put the patient at the center of everything in the clinic.
"I want to know what's going on with this patient – their appointments, what their labs and vitals are, what kind of treatment patients are getting, and when they're going to meet with their doctor," she says. "This patient-centric view is geared to giving better patient care without confusing them."
Safer, easier
Despite the major shift in the information medium, it wasn't like department staff would be dealing with entirely different data or more data – it was just how it was provided to them.
"The difference is presentation and filtering to just the information the staff member needs," Coleman says. "It's the same information, but the OIS optimized the presentation to the task and to the individual."
The rationale for creating ACCESS boiled down to two goals: Increasing safety and boosting efficiency, adds Ison.
"Manual charting was prone to transcription errors – mistaking an '18' for a '15,' for example," she says. "We wanted a system that made it easy for customers to do the right thing and hard to do the wrong thing. Second, tasking a computer to eliminate manual busywork made the staff's job easier and more productive. Rather than having to enter data manually and chasing a paper chart everywhere, users could have data at their fingertips when they needed it."
"We wanted a system that made it easy for customers to do the right thing and hard to do the wrong thing."
Evolution
Over time – as new techniques and technologies emerged (e.g., MLC, IMRT, VMAT, CBCT, 4D CBCT) – the OIS's computing power became essential.
"With IMRT, for instance, the amount of data snowballed," Ison says. "Clinics went from a 3D CRT's dozen or so pieces of information per machine to thousands of control points. The OIS went from being a nicety to a necessity."
"The OIS went from being a nicety to a necessity."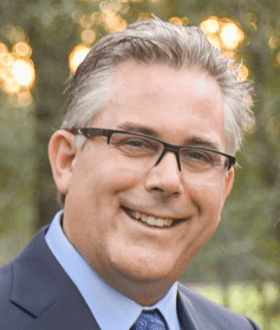 "The earliest demand was simply about duplicating the analog paper world, but now the data are increasingly formal," Coleman adds. "It's less dictating natural speech and more inputting structured and discrete data."
In that first decade, IMPAC ran on a rapid discovery and delivery cycle, in pace with customers' changing productivity and operations models. ACCESS, Multi-ACCESS and then MOSAIQ evolved in step with technology, from DOS to Windows and more – without data loss or disruption of patient treatments.
"The most consequential releases I was involved in include the release of Multi-ACCESS, which facilitated use of a single database covering a medical center's multiple sites, and the addition of capabilities for medical oncology in what is now MOSAIQ Medical Oncology," Spencer says. "Other huge steps after Elekta's acquisition of IMPAC included the internationalization of the user interface to allow MOSAIQ to be used in Asian and European countries, and the first of its kind proton charting and verify-and-record functionality delivered to groundbreaking proton centers."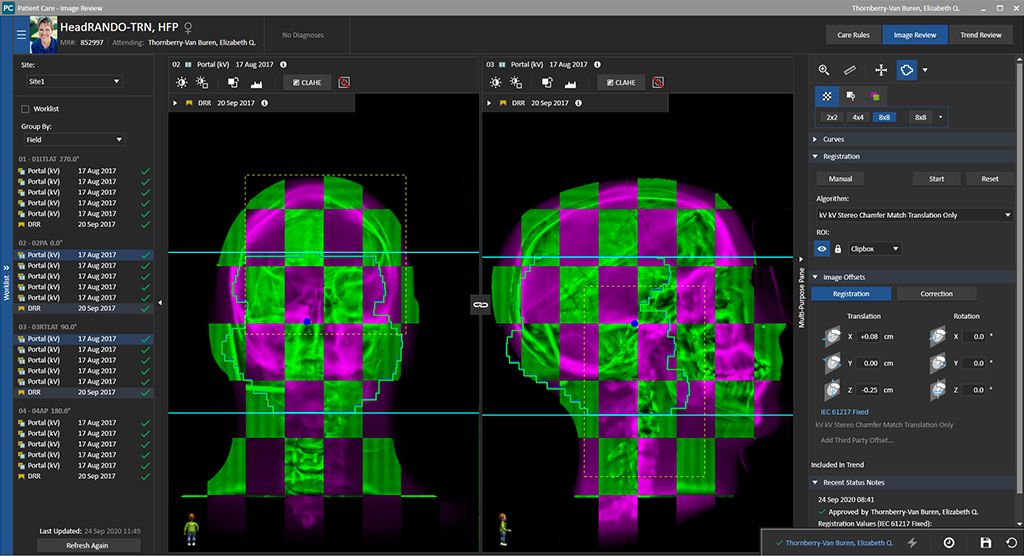 Coleman says she is most proud of her role in changing the way oncology care is delivered, specifically radiotherapy.
"I went from watching people weep at the idea of giving up their paper chart – because they feared they couldn't learn or 'a computer could never be secure enough' – to the complete opposite," she says. "Their sentiment now is they'll never go back to paper, because paper can't possibly deliver the quality that patients deserve."
"To me, it's the sheer number of patients' lives and clinicians' lives we've touched with the OIS," Ison adds. "If the OIS is operating in 4,000 clinics and 100,000 caregivers have used the system over the years, that adds up to millions of patients per year. The platform helps things be efficient, it helps clinicians and other caregivers have a better day, decreasing frustration and leaving them more time to focus on the patient."