How robust service and support helps Australia's GenesisCare maximize linac clinical availability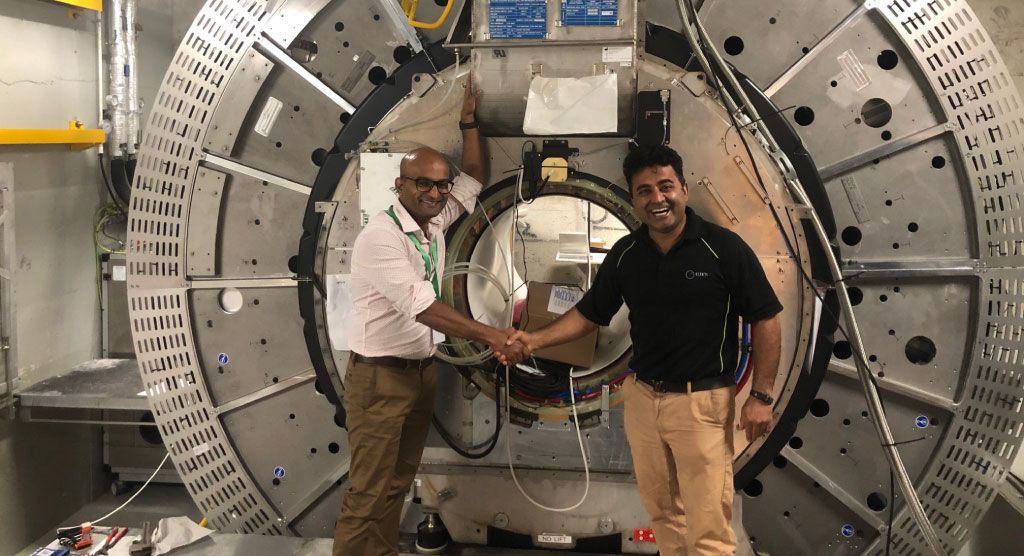 Elekta Care
Real-time monitoring, a modular maintenance schedule and ongoing learning help busy radiotherapy centers achieve high uptime
As the largest provider of cancer care in Australia, GenesisCare has 38 treatment centers across the country. It treats patients across a wide geographic spread, from large urban treatment centers in Sydney and Melbourne to remote facilities on the Queensland coast.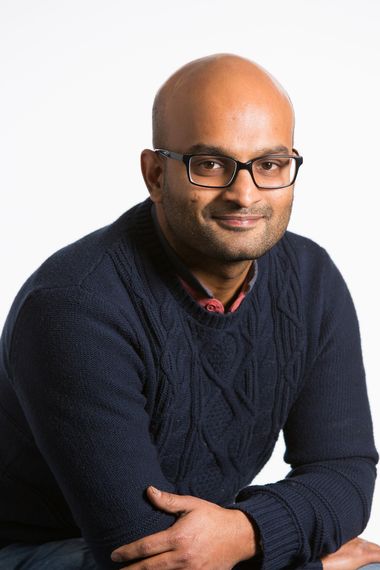 "At its core, GenesisCare is a very patient-centric organization. All of our decisions and focus are based on providing the best possible care to our patients," says Sunil Shetty, national engineering service manager for GenesisCare.
As such, maximizing clinical availability of its 36 Elekta Synergy® and Versa HD™ systems is a high priority for the organization. In fact, the organization regularly achieves a 98.5 percent uptime despite the challenges of limited on-site resources at its more remote centers.
No time for clinical downtime
Most of GenesisCare's Elekta linear accelerators are treating at full capacity, with systems at its large urban centers treating about 40 patients a day. The linac systems located in GenesisCare's more remote treatment centers, including Rockhampton, Bundaberg and Hervey Bay, offer extended clinic hours of 6 a.m. – 9 p.m. and may treat 60 or more patients each day.
"We installed an Elekta Versa HD at GenesisCare Bundaberg in Queensland two years ago," says Shetty. "It's quite a remote region. "They had been treating about 40 patients a day with the previous system. The Versa HD is putting us on the map now because they are consistently treating between 60 and 65 patients a day."
GenesisCare uses the Synergy and Versa HD systems in combination with the Agility™ multileaf collimator. This allows clinicians to provide a precise and high dose of radiation that can be used on several types of cancer, with a high degree of precision and effectiveness. Agility also allows GenesisCare clinicians to fully exploit the speed of Volumetric Modulated Arc Therapy (VMAT), which has helped to improve efficiency and increase daily throughput. As a result, treatment times have dropped, with several GenesisCare facilities achieving an 11.5 minute average treatment time.
"I believe Agility is a clinically superior product and easy to maintain, especially in our remote centers that have very high patient loads," notes Shetty. "With our Elekta fleet, we experience no ongoing motor failures or time consumed with initialization or calibration that we've experienced with other systems. The live camera system makes it a very fast system clinically."
While VMAT speeds treatment planning and delivery, the technique also runs the machines hard, with single or multiple radiation beams sweeping in uninterrupted arcs around the patient.
"When VMAT came around, the motors started going out quite frequently with our other linear accelerators," says Shetty. "When you have a machine down with motor failure, you can be looking at 30 minutes of downtime to change the motor and initialize the machine. Elekta can perform in very tough conditions. We see a high throughput of patients with limited on-site resources at our remote centers, but we still maintain a 98.5 percent uptime."
Predictive maintenance keeps busy center up and running
In each one of GenesisCare's facilities, a sophisticated artificial intelligence-enabled tool from Elekta is running in the background to diagnose, predict and correct linac system issues that could disrupt timely treatment.
Elekta IntelliMax® enables real-time, remote monitoring of system data of GenesisCare's Elekta devices via a secure connection to the clinics' networks. IntelliMax harnesses industry-leading artificial intelligence, propriety algorithms, machine learning and deep learning techniques to analyze multiple data points to predict when a system is likely to experience functional issues. The tool actively monitors or enables remote viewing of many linac system areas, including the collimator assembly, RF system, Agility and all beam-limiting devices, beam arm components, iViewGT, XVI system and vacuum system.
When a system component starts to degrade or requires recalibration, an alert is sent through to the customer. Shetty explains how IntelliMax has been instrumental in providing real-time alerts and notifications to potential problems before they have a chance to interrupt the clinic schedule.
In addition to the real-time alerts, Elekta IntelliMax is also continually monitoring the linear accelerators' various components so that maintenance can be planned well in advance of a problem. Monthly trend reports highlight the machines that need action, enabling Shetty's team to align service with a planned maintenance activity outside of clinic hours.
This proactive approach to maintenance is especially valuable for GenesisCare's more remote centers, where additional lead time may be required to acquire needed replacement parts. "Without IntelliMax, it wouldn't be possible to treat as many patients as we do each day," observes Shetty.
IntelliMax also monitors linacs across Elekta's install base that exhibit a high level of performance, which enables recommendations to improve the lifetime of linacs at GenesisCare and other Elekta sites. "Looking at machine data across linac parts and comparing it with the rest of the Elekta install base is a very unique way of using machine data and identifying performance improvement opportunities," says Shetty.
A modular approach to service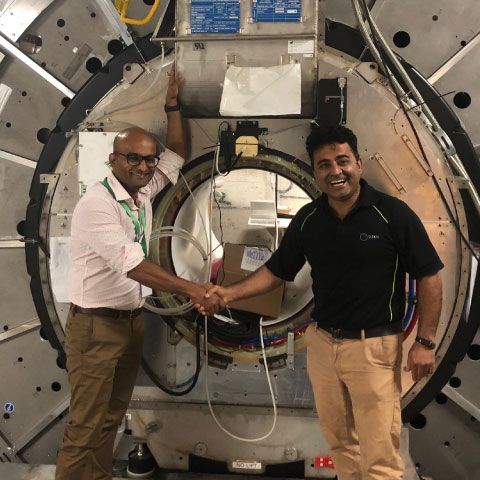 High clinical availability is a driving principle for GenesisCare. All maintenance activities on its Elekta linacs are organized and coordinated to occur outside of clinic hours. "We are committed to making sure that no service and maintenance activities occur when the machine is supposed to be in clinical use," emphasizes Shetty.
To accomplish this goal, engineers take a modular approach to maintenance. Rather than take a linac out for an entire day, the machine is broken down into smaller sections for service that can be performed in three or four hours after clinic hours. "By doing smaller, more frequent servicing, we're ensuring the machine is in top-notch condition and compliant, while working around the patient care schedule."
The annual tune-ups and occasional more extensive service needs are performed on weekends, adds Shetty.
He also attributes GenesisCare's high uptime to Elekta's global logistics platform and local availability of critical spare parts. With the recent addition of a warehouse in Adelaide, Elekta now has three warehouses serving customer sites in Australia. "Elekta's inventory system is managed quite robustly. We're pretty removed from the rest of the world here in Australia. An inefficient inventory system would mean a lot of downtime. Having the right parts available at the right time makes a huge difference in maintaining high uptime," says Shetty.
Interactive learning opportunities maximize clinical capabilities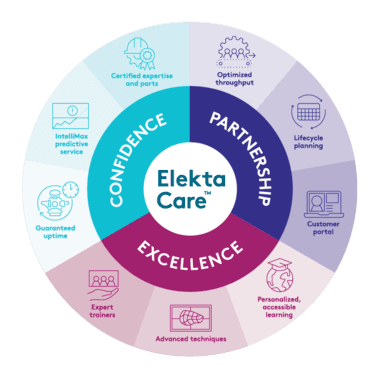 GenesisCare has found value in Elekta's training and continuing education resources. The eLearning modules available through the Elekta Care Community, Elekta's secure online customer portal allow GenesisCare staff and clinicians to increase their knowledge and skills based on the needs of their centers.
The team appreciates the interactive videos that offer detailed information on the system and its various components.
"Elekta has really done a good job with the online training," says Shetty, adding that training from other technology providers is often limited to reading PDF files. "It's a very good graphical and video-based system that prepares our physicists and engineers well for the hands-on, face-to-facing training."
With the strategic partnership between GenesisCare and Elekta, cancer patients across Australia are benefiting from access to state-of-the-art treatment options. "We feel very well-supported by Elekta's resources," says Shetty. "As a team, we're working together to provide the best possible outcomes for our patients."