Florencia finds reassurance and support in her mobile app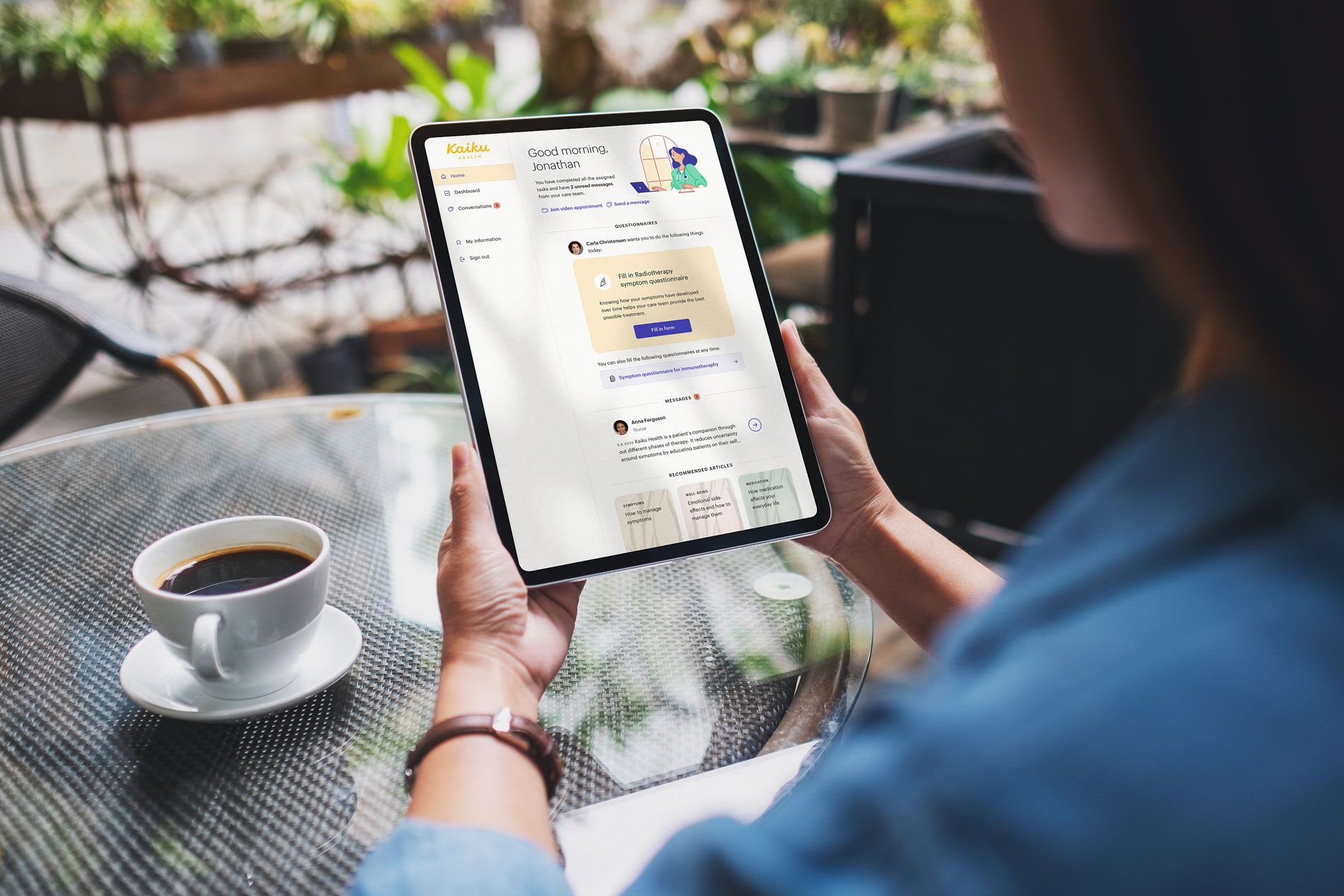 Oncology Informatics
Centro Oncológico Integral (COI) at Leben Salud, a hospital in South America, is first to use Kaiku Health to monitor patient reported outcomes
Like many of us, Florencia Escobar loves meeting up with friends or just enjoying a nice meal with her partner. On these occasions, she wants to focus on the moment, on the positive things in life. COI in Argentina, where Florencia received treatment for cervical cancer, helped give her confidence and peace of mind – not just with their expertise, but with the tools they use.
Florencia's care was among the best for treating stage III __cervical cancer: external beam radiation therapy with Elekta Infinity™ and high dose rate (HDR) brachytherapy with Elekta's Flexitron® afterloader. But it is what happened after the clinical treatment that has made an impact on Florencia's day-to-day life. She was set up with the Kaiku Health* tool that she can access from her phone or tablet to report directly to her team at COI on how she's feeling and any symptoms she might be experiencing. Kaiku Health – and other MOSAIQ Plaza® multidisciplinary digital tools – connect care teams to colleagues, data and patients throughout the entire patient journey.
"The app really gave me peace of mind regarding symptoms and being able to do my own follow-up," she says. "It was easy to understand, and I had no problems answering the initial questionnaire." Something particularly helpful are the symptom feedback articles the Kaiku Health app sends Florencia automatically. "I find them very useful, as they help me to learn about the treatment, the symptoms and how to manage them. And it's reassuring to know the information is reliable – there is a lot of false information on the internet."
"The app really gave me peace of mind regarding symptoms and being able to do my own follow-up."
Ricardo M. Ruggeri, M. Sc. Medical Physics and Technical Oncology Director of Leben Salud, says: "Kaiku offers us, as an institution, a clinical follow-up tool for our patients, with the peace of mind of providing secure and useful information for their treatment. By having this platform, our doctors can evaluate whether it is necessary to schedule a follow-up appointment during or at the end of the treatment. It also allows us to evaluate the effect and response to our treatments through the questionnaires presented to patients."
Florencia is looking forward to being told she no longer has cancer; in the meanwhile, she is happy to continue using Kaiku Health. "It's no inconvenience, easy to use and the questions are easy to answer, and it helps me a lot with my own symptom monitoring." And it allows her to focus on more important things like traveling, hiking and enjoying the outdoors with her friends.
Learn more about Leben Salud becoming the first hospital in South America to use Kaiku Health to monitor patient-reported outcomes.
Find out more about how MOSAIQ Plaza can enhance your cancer care environment.
*Elekta acquired Kaiku Health in May 2020, and has made improving patient involvement in their own care journey a strategic priority.