Elekta Studio ImagingRing in-room imaging unleashes full potential of brachytherapy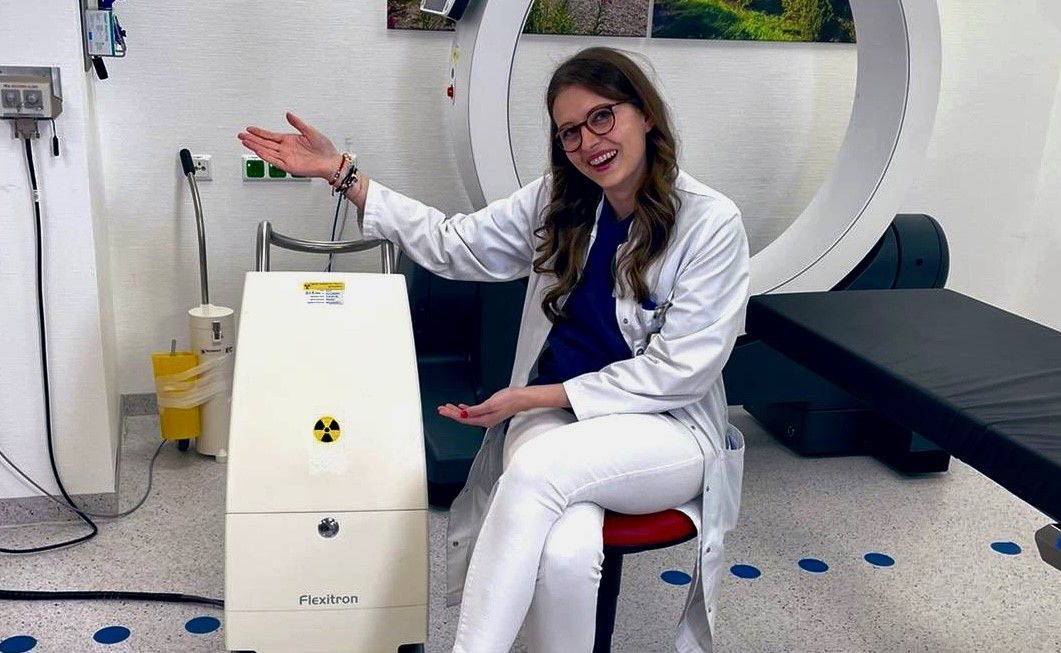 Brachytherapy
Ludwig Maximilian University of Munich clinicians streamline brachytherapy workflow by keeping procedures in a single room
With the Elekta Studio ImagingRing*, brachytherapists at Ludwig Maximilian University (LMU) of Munich benefit both patients and staff by executing all steps in brachytherapy procedures within one room. The ImagingRing – an advanced, mobile CT scanner designed for use in Elekta Studio – gives clinicians access to high-quality in-room imaging whenever they need it. LMU was among Germany's first hospitals to use the ImagingRing.
Pre-ImagingRing issues in brachytherapy
According to LMU radiation oncologist Stefanie Corradini, MD, PhD, the Elekta Studio ImagingRing eliminates the logistical and patient comfort challenges associated with performing brachytherapy procedures or imaging for treatment planning in the imaging department.
"Before ImagingRing, we had to move patients between departments, which can slow treatments down considerably."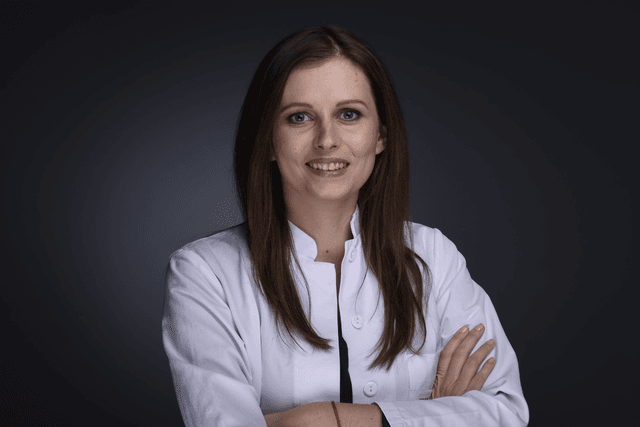 "Before we had the ImagingRing, we had to move patients between departments, which can slow treatment durations down considerably," Dr. Corradini says. "For example, we had to perform 2D treatment planning with radiographs for our bronchial brachytherapy patients. To acquire a 3D data set, we had to move an intubated patient to another room, and the logistics of this were incredibly complicated."
The risk of catheter displacement was another risk clinicians faced transferring patients between departments and moving onto different tables.
"In liver brachytherapy, although the brachytherapy catheters are sutured to the patient's skin and therefore should stay in place, you can never be certain – unless you have clear visibility of what's happening inside the patient," she observes. "We perform many liver brachytherapies where we apply very high doses in a single fraction. So, it's important that the catheters stay in the right place and the brachytherapy dose avoid surrounding organs at risk, such as the stomach or bowel. Before in-room imaging, it was difficult to be sure everything was in the right place before applying the dose."
Finally, to ensure the quality of imaging data, team members had to oversee the acquisition of images in different departments, according to Dr. Corradini.
"If there were problems with the imaging, or with the data transfer, there was a chance we might have to re-do the imaging and delay the patient's treatment," she says.
ImagingRing solves several challenges
"We originally acquired the ImagingRing to help verify the catheter position just before dose delivery in liver brachytherapy," Dr. Corradini notes. "We knew this would significantly improve patient safety, but we didn't realize the other benefits it would bring. Today, we use the ImagingRing for nearly all of our brachytherapy patients.
The first benefit she cites is streamlined treatments. With a mobile CT scanner, the scanner goes to the patient rather than the other way around.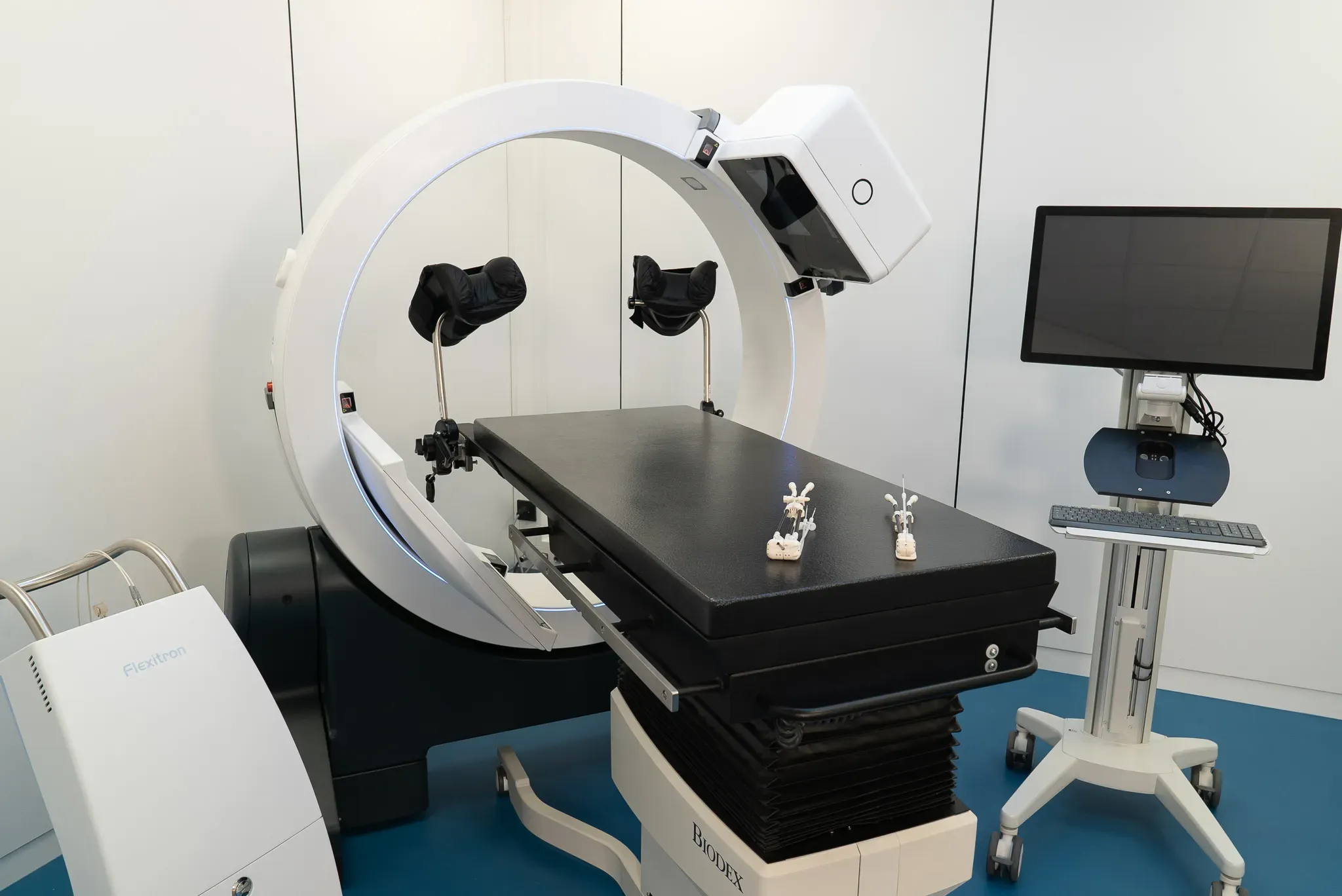 "This means we can access the high-quality images we need for treatments, right where the patient is, and adapt treatment plans in real time if we need to," she says. "It makes the entire process much more efficient. We can use it for cone beam CT as well as 2D imaging. And, because the ImagingRing is so compact, we can perform imaging within our vault without the equipment taking over the space.
The mobile configuration of ImagingRing increases imaging flexibility, she adds. The system has a tilting gantry and a wide bore, which means LMU doctors can scan patients in several different treatment positions.
"ImagingRing is easy to control too – you use a tablet to set up the images as well as to move the system."
"The ImagingRing is easy to control too – you use a tablet to set up the images as well as to move the system," Dr. Corradini explains. "Being able to use the ImagingRing in multiple ways for a variety of treatments has helped us to adapt our workflow for nearly every indication."
Using the ImagingRing has increased patient safety as well.
"By verifying the procedures just before we deliver the actual dose, we can prevent a geographical miss," she says. "So, we can deliver higher doses with greater confidence, knowing that we're protecting organs at risk. This does not only improve patient safety significantly but can also shorten treatment times."
Most importantly, from Dr. Corradini's perspective, the ImagingRing contributes to better patient comfort.
"The time from the first applicator insertion to the final image and dose delivery can be very long," she observes. "So, anything we can do to shorten treatment times and improve the experience can increase the patient's comfort. Keeping them in one room for every part of their treatment, and getting good quality images every time, can help in reducing their anxiety."
The right equipment brings significant benefits
When one piece of equipment has the power to streamline every workflow, it can make a big difference to a brachytherapy department. The Elekta ImagingRing mobile CT scanner eliminates the need to move patients around a hospital, making treatments more efficient and effective for both staff and patients.
"That's the ultimate goal in brachytherapy – to achieve better outcomes for all of our patients."
"Of course, it's not just about workflows," Dr. Corradini says. "It means greater patient comfort through fewer patient transfers and shorter treatments. And because the imaging helps us to deliver doses more accurately, it increases patient safety too. And that's the ultimate goal in brachytherapy – to achieve better outcomes for all of our patients."
Click here to learn more about 3D image-guided brachytherapy with Elekta Studio ImagingRing.
*Elekta Studio is comprised of multiple medical devices, some of which may not yet be available in all markets. Elekta is the authorized Exclusive Distributor of medPhoton in Brachytherapy. ImagingRing is product manufactured by medPhoton GmbH. ImagingRing may not be available in all markets.
LWBBX230108