Despite pandemic, Singapore hospital reaches clinical go live earlier than expected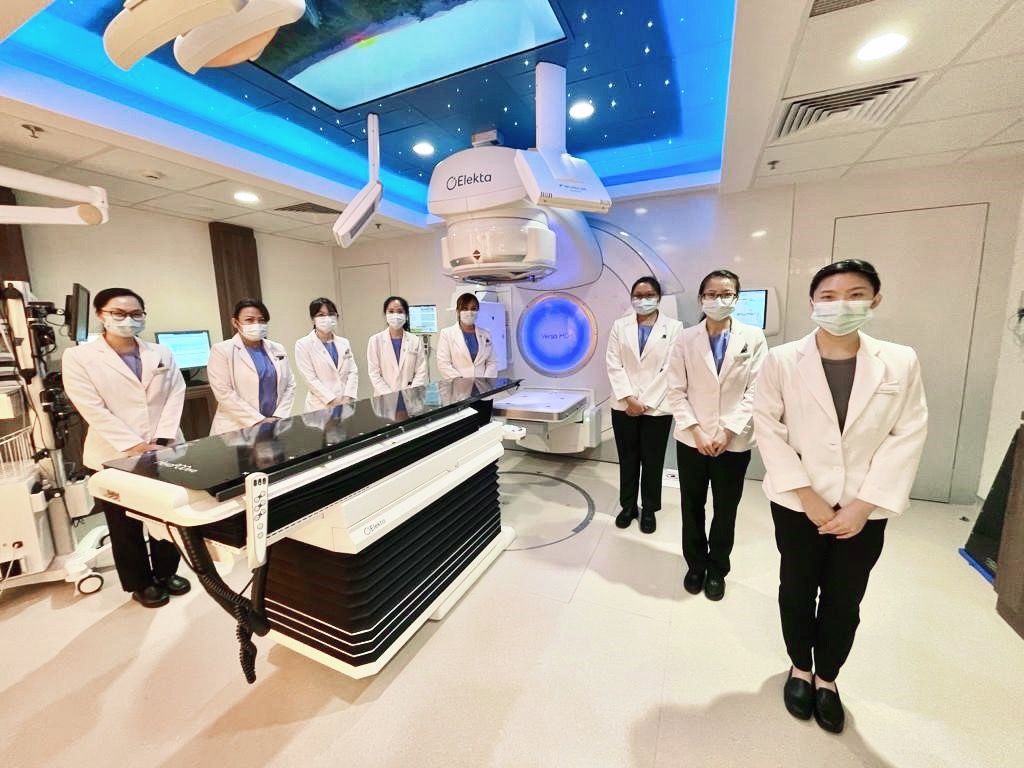 Radiotherapy
Gleneagles Hospital able to start treating patients sooner with Elekta's Accelerated Go Live
In February 2020, Gleneagles Hospital in Singapore took delivery of their new Versa HD™ linear accelerator (linac), complete with HexaPOD™ evo RT system for precise patient positioning with six degrees of freedom and Elekta Active Breathing Coordinator™ for respiratory motion management. They also purchased Brainlab ExacTrac® for image acquisition when the couch is rotated during treatment. Thanks to Elekta's Accelerated Go Live (AGL), they were able to commission the new linac and gain confidence to start treating patients three months sooner than expected, despite the Covid-19 pandemic.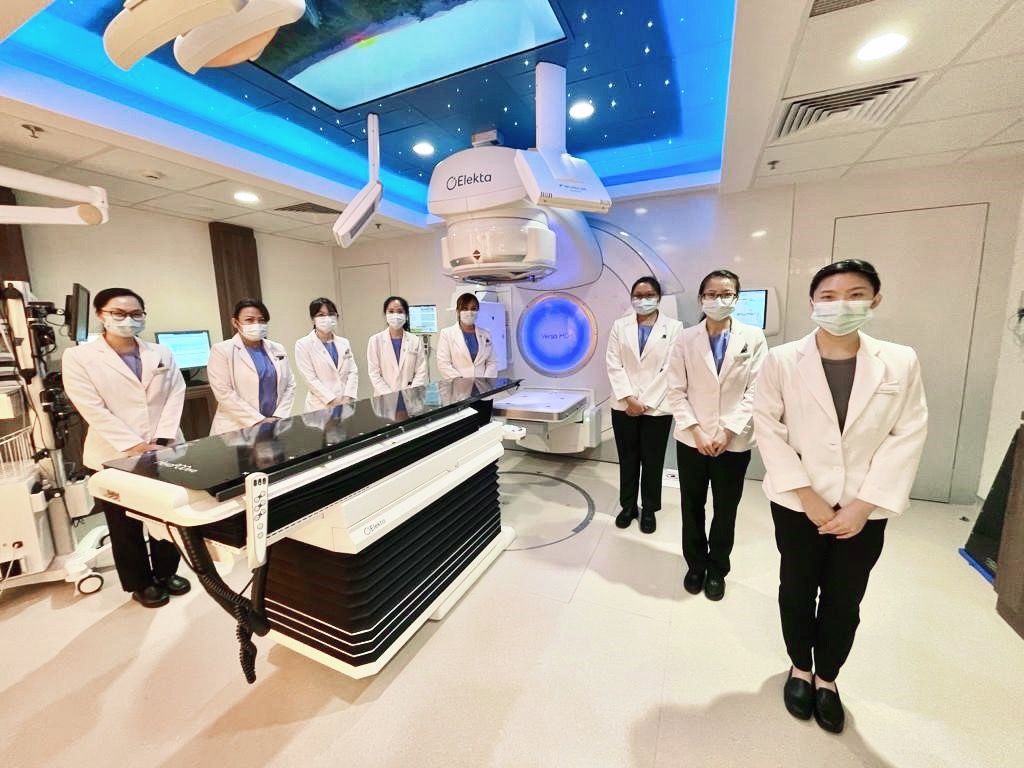 Replacing an old Siemens Oncor™ linac, the department wanted to beam match the new Versa HD to their existing Elekta Synergy® linac, to allow simpler workflows and easy transfer of patients from one machine to the other, if necessary.
"Having two beam-matched linacs with identical workflows ensures that the whole department is familiar with the processes for both machines, which reduces the risk of human errors," comments Chief Physicist, Mr. Tay Yak Koon. "We also wanted to have High Dose Rate Mode for treating SRS and SBRT patients in an efficient manner, since we aim to increase the number of stereotactic treatments that we perform."
"Another important factor in selecting Versa HD over other premium linacs, was our desire to have 'golden beam data', which would provide confidence and assurance of the quality of our measured data," Mr. Tay says. "Based on our requirements, our Elekta sales team in Singapore recommended the Elekta AGL installation and commissioning program, not only to provide high quality reference data, but also to reduce commissioning time considerably."
In the past, machine installation could take up to seven weeks, with another five weeks for acceptance testing and beam modelling. Elekta AGL helps clinics to become operational much sooner by optimizing processes and reducing installation and commissioning time significantly. At Gleneagles Hospital, installation of Versa HD took just 10 days. The first stage of the commissioning process – acceptance testing – was completed in 2 days and then the second stage – beam modelling and validation – was completed in only 2 weeks (figure 1), which was a time saving of 60%.

Preparation for a smooth installation
The first step in the AGL process was for the Elekta AGL project manager and some of the team to meet with the center to plan and discuss the details of the installation and commissioning program.
"The kick-off meeting with Elekta prior to installation of the linac prepared us well for what was required during the commissioning process."
"The kick-off meeting with Elekta prior to installation of the linac prepared us well for what was required during the commissioning process," continues Mr. Tay. "We received information about the type of equipment, measurements and time that would be required. We were also provided with information, such as the reference percentage depth dose measurements and beam profiles, which was extremely valuable in our preparation.
"This meeting helped us to understand the requirements for the measurements so that we could set up the water tank correctly and select the right chambers for each measurement," he adds. "This preparation helped to reduce the need for re-measurements."
Assuring highly accurate measurements
Once Versa HD was installed in its bunker, the process of beam modelling began. AGL reduces data gathering requirements for this step of the commissioning process by providing high quality, reliable, reference beam data, including beam profiles and precent depth doses (PDD) for all photon and electron energies. This reduces commissioning time dramatically and enhances safety by eliminating potential errors that could occur during data collection.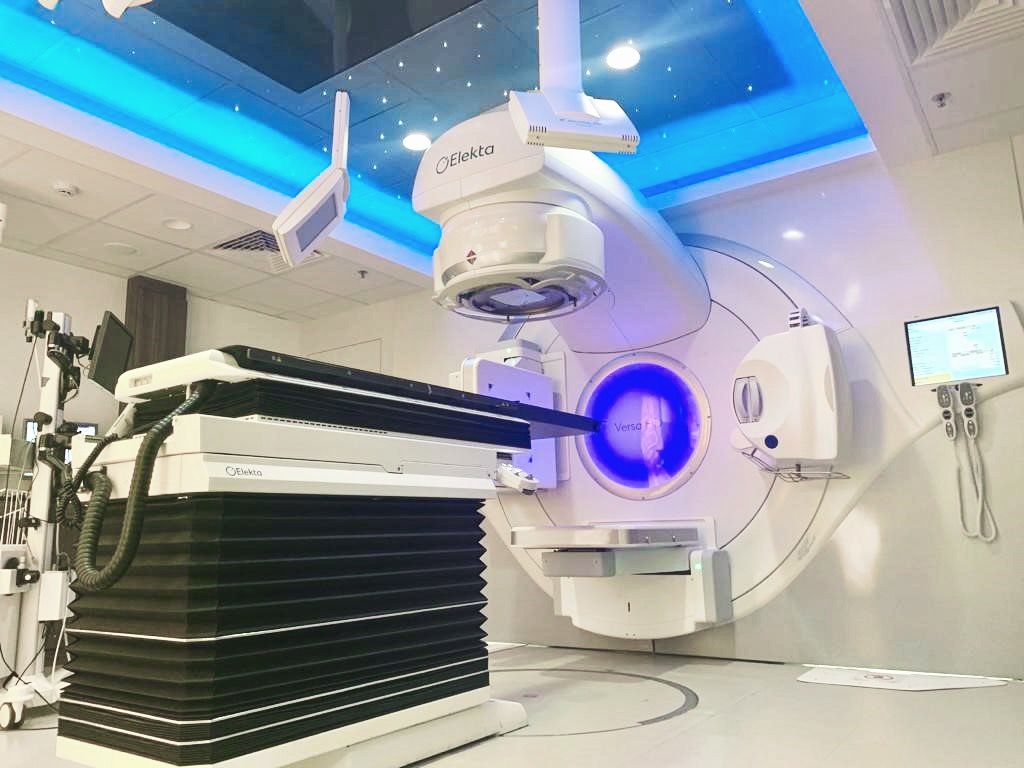 With AGL, beam data collection, beam modelling and beam model validation for 6 MV, 10 MV and electron square applicators was completed in just two weeks at Gleneagles hospital (figure 1), despite a brief pause at the beginning due to coronavirus restrictions. The AGL beam models were well within tolerances in term of dose accuracy.
"The reduced set of beam data that had to be collected with AGL shortened the time needed to acquire the complete set of beam data for Monaco®," comments Mr. Tay. "In addition, the waiting period for beam model delivery was drastically reduced. We got the models back within three days. It was quick and fast, and the Model Delivery Package was even better than we expected.
"The Monaco Commissioning Utility enhanced the beam model validation process," he continues. "Some of the QA templates were very useful. A set of express QA plans is provided for verifying the dose output and fine-tuning parameters, such as MLC leaf tip offset position, MLC transmission and leaf tip leakage. This included open field plans and a series of step and shoot IMRT plans. We performed further verification using some VMAT QA plans from some previous patients to compare the results.
"Overall, I am very satisfied with the results," Mr. Tay comments. "The pass rate for all measurements was more than 95 percent in the Monaco Commissioning Utility report. This gives us confidence in the quality of the setup and in the measured data – we know with certainty that it is safe and correct for our patients."
Saving time and effort
Elekta support on and off-site meant that the installation and commissioning of the new Versa HD at Gleneagles Hospital was completed quickly with very little work required from the customer. This support included on-site Elekta application specialists for Versa HD installation, beam data collection, beam model validation, and machine matching well within AGL tolerance, as well as off-site support from Elekta's Global Physics and Service Support teams.
"It was a cross-team effort to keep this AGL journey at Gleneagles Hospital right on track," says Steven Neo, Project Manager, Elekta. "We were delighted to fulfill Accelerated Go Live as planned to our customer despite the challenges presented by the Covid-19 pandemic."
"With Elekta AGL, our initial intention was to have highly reliable commissioning reference data, but we were delighted to have the additional benefit of significant time savings during the commissioning process."
"With Elekta AGL, our initial intention was to have highly reliable commissioning reference data, but we were delighted to have the additional benefit of significant time savings during the commissioning process," concludes Mr. Tay. "Faster installation and commissioning of the Versa HD gave us more bandwidth to complete other projects during that time, such as commissioning the BrainLab ExacTrac system. In addition, beam matching with our existing Elekta Synergy meant we could start treating patients earlier than we planned. Our original target to complete the commissioning process was June 2020 but, with Elekta AGL, we managed to complete beam model validation by the end of March 2020, saving us almost 3 months. The whole AGL process was extremely time efficient and better than we expected."
Gleneagles Hospital, Singapore
Gleneagles Hospital is a 258-bed facility that provides a wide range of specialist services, including oncology, cardiology, liver transplant, gastroenterology, orthopedic surgery & sports medicine, and obstetrics & gynecology. Since 2006, Gleneagles Hospital has been accredited by the Joint Commission International (JCI) – an internationally recognized standard for patient and staff safety – reflecting the organization's commitment to quality healthcare.
Gleneagles Hospital's Radiation Oncology Centre employs two radiation oncologists, two medical physicists, and six radiation therapists, treating around 300-400 patients every year. In addition to their Elekta Versa HD and Synergy linacs, the team uses the MOSAIQ® oncology information system and Monaco treatment planning software.