Brazilian hospital reinforces stereotactic radiosurgery program with Leksell Gamma Knife Icon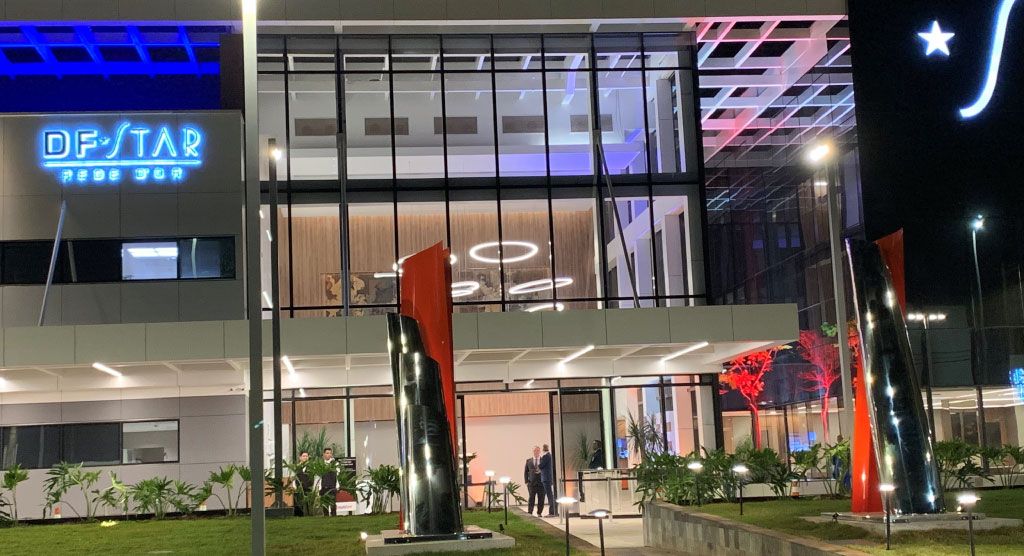 Stereotactic Radiosurgery
Rede D'Or DF Star Hospital, Latin America's first and only Icon installation, makes latest generation, precision intracranial radiosurgery available to Brazilians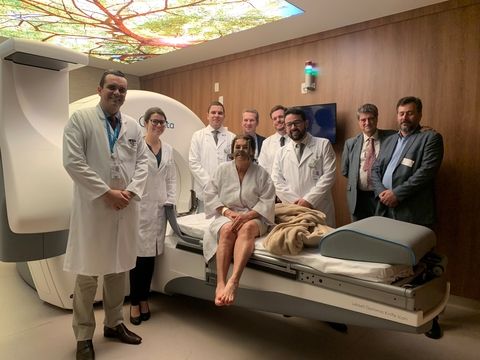 On December 9, 2019, physicians in Rede D'Or DF Star Hospital's (Asa Sul, Brasília) department of radiotherapy used their Leksell Gamma Knife® Icon™ system for the first time, delivering precision functional stereotactic radiosurgery (SRS) to a 72-year-old woman suffering from trigeminal neuralgia, a painful condition affecting the fifth cranial nerve in the face. On follow up two months later, the patient reported that her pain had been eliminated and required no analgesics post-procedure.
"We keep checking on her status and on April 16 she had an appointment follow up," says Allisson B. Barcelos Borges, MD, chief of the department of radiotherapy at Rede D'Or DF Star Hospital, part of the D'Or São Luis hospital network. "She still shows no sign of pain or toxicity."
By April 2020, Rede D'Or DF Star Hospital had treated 23 patients with intracranial indications including metastases, trigeminal neuralgia, tremor, meningioma, high-grade glioma, pituitary tumor and acoustic neuroma.
"We decided to acquire Icon because we wanted to provide the best possible treatment for our patients."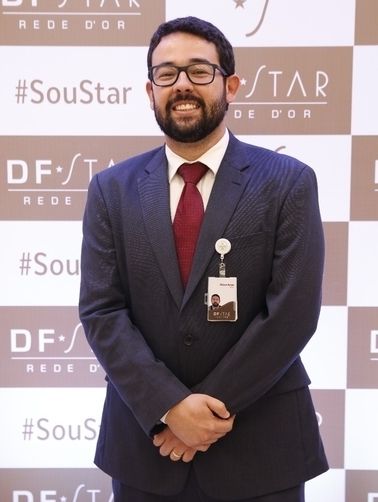 "We decided to acquire Icon because we wanted to provide the best possible treatment for our patients," Dr. Borges says.
Leksell Gamma Knife Icon is the sixth generation of Elekta's Leksell Gamma Knife® system. With stereotactic imaging, online Adaptive Dose Control™, ultra-precise dose delivery and the availability of frameless treatments, Icon is capable of treating virtually any target in the brain, regardless of type, location or quantity. Rede D'Or DF Star's Icon system is now the fourth Gamma Knife system in Brazil, with clinicians throughout Latin America seeing the need for a dedicated SRS device.
"The option to treat patients with either frameless or frame-based immobilization has been important to treat certain tumors and to enhance patient comfort," he observes.
The frame-based option physically holds the patient's head in place during the treatment session, Dr. Borges explains. Patients for whom fixed frame stabilization is not feasible can be treated using a mask, personalized for each patient. The Icon high-definition, infra-red motion management system detects if the patient has moved outside of the treatment limit and automatically shuts off the radiation beam if such movement occurs. This mechanism ensures that radiation is delivered to targeted areas and prevents irradiation of tissue outside the treatment area during mask treatments.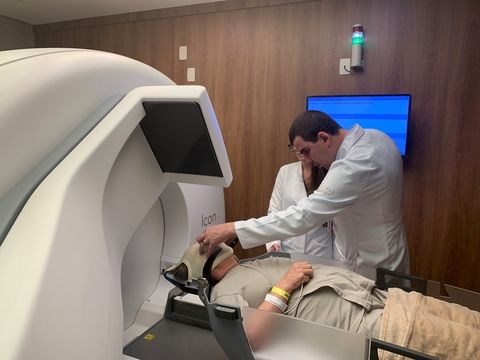 "Recently, we treated a large meningioma – about five centimeters in maximum diameter – over multiple sessions [6 Gy X 3] because we could safely do it without the standard G-frame," Dr. Borges says. "On the other hand, in some cases the targets are small and critically located and require the extreme precision we can achieve with the frame. For example, we used the frame to treat a 36-year-old patient with five small metastases, one of which was very close to the brainstem.
"The criteria for determining whether the treatment is a single session or multiple sessions depends in general on the size of the tumor," he adds. "Typically, if the tumor is less than three centimeters in size we use a single session and if the lesion is larger than three centimeters we treat over multiple sessions."
At Rede D'Or DF Star Hospital, in 16 of the 23 cases, clinicians used a frameless approach.
A center for SRS excellence
The addition of Leksell Gamma Knife Icon at the hospital coincided with the acquisition of two Elekta Versa HD™ linear accelerators, making the 112-bed private hospital an Elekta Center of Excellence for Stereotactic Radiosurgery. The Versa HD systems entered clinical use in October 2019 for all extracranial cases, including SBRT treatment of the prostate, adrenal gland, lung, spine and liver. To date, Rede D'Or DF Star Hospital has treated over 100 patients with its Versa HD systems, both equipped with the HexaPOD™ evo RT system, Elekta's robotic positioning solution for precise patient positioning and the Clarity® Autoscan system.
"With the Leksell Gamma Knife Icon for intracranial cases and Versa HD systems for extracranial indications, we have a complete stereotactic radiotherapy program that offers patients in Brazil precision treatments for cancers occurring anywhere in the body," Dr. Borges says.
Learn more about Leksell Gamma Knife Icon.
Gamma Knife by the numbers
Gamma Knife is the most comprehensively studied radiosurgery platform:
Used in over one million patient procedures1
More than 2,800 peer-reviewed journal articles on Leksell Gamma Knife published to date
74% of the peer-reviewed literature studying radiosurgery platforms with at least 30 patients (1,121 individual papers) are based on studies conducted with Leksell Gamma Knife, compared with only 26% for all other linac platforms combined (397 papers)
Unmatched precision
Gamma Knife radiosurgery is the most precise form of radiation therapy. The unique design of Leksell Gamma Knife results in:
Two to four times better sparing of normal brain tissue compared with other SRS platforms, even when treating multiple brain areas at the same time2
Up to a 130-fold reduction in the amount of radiation delivered outside the brain compared with linac-based systems, which is important for improving the safety of SRS and minimizing side effects3
Leksell Gamma Knife Society, September 2016
Ma L, Nichol A, et al. Variable dose interplay effects across radiosurgical apparatus in treating multiple brain metastases. Int J Comput Assist Radiol Surg. 2014; 9(6): 1079–1086. Published online 2014 Apr 20. doi: 10.1007/s11548-014-1001-4
Lindquist C and Paddick I. The Leksell Gamma Knife Perfexion and comparisons with its predecessors, Neurosurgery 61: ONS 130-141 2007; Vlachopoulou V, Antypas C, Delis H, et al. Peripheral doses in patients undergoing Cyberknife treatment for intracranial lesions. A single centre experience. Radiation oncology (London, England) 2011;6:157