Australia veterinary RT center delivers human-quality treatments to four-legged friends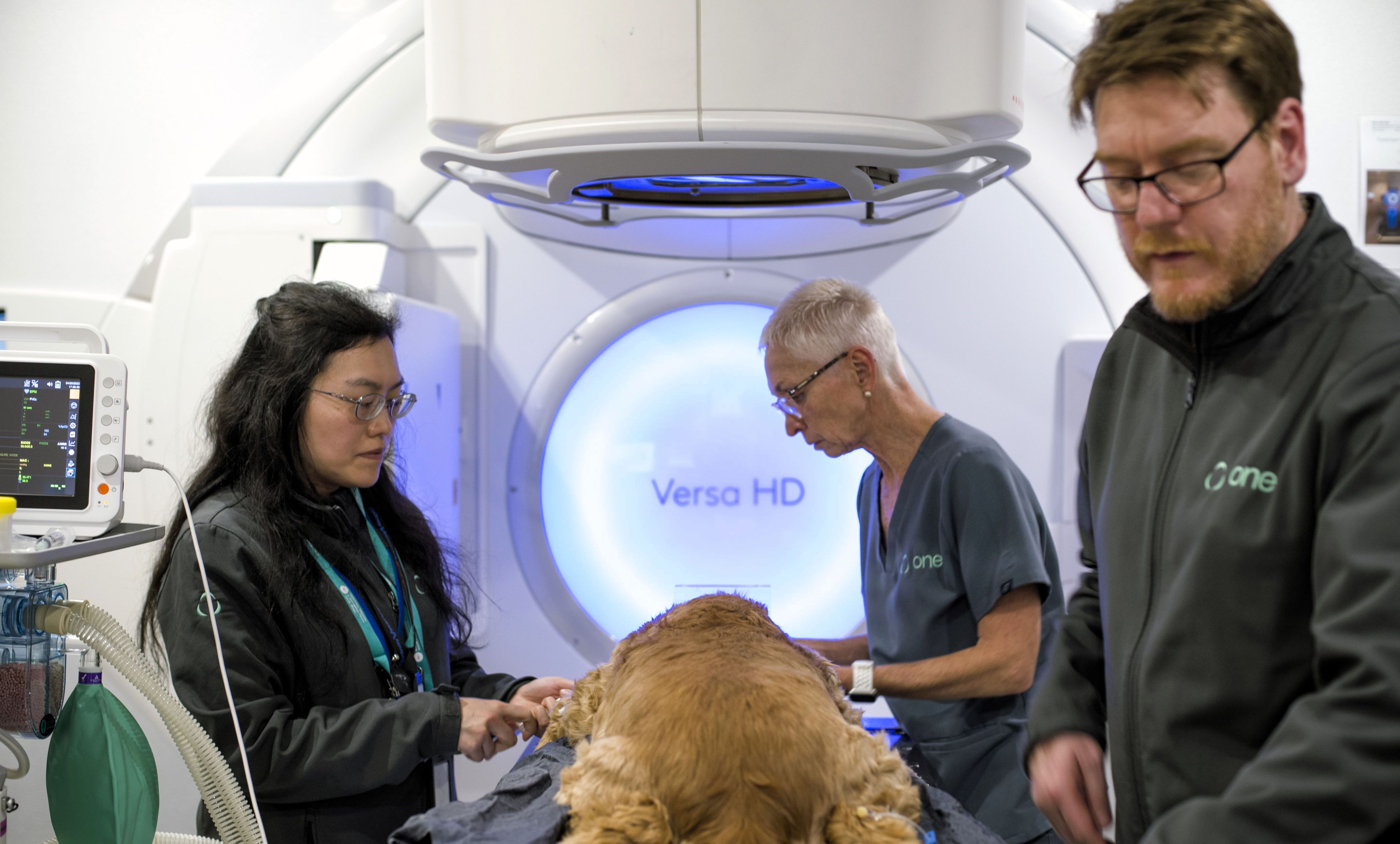 Radiation Therapy
Dogs and cats join people on the radiotherapy couch
From 220-pound mastiffs to three-and-a-half pound chihuahuas and many different cats, Australia's ONE Cancer Care for Pets (ONE) takes all canine and feline patients and the odd rabbit or snake. ONE is a network of veterinary oncology specialists in Sydney and Brisbane, providing medical, surgical and radiation oncology services for pets with cancer and other diseases. When surgery or chemotherapy are unsuitable or insufficient for a given pet, ONE's radiation therapist Deanna Morrow, RTT, uses the center's Versa HD™ system to deliver radiotherapy to these furry family members.
Morrow had spent 35 years doing human radiotherapy, but when radiation oncology/medical oncology double-boarded veterinarian and ONE cofounder, Dr. David Lurie, began using radiotherapy to treat animals after-hours at a human facility in which she worked, she stayed after her shift to observe.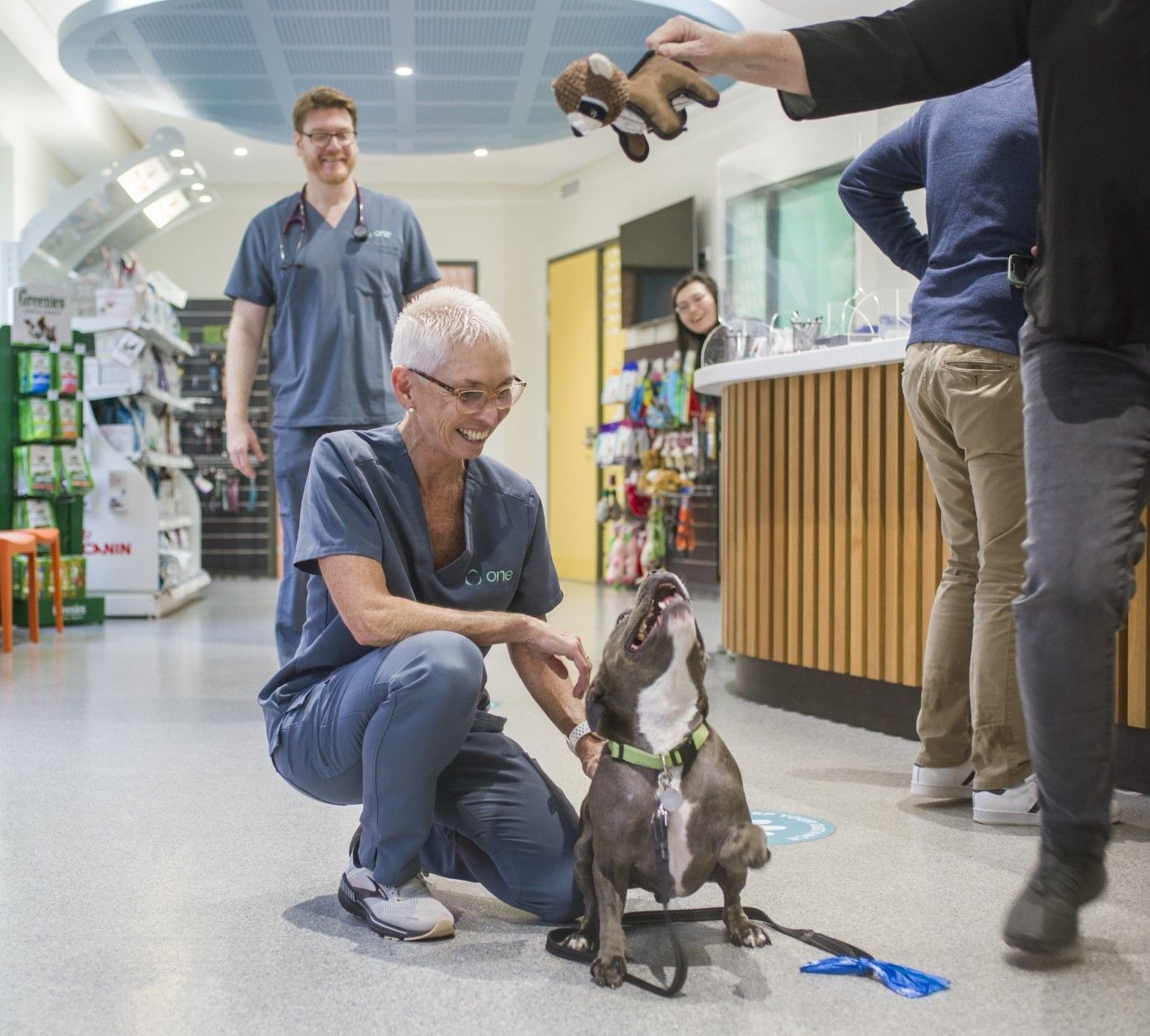 "I thought veterinary RT was fascinating and after six months David offered me a role to sim, plan and treat all of the patients," says Morrow, who also is ONE's practice manager. "I never went back to human radiotherapy and that was six-and-a-half years ago."
This practice evolved from its 2017 beginnings at Morrow's hospital to ONE Cancer Care for Pets in March 2023. Today, ONE performs CT simulation at two Sydney-based specialty veterinary hospitals and radiation therapy in a private human facility that suspended its human radiotherapy service. The previous service and ONE have treated over 800 patients in the last six-and-a-half years, more than 90 so far under ONE.
The best technology for our non-human companions
ONE's specialty hospitals have access to the same human-grade diagnostic and treatment technology used for people with cancer. Including the unmodified Versa HD, they employ human-grade MRI, CT and ultrasound, in addition to VAC bags and thermoplastic molds for immobilization and Elekta's Monaco® treatment planning system. The only vet-specific device ONE utilizes is a bite block.
"If the disease is picked up early we will do surgery and then if the margins aren't clear the patient will have radiotherapy and chemotherapy," Morrow notes. "There is a lot of surgical work we may not even see, because many of the general practitioners will do surgery themselves." In an average month, ONE performs 12 to 14 CT simulations.
Referrals come from local and interstate veterinarians or from pet owners themselves. Most patients will be referred for specialist cancer care by their primary care veterinarians, but some will proactively seek out advanced care on the internet and self-refer through their website.
Patients and their illnesses
Dogs and cats are almost exclusively ONE's patients, with the former receiving most of the radiation therapy. Cats are prone to developing lymphomas, which are treated with chemotherapy.
The main indications are brain tumors, nasal masses and oral diseases (e.g., melanoma/fibrosarcoma), with smaller numbers of bladder, spine, subcutaneous skin afflictions – such as sarcomas – mast cell tumors, anal gland adenocarcinomas and bone tumors. More recently there have been great strides in treating visceral abdominal tumors (liver carcinomas and adrenal carcinomas/phaeochromocytomas). Prostate cancer is seen in pets that are usually de-sexed and this is not as common a disease as in people.
In the human world, surgeons will usually debulk brain masses, but this is very rarely done in the vet world, she notes.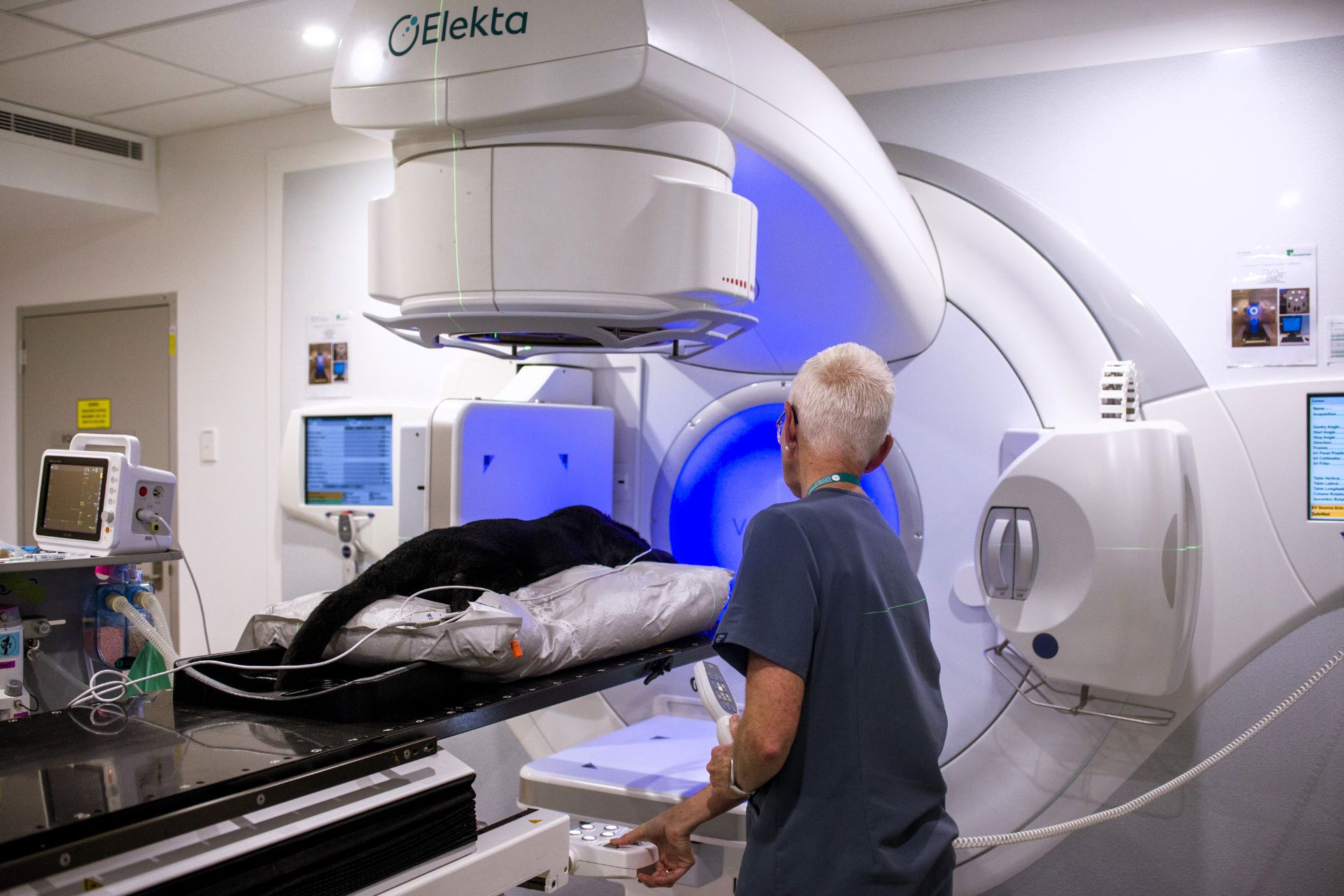 "These are virtually always RT cases, and they respond amazingly well [See Case 1]," Morrow says. "Regarding nasal work, as in human medicine, much of our work is multidisciplinary. We will do biopsy diagnosis but standard of care is primary radiotherapy with or without adjuvant chemotherapy.
"Many owners will elect to do RT rather than amputate or put them through a surgery that mutilates," she adds. "Some of the presenting diseases could require treatments that result in an atrocious deformity, like noses surgically mutilated or even removed. [See Case 2]."
As in human populations, ONE's patients are typically older, but there are exceptions, such as the case of a two-year-old Staffordshire Bull Terrier.
"'Georgio' presented with a brain mass that was causing a severe head tilt," Morrow recalls. "But eight weeks after a course of SRT his head tilt resolved and he was like new. He is amazing." (Georgio is featured here.)
Another exception is large-breed dogs like Great Danes that can develop osteosarcomas when only a few years old. And some dog breeds are predisposed to certain types of diseases.
"If I see a French bulldog walking down the street I think: 'That's a potential patient. They get more brain tumors than other dogs statistically."
"If I see a French bulldog walking down the street I think: 'That's a potential patient," she says. "They get more brain tumors than other dogs statistically. And boxers get just about everything possible – brain tumors and mast cell tumors. Greyhounds and other big breeds get bone cancers."
Zuba was one such bone cancer case (proximal humerus), for which he underwent limb-sparing SRT. Other applications of radiation therapy are for spinal tumors. A husky named "Luna" presented paraplegic. She received radiation therapy followed by chemotherapy for spinal lymphoma and is now walking again. Watch video pre and post treatment here.
RT techniques and planning at ONE
Stereotactic VMAT is used in 95 percent of ONE's radiotherapy cases and treatment intent is definitive in 75 percent of the cases. Most of the courses are three fractions of 8.0 Gy, 8.5 Gy or 9.0 Gy with 1-2 mm margins. Prostate, tonsil and thyroid carcinomas are usually treated with five fractions of between 6.5 to 7.0 Gy per fraction.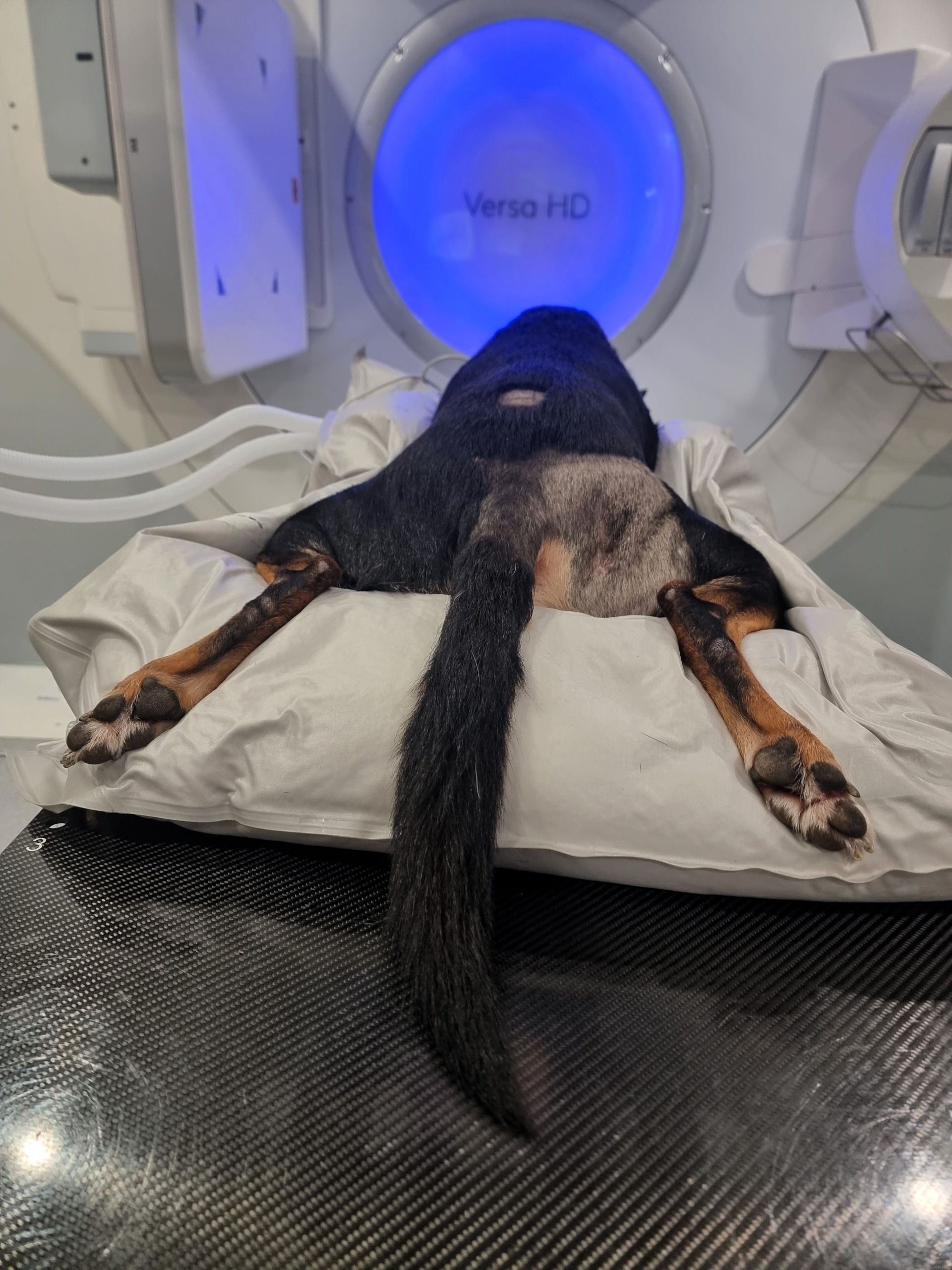 "The only long courses we do are for bladders and spines," Morrow notes. "Bladders we do over four weeks and 20 fractions and if something has been surgically resected and doesn't have that real gross disease, we will sometimes do long course on those.
"The short courses enable us to use less anesthesia, which is better for the animal," she continues. "And in the literature, longer courses are associated with worse acute skin reactions and side effects."
VMAT treatment planning is done with Monaco® and there are no significant differences compared with human RT planning. Anatomically, the organs are in similar positions as in people, which helps establish plan constraints (i.e., point maxes and volumes).
"I've found some organs are fairly mobile, however," Morrow says. "Kidneys float around a lot more than they do in a human. Sometimes, you actually have to get the pet out of the VAC bag and shake them around to get the kidneys back where you want them to avoid dosing them.
"Just like in the human world, we tend to prioritize coverage over organs because their lifespan is a lot shorter than ours," she adds. "You do want to limit the dose, but you also want to ensure you're getting a good dose to the volume as well."
Avoiding critical structures can be tricky due to the different breeds of cats and dogs and their respective head sizes and eye positions.
"Nasal masses are a contouring nightmare in cats. Their lenses are almost as large as their eye globes."
"Nasal masses are a contouring nightmare in cats," Morrow observes. "Their lenses are almost as large as their eye globes. We try to keep the globe doses down to 12 Gy and the lenses to 6 Gy, but you've only got a couple of millimeters between the edge of the globe and the end of the lens. We're risking causing a cataract in one eye, so we prioritize sparing one of them."
Patient preparation
For nasal and brain tumors, ONE uses thermoplastics for creating dental molds for the bite block and as a bone density bolus.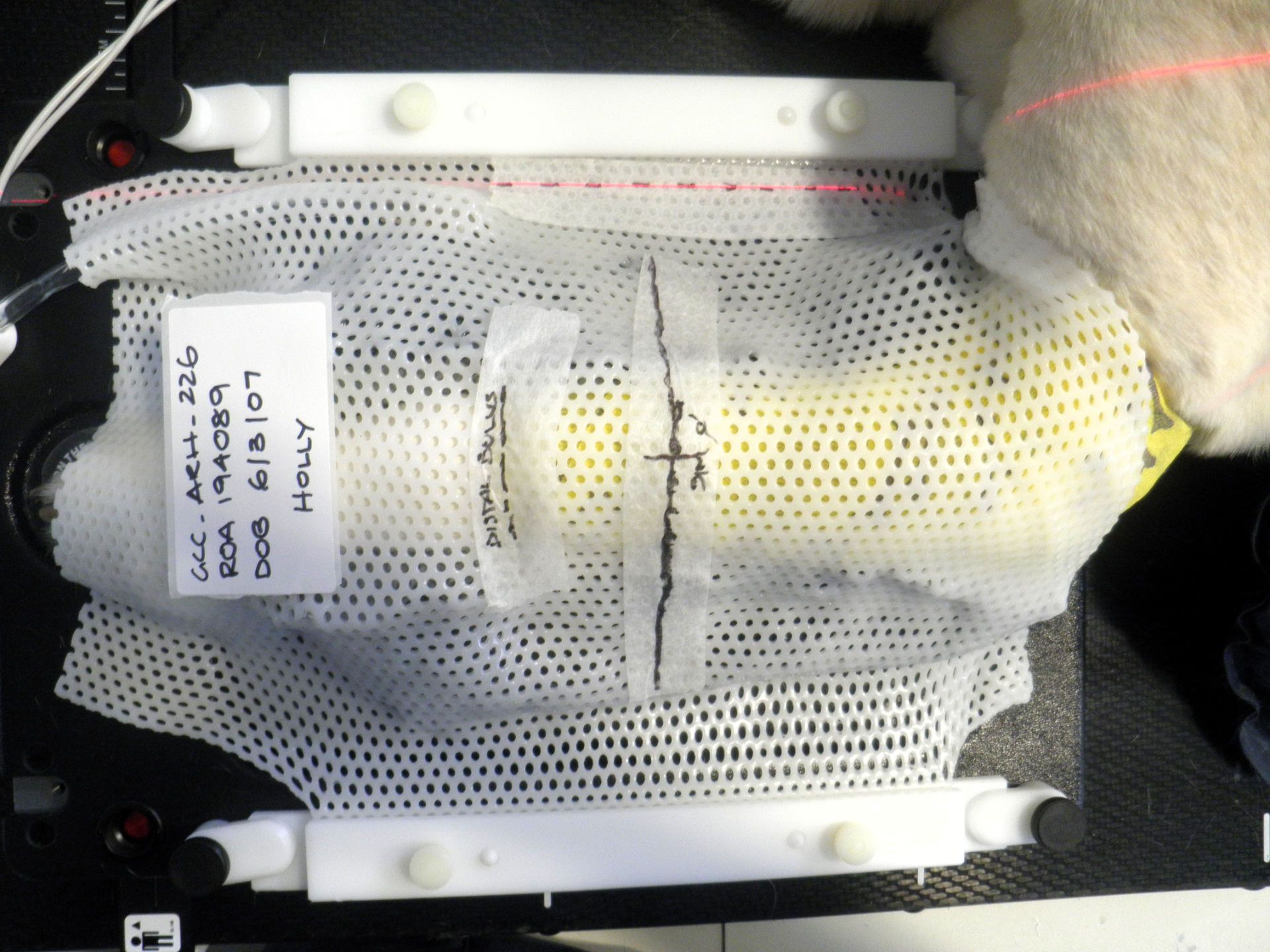 For obvious reasons, all pets are anesthetized during patient preparation (i.e., fitting thermoplastics and VAC bag) and treatment.
"There's no way you could deliver a stereotactic dose and tell them to lie still – that's not happening," Morrow says. "But it's a fairly light plane anesthetic – just a bit of propofol – so we can anesthetize and treat and have them be awake in 15 minutes."
Because the animals are anesthetized and surrounded by tubing and monitoring machines on the patient couch, Morrow keeps the VMAT arc angles above the couch (260° to 100°), which works for many different cases; brain, head-and-neck, rectum, prostate.
"If you use full arcs you have to tape up all tubing and make sure it's not going to get caught by the gantry, so the more I can keep above the better," she explains. "Using half-arcs enables a quicker delivery not having to tape things and making sure clearance is 100 percent. Sometimes I do need to use full arc rotations to get as many control points as possible, such as in a current case of a dog with a huge abdominal mass."
Saving and prolonging lives
Among the 800 patients that the previous service and ONE have treated, 40 percent have passed away, some dying as many as five years post-treatment.
"The very first patient we treated died a year short of her five-year treatment anniversary, but she had two other primary tumors in that time," Morrow says. "We've had a couple brain cancer patients that passed away at four years post-treatment. A mortality rate of 40 percent may seem high, but that's quite a survival time for an animal. Most importantly their quality of life is generally very good for the extended time we can provide.
"These babies are their lives. Every day they get with their dog or cat is a blessing to them."
"But we judge our outcomes not so much on the ones that have passed away, it's more about prolonging their lives and improving the quality of their lives. And it means the world to the owners. Some owners don't have kids, some are same-sex couples with no children. These babies are their lives. Every day they get with their dog or cat is a blessing to them."
Learn more about Elekta's solutions for Veterinary Radiation Therapy.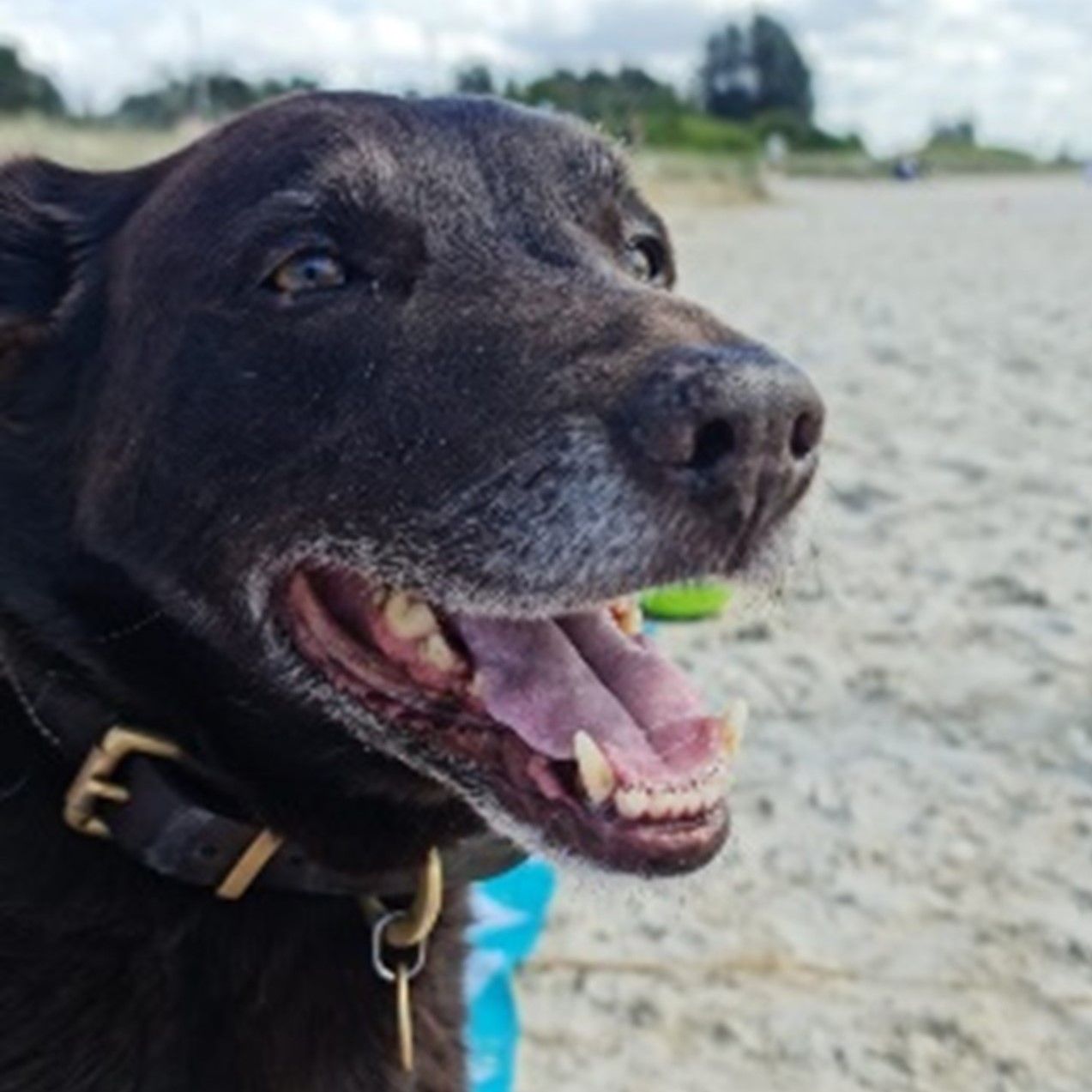 Case 1: Meet "Eric"
An 11-year-old MC Kelpie named "Eric," who had been suffering seizures, was diagnosed with a glioma compressing the right lateral ventricle.
Stereotactic radiation therapy (3 X 24 Gy) was delivered on three consecutive days in June 2021.
A post-treatment MRI of the brain in 2023 showed near complete resolution of the tumor.
Case 2: Meet "Whitey"
In 2018, a 13-year-old domestic shorthair cat named "Whitey" was referred for radiation therapy to treat an actinic nasal plane squamous cell carcinoma.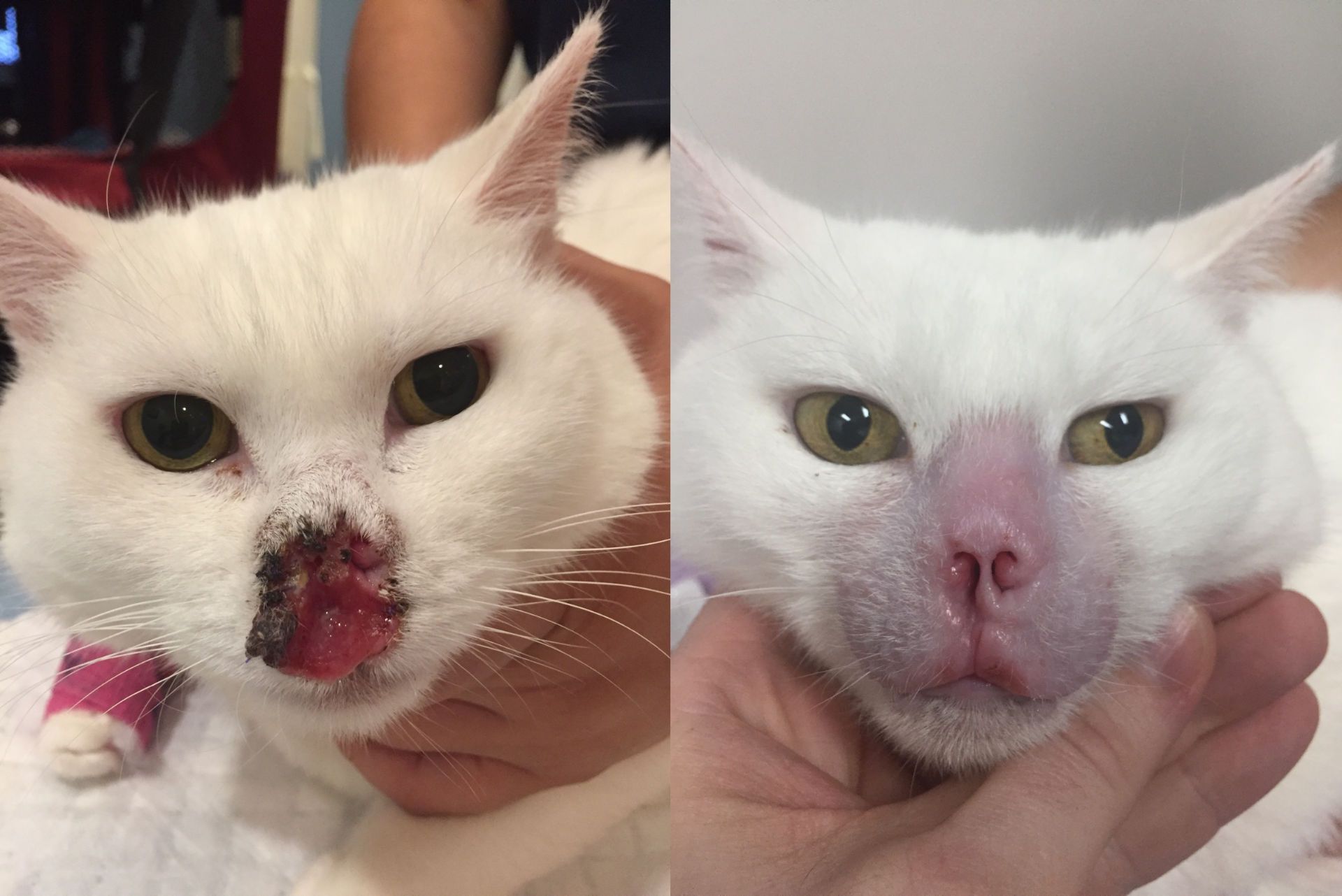 An excisional biopsy involving partial nosectomy was performed. Due to the extent of the disease, surgery was not recommended and the patient was referred to ONE.
One-week post-treatment the tumor volume had reduced significantly and the cat was in clinical remission at six weeks. This patient lived another three-and-a-half years after radiotherapy.
LAROX230928