The knife in media
The Early Years, 1972-1986
Reading time: 5 minutes
Journalists were thrilled by the notion of "bloodless surgery" and modern radiosurgery from the 1960s onwards. But how was this new medical practice presented in newspapers, journals and other media? Here's a quick run-through.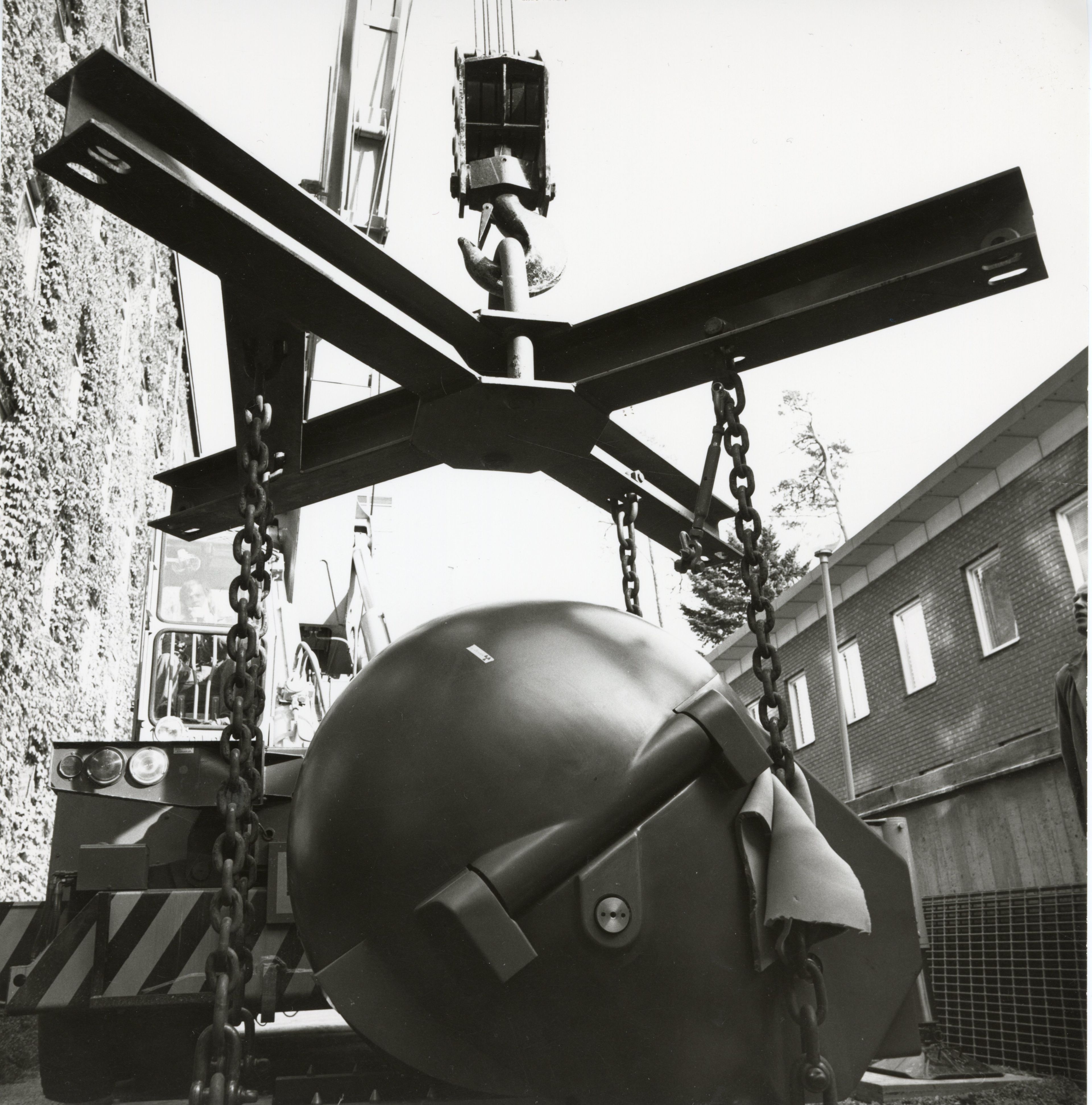 Radiosurgery had an early media breakthrough. As early as January 1959, Swedish and international press were reporting on a unique brain surgery - the first of its kind in the world - that Lars Leksell, Börje Larsson and their team had carried out in Uppsala. The operation took place just before Christmas 1958 at Gustaf Werner's institute for nuclear chemistry and involved using a proton beam to cut the neural pathways in a patient.
The headline in leading daily paper Svenska Dagbladet on January 19, 1959, read: "Operation with 'radiation knife', technique of the future in several important disease areas." The article described the new technology and the new opportunities it opened up. Professor Lars Leksell emphasized that it was still in the early clinical research stages and that the prospect was long-term: "Within 5-10 years, one can hope that the method can be used for the benefit of thousands of people in major disease areas. But this is extremely difficult to predict, such as where mental disorders are concerned. New pharmaceuticals might well change the entire picture."
Sweden's other leading daily, Dagens Nyheter, interviewed the American neurosurgeon Irving S. Cooper, a specialist in Parkinson's disease, who was hopeful that in the future the method could be a major asset when it came to alleviating symptoms in Parkinson's patients.
New terms and concepts entered the lexicon, such as "radiation knife" and "the invisible knife." These were powerful metaphors that would even find their way into literary texts over the following years.
Early international media coverage
The first operation in Uppsala was recognized as a milestone in the American press as well. The New York Times interviewed Professor William Sweet, neurosurgeon from Harvard University's Medical School, who believed the procedure to be important progress and a good example of the new possibilities that modern technology offered. Sweet emphasized that the Swedish researchers had conducted effective testing to evaluate how to target radiation as accurately as possible for the purpose of achieving an effective treatment.
One of Sweden's leading cancer researchers, Sven Hultberg, chief physician at the radiotherapy research institution, Radiumhemmet, and professor in radiotherapy, was interviewed in another context. He was skeptical that the method would be usable for the treatment of malignant tumors. He doubted that the proton beam could be made accurate enough that it attacked only the tumor, while sparing healthy nerve tissue. Leksell and his team would go on to solve this problem in the 1960s through continued research and development of the technology, which resulted in Gamma Knife.
More headlines about the "invisible knife"
In January 1960, Gamma Knife was again in the spotlight. Svenska Dagbladet ran a follow-up article. In an interview, radio physicist Börje Larsson reported that the initial patient was doing well and that the outcomes were positive. Though still confined to clinical research, the number of trials would now be increasing.
Late autumn that same year saw a greater revelation in conjunction with the opening of Karolinska Institute's commemorative exhibition to celebrate 150 years. Svenska Dagbladet could report that "brain surgeries with the invisible knife - a proton beam from the synchrocyclotron in Uppsala - are now being carried on approximately one patient per week." The operations were performed primarily to treat Parkinson's disease and certain mental disorders. Lars Leksell reported that the patients were doing well and that everything went as planned. Leksell had moved his research from Lund University to Karolinska Institute, in part for the purpose of greater proximity to ongoing experiments in Uppsala.
Less of a novelty, more routine
Skip ahead a few years. By March 1966, the Swedish press was reporting that Gamma Knife would be part of routine practice in Sweden. Karolinska Hospital in Solna was to become the world's first hospital to receive a so-called radiation knife "for routine use in bloodless brain surgeries." They were referring to the Gamma Knife, manufactured by the engineering firm Motala Verkstad and developed through the 1960s with financial support from the Johnson Foundation. According to the article, the idea was that the Gamma Knife system would be installed at Karolinska Hospital in early 1967.
Things turned out slightly differently. The first Gamma Knife was not installed at Karolinska Hospital, but rather at Sophiahemmet Hospital in Stockholm, and this did not happen until early 1968.
Media interest continued to grow after Gamma Knife was put into operation at Sophiahemmet. One contributing factor was that the concept was increasingly being presented at international conferences and congresses. It was sometimes Lars Leksell himself who presented, but he also had assistance from his sons, Larry and, above all, Dan.
More media – and not just about Gamma Knife
In September 1969, Svenska Dagbladet reported from the Fourth International Congress of Neurological Surgery in New York. Discussions at the congress revolved around topics including improved treatment methods for pain relief and Parkinson's disease. According to the article, Gamma Knife drew many visitors to Motala Verkstad's booth:
"On the occasion of the Congress, Motala Verkstad is showcasing the entire Leksell stereotactic surgery system and for the first time internationally introducing Gamma Knife, which makes it possible to operate deep inside the brain without having to open the skull. … As the Swedish radiation knife has increasingly been used for treatment of Parkinson's disease - of which there is estimated to be 8,000 cases in Sweden - many delegates have shown great interest in this Swedish intervention. Motala Verkstad's booth has been visited by neurosurgeons from around the globe who inquired about Gamma Knife with great interest. The patient is awake throughout the entire operation and is in radio contact with the operator, who stands operating at the instrument table in another room."
No longer just a media headline
A few years later, Gamma Knife was definitively an established theme in the media. In November 1972, Svenska Dagbladet reported that an improved Gamma Knife had now been developed after several years of clinical testing at Sophiahemmet. The device would be installed at Karolinska Hospital. The article underlined that Gamma Knife was "expected to become a major export item." The company Elekta was founded in the same year, which over time would go on to make Gamma Knife a global product.
Two years later, in October 1974, Dagens Nyheter wrote that the new Gamma Knife was ready for installation at Karolinska Hospital. Its weight of 15 tons and price tag of SEK 2.2 million raised eyebrows. But at the same time, it was determined that the investment would be profitable with only 50 operations a year. "In the cases where it can be used, it actually means enormous savings compared to a normal brain surgery and puts the patient at considerably less risk at the same time. The device can be used for several hundred operations a year."
This article also highlighted the export opportunities, concluding: "It is hard to imagine that this unique tool for completely bloodless brain surgery will not come to be used around the world." In retrospect, we know that the journalist was right—even if the major global breakthrough would not come until 15–20 years later.
Discover more of our story
The Early Years
1972 - 1986
A Company Grows Up
1986 - 1993
Important Turns
1994 - 2005
A Modern Approach
2005 - 2022