The IMPAC acquisition—hello software!
A Modern Approach, 2005-2022
Reading time: 8 minutes
When Elekta, in January 2005, announced its intention to acquire the Silicon Valley oncology software company IMPAC it seemed like the perfect match. And, in many ways, it was, but there were also two very different cultures moving in together.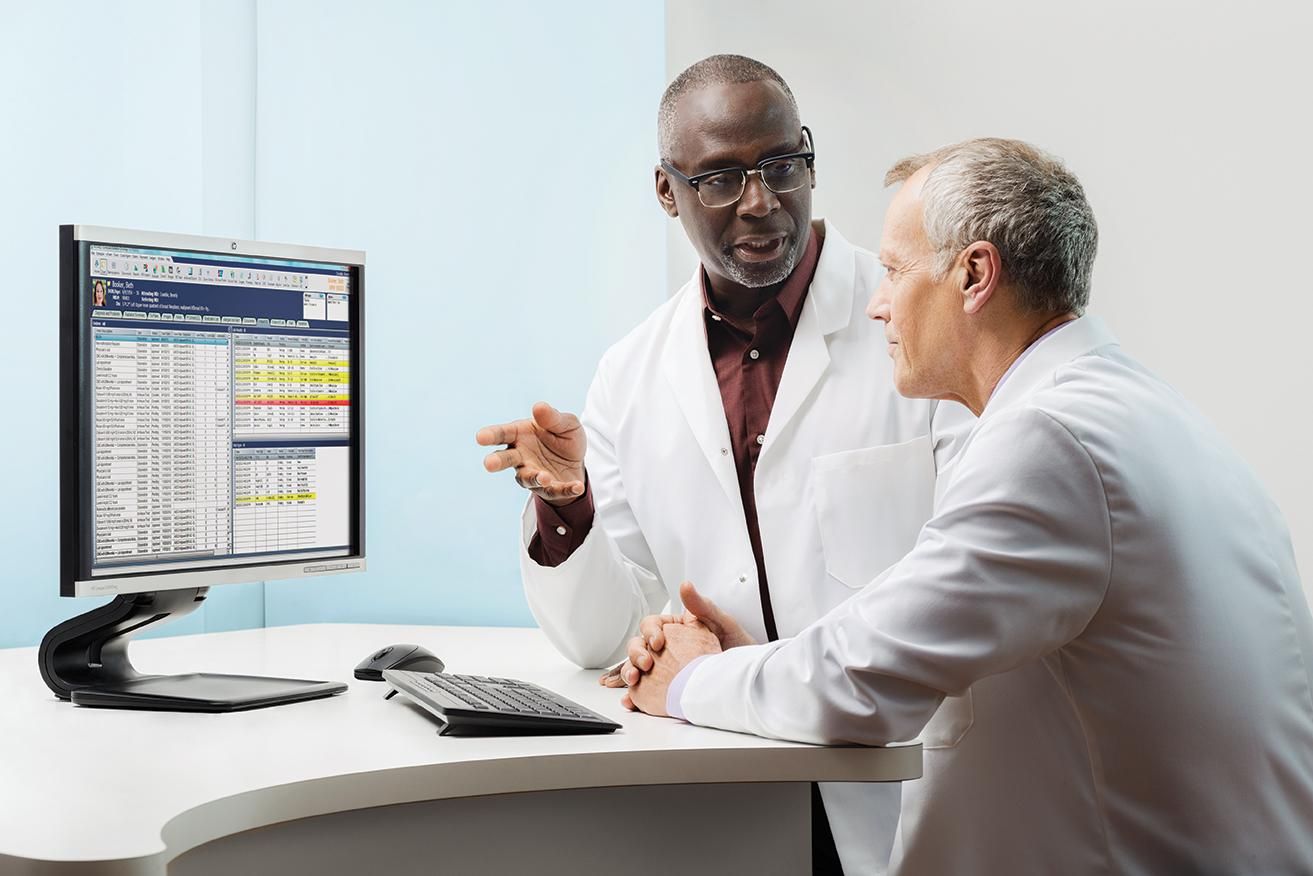 The year was 2004. The U.S. was still trying to heal from the fall of the Wall Street-darling Enron, and Harvard student Mark Zuckerberg had just launched a platform called The Facebook.
This particular morning, a small team from Elekta, including CEO Larry Leksell and the head of Elekta's operations in North America, Tomas Puusepp, was visiting the medtech software company IMPAC at their office close to the Castro Station, not far from the newly opened Googleplex (Google H.Q.) in Silicon Valley. At regular intervals, the commuter railway Caltrain heading for San Francisco or San Jose thundered past, making it impossible to talk for a minute or two.
On-site to meet the Swedish team were the three founders of IMPAC Medical System: Joseph "Joe" K. Jachinowski, Jay Hoey, and David Auerbach.
Larry Leksell remembers that he had bought a tie as a gift for Joe, the CEO of IMPAC: "We came dressed in suits, while the founders wore shorts, t-shirts, and flip flops."
Larry gave the CEO Joe the tie and said: "You will need this when you work for Elekta." He laughs when he talks about the meeting: "When we later ran our management presentations, Joe sat in a yoga position, and Jay Hoey went away and started playing the guitar in his room."
The three founders remember having not just this lengthy meeting but many more long meetings with the Swedes—in Silicon Valley, New York, and Stockholm. The discussions, they thought, were long but usually with few decisions.
"Elekta was a big company, but the culture was very different. They were a lot more concerned about consensus than what we are used to dealing with here in the U.S.," David Auerbach says.
But he also remembers Larry's infectious energy and knowledge. "I have great respect for Larry."
There were, however, issues that needed to be solved.
"I was worried about how we could acquire IMPAC without losing the founders and their expertise," Larry says.
The founders wanted to know what would happen with their brand, employees, and culture. "It was also a matter of price," says David with a smile.
Still, during those recurring meetings in 2004, both sides could see the benefits of a merger; IMPAC had the software and the U.S. market, and Elekta had the hardware and Europe.
The story of IMPAC
IMPAC is a Silicon Valley saga. The founders started the oncology software startup in David's garage in Fremont in 1990. The trio had previously worked together at the Elekta competitor Varian Medical System in Palo Alto, a couple of minutes' drive from Mountain View.
"At the time, IT was developing from minicomputers to PCs, so you started to see all these little software applications pop up: billing, medical records, and digital film. Another trend was local area networks, LANs, that were used to connect computers so they could speak with each other. You must remember how long this was before the Internet came about," explains Jay Hoey, who left the company when he retired last year.
Today radiation therapy is very computer-intensive, but at the time, the advanced machines for radiation therapy were set manually at each patient visit.
"We saw a need for software systems that could manage the radiation therapy machines and also collect information from different applications used by the clinics," Jay explains. It was also essential to the three founders that the software was independent and not sold bundled with the radiation therapy machines, which could come from various suppliers, with Elekta being just one of them.
IMPAC snowballed in size over the coming years and was profitable almost from the start. The three founders were soon able to leave David's garage for an office at University Avenue in downtown Palo Alto.
After Elekta bought the radiation therapy division in Crawley, England from Philips in 1997, the company became a customer of IMPAC.
"We started meeting Larry Leksell and Tomas Puusepp regularly for discussions about the development of our software. We did this with their competitors too of course, but there was a creative dynamic between us," Jay remembers.
In 2002, IMPAC successfully listed its shares on the Nasdaq stock exchange in New York. IMPAC had now more than 110 people across the U.S. and almost 80 percent of the U.S. cancer clinics as customers
"At the time, there were only two big players in the U.S. market for radiation therapy software, IMPAC, and Varian," Jay says.
The startup had become an essential player in the American market but was still relatively unknown outside of the U.S.
Larry dreams about America
"The U.S. market is the first thing I think of in the morning and the last thing before I go to sleep," said Larry in an interview when he visited New York in February 2005.
For Elekta the acquisition of IMPAC was a gamechanger, and the market understood. Elekta's share price rushed to a new all-time high when the bid for IMPAC became public in early 2005. The Swedish company offered 250 million dollars, more than 20 percent over the share price. Some months later, the offer was approved by the shareholders and the board. Now Elekta had access to an outstanding network in the American market for all its products, and the company was first in line for support and software upgrades.
"Our biggest competitor, Varian must have gone crazy when they heard the news," Larry says.
A year later, the software was renamed Elekta MOSAIQ.
Today, 17 years later, Elekta is one of the world's largest oncology software systems providers, and MOSAIQ is still possible to use with machines from all providers.
Larry calls the acquisition of IMPAC a perfect match.
"Especially for Elekta, but I also think it was beneficial for IMPAC. It would have been difficult for them to continue as an independent software developer."
Tomas Puusepp, who took over the role as the CEO from Larry in 2005, says it was a very educational acquisition in many ways for Elekta.
"There were two very different cultures as well as software and hardware; we all learned a lot from the process. There were many meetings and conferences."
Larry Leksell reveals how he stopped the founders from leaving the company: by lining their pockets full of money.
"I took the CEO Joe aside at that meeting in Mountain View and explained: If you leave the company, it will take Elekta one year to ruin your life's work. We need you to stay. Then I asked what he wanted to do if he became part of Elekta, and the answer was Chief Technology Officer, so I said ok."
Elekta also decided to allow IMPAC to continue living its own life. "It took many years before the company was fully integrated into Elekta, and that was on purpose" says Larry.
David left the company
But not all the founders stayed onboard. David Auerbach left Elekta after a year, and today he is a founding partner at the investment consultancy Inspovation Ventures.
"After IMPAC went public in 2002, we had discussions about the future for IMPAC, and we decided it was time to start working directly overseas," David says.
As the president of international operations, David set up an office outside of London, moved a senior salesperson from the U.S., and hired some local people. IMPAC was already working with Elekta then, and now the companies have come closer to each other.
The European market was, however, different from the American in many ways.
"In Europe, software was still considered an add-on to the expensive radiation machines, and trying to sell it separately was a challenge," David says.
IMPAC also needed to adapt the software.
"We had to modify our product to support local languages, numbering systems, dates, and everything else that was different."
He still agrees that the fusion with Elekta made sense.
"The idea was pretty simple, IMPAC could help Elekta penetrate the U.S. market, and they could help us take the lead in Europe: it was a win-win."
David continued to work with the European market, and now IMPAC had access to the Elekta network and sales team.
"The problem was that they worked very differently and had other priorities. To close a deal, they often promised customer features that we couldn't deliver."
Furthermore, the often inevitable overlap of competences and functions affected some of David's colleagues from the IMPAC days.
"Maybe I was naive, and I understand the problem with overlaps, but it frustrated me. There were people that I cared for that were not kept in the same capacity."
David tried to talk to Joe and Jay about the problems, but in the end, he felt it was time for him to move on.
"But I still think it was a good deal for IMPAC," David says.
The future is bright
Right now, Elekta and IMPAC are taking on another technological development step.
"We are rebuilding the architecture and adding new features based on technologies such as Big Data, SaaS, and Cloud solutions, which will offer new possibilities for effective cancer treatment," Larry explains.
"In addition, we take many, many more pictures, even during the radiation treatment itself, to ensure that healthy tissue is not treated. All these images need to be handled in image archives easily accessible to healthcare professionals."
To meet the new technical requirements, Elekta recently acquired Finnish Kaiku Health, a digital health company with a mission to improve the quality of life through health data science.
"So now we're on a new journey," says Larry Leksell.
Discover more of our story
The Early Years
1972 - 1986
A Company Grows Up
1986 - 1993
Important Turns
1994 - 2005
A Modern Approach
2005 - 2022