Moving inside the body—The arrival of brachytherapy
A Modern Approach, 2005-2022
Reading time: 7 minutes
Through the acquisition of the Dutch company Nucletron, Elekta gained a new vital business area—Brachy Solutions. For the management of Nucletron, the sale fulfilled the ambition to have more cancer patients benefit from brachytherapy.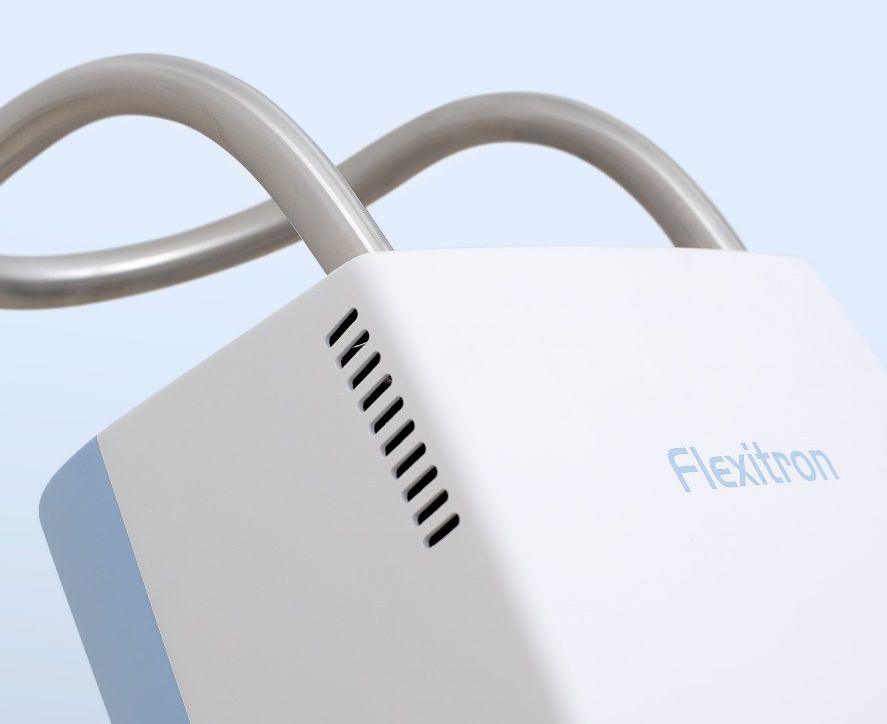 In the summer of 2011, Elekta announced the acquisition of the Dutch brachytherapy company Nucletron for 365 million euros.
"This integrated product portfolio is particularly important, as the combination of brachytherapy and external beam radiation therapy treatments continues to emerge as a leading course of therapy for cancer worldwide," said Tomas Puusepp, at the time CEO of Elekta, in the official press release.
The two companies had synergistic product and technology portfolios, even if they approached cancer differently.
Brachytherapy is a radiation therapy where a sealed radiation source—a small rice kernel-shaped unit—is placed inside or next to the area requiring treatment, like gynecological and prostate cancer. So, while Gamma Knife, for example, treats cancer from the outside without cutting into the skull, brachytherapy treats the affected areas from the inside.
Through the acquisition, Elekta got a new business area: Brachy Solutions. Elekta could now offer even larger packages for cancer treatment, matching what main competitor Varian already was doing.
"With the acquisition of Nucletron, Elekta became a one-stop shop for radiotherapy as a treatment option for cancer," says John Lapré, President of Brachy Solutions Elekta and who had been on the management team at Nucletron.
Nucletron, already a market leader in brachytherapy, brought 1,000 new customers to Elekta's customer base of 5,000. It was also a financially prosperous company; when acquired, Nucletron had revenues of EUR 128 million and EBITDA (earnings before interest, taxes, depreciation, and amortization) of EUR 26 million.
Big win for the management
For the management of Nucletron, the affair was a big win. It was the exit that they had been working towards since 2007 when they negotiated a management buyout from the Dutch stock exchange-listed Delft Instrument.
"We were looking at different options, strategic new owners like Elekta and private equity. Elekta was, however, the logical owner, since their focus had been external beam radiotherapy, and Nucletron enabled Elekta to complete their offering with brachytherapy," says Jos Lamers, who had joined Nucletron as its CEO in 2007.
It was Eric Van 't Hooft who had founded Nucletron 1975 in Leersum in the Netherlands. "You can think of him as a combination of Larry Leksell and his father Lars Leksell. A very clever engineer, but also a very clever businessman," says John Lapré. "It was Eric Van 't Hooft who took brachytherapy from an art into a science, making it safe as a treatment form for both handlers and patients, working with remote offloading and all the techniques we use today."
In 1994 Eric Van 't Hooft sold the company to Delft Instrument, a listed medical device company. But as part of Delft Instrument, Nucletron had mediocre results at best. Eric Van 't Hooft, who by then had founded Isodose Control BV, another brachytherapy equipment provider, initiated the buyout of his old company, planning to sell it again.
"We believed that Nucletron would be able to thrive again as an independent company instead of being part of this much larger conglomerate," says Jos Lamers, the former CEO.
In 2009, Isodose Control BV and Nucletron merged.
"Isodose Control has developed a range of innovative brachytherapy products and has a promising range in development. Together with Nucletron, we look forward to speeding up the market introductions of these innovations to healthcare institutions and their patients worldwide," Eric Van 't Hooft said, commenting on the affair when it became official.
Getting rid of the "fat cat"
Jos Lamers was hired by the new owners after the buyout with the mission to get Nucletron on the right path again and prepare for an exit in five to seven years.
"To reach that goal, we needed to focus solely on brachytherapy again, the invasive radiotherapy solution that created the company many years ago. We also changed almost the whole management team during this time," he says.
John Lapré was recruited as the new head of research and development.
"To me, it was clear that the company was suffering from the 'fat cat syndrome' at that time. Nucletron was the market leader in brachytherapy, but innovation was slow," John Lapré says.
He began making changes with the clear mission to prepare the company for an exit.
"I added new people and streamlined the team to increase focus on innovation, which was successful. In about two and half years, which is very quick, we developed a new product to treat skin cancer, Esteya, that became an important part of our growth plan," he says.
Another beneficial factor was the well-established network of partners that could support the need for research and development. "Nucletron always had a lot of partners: research partners, universities, hospitals. We also have Brachy Academy, a peer-to-peer platform we facilitate," says John Lapré.
"The highly efficient workflow and easy patient setup of Esteya make skin cancer treatment extremely easy to plan and deliver. And we had high hopes that as part of Elekta, we could make this solution quickly available to patients," says John Lapré.
Still, at first, Elekta wasn't able to market Esteya. The form of skin cancer that Esteya treated was mainly handled by dermatologists, a group of clients that Elekta and their salesforce had not worked with earlier. Additionally, they were already focusing on selling a completely new product line—brachytherapy.
Despite some worries about what the acquisition would mean for his domain, John Lapré favored Elekta buying Nucletron.
"I was afraid that Elekta saw brachytherapy mainly as a money maker due to our high margins, and perhaps they would even see us as a competitor to their linac solutions. But I still thought Elekta was a better option than Philips, which had also shown interest, but where we would have become a tiny unit in a huge international corporation."
However, it quickly became apparent that Elekta intended to continue to develop brachytherapy as one of the company's focus areas.
Changing management
At the time of the acquisition, Elekta's CEO Tomas Puusepp praised the management of Nucletron. Even so, both the founder and the former CEO of Nucletron soon left the company to pursue other options.
"I stayed a year since I had promised to lead the integration between Nucletron and Elekta. My ambition was to be a CEO, and given the sale to Elekta, I became a divisional president. So, it was a natural moment to look for a CEO position outside Nucletron/Elekta once the integration was completed," says Jos Lamers.
Instead, Tomas Puusepp asked John Lapré if he wanted to take over as the President of Brachy Solutions Elekta, a position he still holds.
"I thought there was still a lot left to do in brachytherapy and it was too early for me to retire, so I accepted," says John Lapré.
At the time, Nucletron was still working under its own brand.
"We kept it for a couple of years because Nucletron had a brand value, especially in the US where Elekta was less well known."
According to him, Nucletron benefited from the merger but there were also some struggles to overcome.
"One plus was that we now had access to higher management in hospitals and clinics. Brachytherapy systems are lower priced compared to the other Elekta products. A typical brachytherapy system would be around USD 300,000 when the Gamma Knife system or linac sells for a couple of million dollars. So, by teaming up with Elekta we could move up in the decision chain and talk with a more powerful voice," John Lapré says.
Drawbacks were that Elekta was not a strong brand in the US, and Nucletron was no longer an independent company able to work with any partner.
"It took at least two years to get the companies fully integrated and for the salesforce to get used to selling our products, but today Brachy Solutions Elekta is a strong brand both in the US and the rest of the world," John Lapré says.
Jos Lamers agrees.
"Nucletron has found a great place together with Elekta," says the former CEO, who in 2013 moved to diagnostics group Unilabs as its new CEO, a position he kept until 2019, when he became Unilabs' chairperson.
Today, Elekta is the market leader in high dose brachytherapy, and the tools provided by the company are used to treat a variety of cancers, including prostate, breast, skin, and bladder. The global brachytherapy market was in 2021 valued at USD 788.5 million and is expected to grow at almost 10 percent a year until 2028.
Discover more of our story
The Early Years
1972 - 1986
A Company Grows Up
1986 - 1993
Important Turns
1994 - 2005
A Modern Approach
2005 - 2022