Míša the bear—a sunshine story
Important Turns, 1994 - 2005
Reading time: 5 minutes
In the early 1990s, a seriously ill boy from Czechoslovakia, Míša, became a symbol of the Elekta Gamma Knife and its life-saving importance. Thanks to a fundraising campaign in which, among others, world-renowned Swedish author Astrid Lindgren contributed, Míša was able to undergo surgery in Stockholm. It was also the starting point for purchasing the renowned radiosurgery system for a hospital in Prague, the first in the former communist states of Eastern Europe.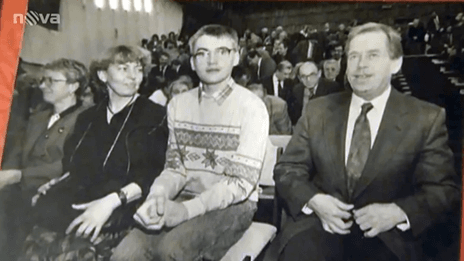 Former President of the Czech Republic, Václav Havel (left), and director of Na Homolce hospital, Dr. Jiří Šubrt, look at the hospital's Leksell Gamma Knife. ® Fotobanka ČTK
This sunshine story began in June 1990 with a letter to Lars-Åke Nilsson, Sweden's ambassador in Prague, the capital of then Czechoslovakia (which in 1993 would split into the Czech Republic and Slovakia). The letter came from the Budínský couple from the town of Martina, who appealed for help for their twelve-year-old son Michal, Míša.
Míša had become partially paralyzed after suffering a brain hemorrhage caused by a vascular disease. There was a serious risk of Míša dying if he had another hemorrhage.
The boy's doctor believed that Gamma Knife surgery might help, but that type of treatment did not exist in Czechoslovakia. The surgeons at Karolinska hospital in Solna, Sweden, were willing to operate on Míša, but the cost would exceed SEK 84,000 in the monetary value of that time.
Ambassador Nilsson brought the matter to the attention of František Janouch, a Swedish-Czech nuclear physicist. Janouch had led Charter 77, a foundation formed as a civil rights movement under communism and was now working for the building of a free and democratic Czechoslovakia.
The organization lacked its own funds to be able to help, so they decided to organize a fundraising campaign to pay for the operation. Support came via the Swedish evening newspaper Expressen, which published an advertisement free of charge. In addition, several hundred fundraising letters went out to companies and sympathizers.
One answer stood out –it came from the children's author Astrid Lindgren, world famous for her stories about Pippi Longstocking and Karlsson on the Roof. She sent 4,000 Swedish crowns, to "even out the sum that needed to be collected," as she put it.
In July, the rest of the sum was collected and by the end of August, Míša was flown to Stockholm for an operation at the Karolinska hospital. The news received a lot of media attention, and Míša became a celebrity.
Not surprisingly, Charter 77 was quickly approached by other people looking for money for operations. The problem was that resources were lacking to organize all the help that would be needed. A more systematic solution was necessary.
The organization contacted Elekta to investigate how much the equipment would cost to buy. Three million dollars was an astronomical sum considering the economic situation in Czechoslovakia, only a short time after the Velvet Revolution.
But the country's health care minister was positive about a purchase, as were medical experts and Czech neurosurgeons. It was soon concluded that the equipment should be placed at the relatively newly built hospital Na Homolce in Prague.
František Janouch contacted the president's wife, Olga Havel, who chaired a newly formed organization, The Committee of Good Will. Her name opened more doors. A fundraising account was set up, "the Míša account", and a mascot was created, a small teddy bear with Míša's name. Stickers with Míša Bear were put up on cars, gates, mailboxes etc.
Many newspapers and magazines published free advertisements. Companies and organizations donated money in proportion to the number of employees. Private individuals donated from their savings. The examples were many and moving. An elderly woman wrote that she had saved up to buy a new winter coat, but that she would rather donate the money and get by with her old, worn coat.
The Gamma Knife that eventually was purchased and place in Prague became the first one in Eastern Europe. The nationwide collection is said to have even surpassed the collection made for the reconstruction of the National Theater in Prague after its destruction in a fire in 1881.
On November 5, 1992, the new clinic was formally inaugurated in the presence of President Václav Havel. Three years later, Queen Silvia of Sweden visited the Na Homolce hospital and got to see the equipment and hear about the successful results.
There had also been critical voices who believed that the purchase of the Gamma Knife was a waste of money. Only about seventy patients could be treated annually, they claimed. But the equipment, which was purchased via the Míša account, came to help more than ten thousand patients between the years 1992 and 2009. In 2009, the Gamma Knife system was replaced with a modern model.
Thanks to additional financial support, operations could also be offered to children from Ukraine. Over a hundred Ukrainian children were treated free of charge.
As for Míša, he died in 2018 at the age of 40, but the operation had extended his life by nearly thirty years.
František Janouch later recalled: "The history of the Prague Gamma Knife is so incredible that even I, who participated at virtually every stage, have difficulty believing ... that everything in this fairytale really happened."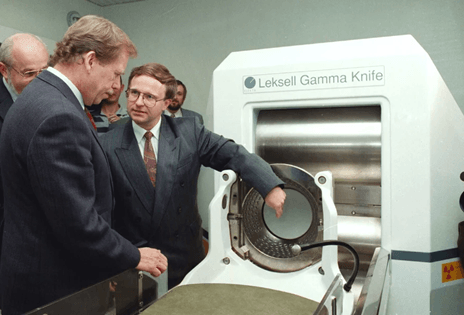 Michal (Míša) Budínský with former President of the Czech Republic, Václav Havel. Photo courtesy of TV Nova
Discover more of our story
The Early Years
1972 - 1986
A Company Grows Up
1986 - 1993
Important Turns
1994 - 2005
A Modern Approach
2005 - 2022