Members only—The secrets of the Leksell Gamma Knife Society
A Company Grows Up, 1986 - 1993
Reading time: 8 minutes
By encouraging the growing number of believers to develop and spread the message, Elekta convinced the world of the excellence of the Leksell Gamma Knife. The Leksell Gamma Knife Society became the platform for discussions and knowledge exchanges. And a key to the society's success was that Dan Leksell ensured the doors stayed closed to Elekta's own sales team and for non-customers.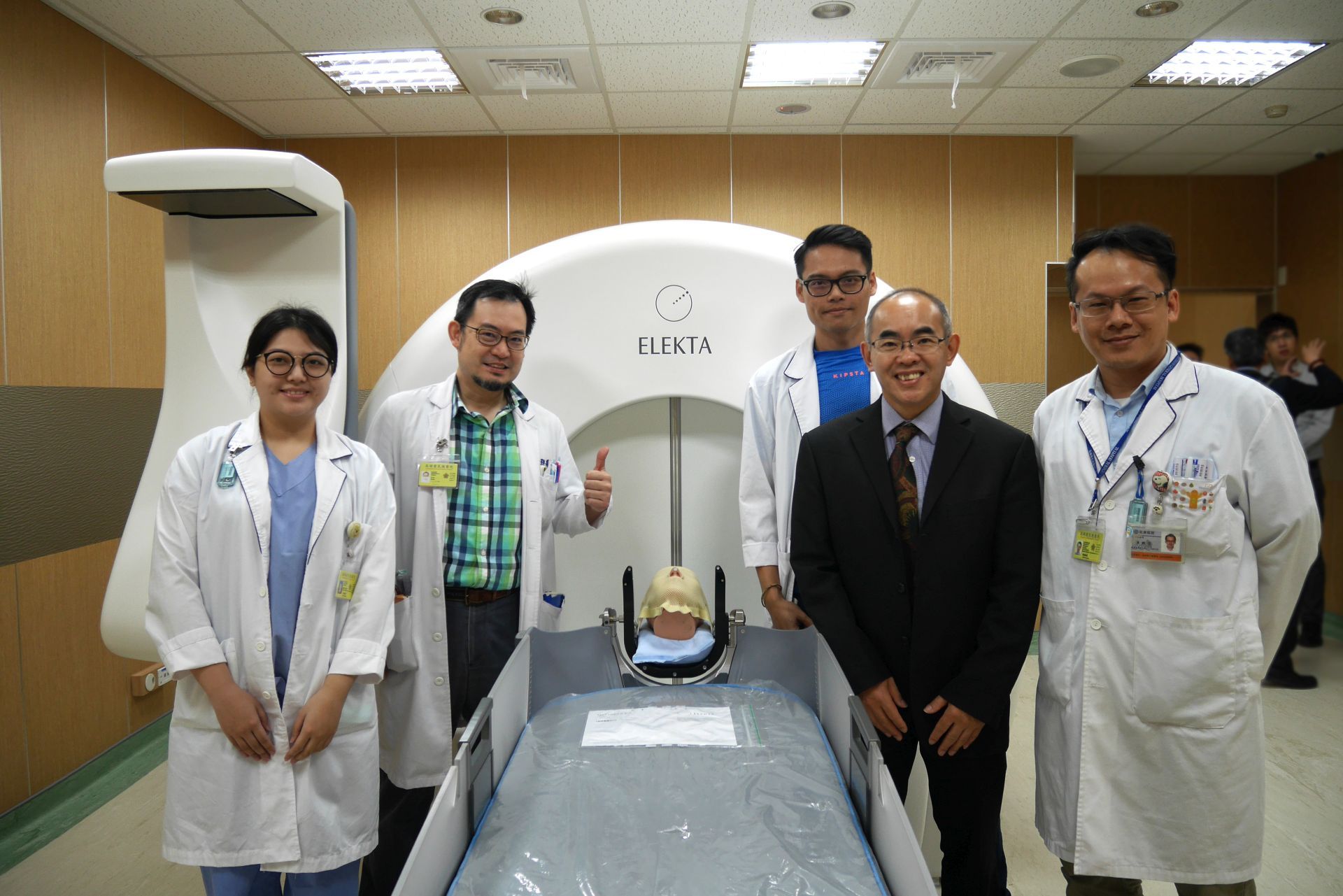 In 1989 in Bath, the largest city in the county of Somerset in England, a small group of Gamma Knife practitioners met for a few days to discuss best practices in cranial radiosurgery. The meeting was initiated by Dan Leksell, then clinical director at Elekta in Stockholm.
"We had just sold a Gamma Knife to Pittsburgh in the U.S., a pivotal sale for us, and I felt hopeful; maybe people, after 19 years struggling to convince them, were starting to understand that you could work in the brain without cutting the skull open," he says.
Pittsburgh's Gamma Knife was the fifth installation in the world but the first commercial sale for Elekta, and it was sold in the crucial U.S. market.
Now was the time to act, Dan Leksell thought.
Catherine Gilmore-Lawless, at the time president of Elekta U.S., says they early on discussed the need to create a community of believers.
"To systematically elucidate the role of radiosurgery for the treatment of brain disorders, we needed the practitioners to share best practices and collaborate because, in the early days, nobody knew anything," she says.
The invitations to the meeting in Bath were sent out by telefax to the very few clinics around the world that had a Gamma Knife installed.
"Elekta paid the participants, about ten people, to travel to Bath. After a few days of meetings and discussions, I asked them if they wanted us to continue to meet like this every year and if they would be prepared to pay for themselves," says Dan Leksell.
The answer was a unanimous yes, which was the start of the Leksell Gamma Knife Society—an exclusive members club that would become essential for spreading knowledge about Elekta's Gamma Knife practice.
"The aim was to create an openness where users could freely share both good and bad experiences, which doctors are reluctant to do at regular medical conferences where they happily talk about their successes but less about their failures," says Dan Leksell.
The fact that everyone worked with the same tool helped to remove the prestige and created a feeling that they were working together towards a common goal.
"They felt they were among peers and wanted to help each other. Here they could tell how they treated patients with epilepsy or tried to get rid of one hundred percent of a tumor, and how it didn't go as planned. Maybe there were others with similar experiences who then tried something new. Thus, the members hugely contributed to the development and practice," Dan Leksell explains.
The second meeting was in Charlottesville in Virginia, and the third in Pittsburgh. One participant was neurosurgeon L. Dade Lunsford, who had previously worked with Lars Leksell at the Karolinska Hospital in Stockholm. Lunsford was the driving force behind the deal that gave Elekta its first commercial customer in the USA, The Presbyterian University Hospital in Pittsburgh.
"Those earlier meetings: Pittsburgh, Buenos Aires, and Stockholm were great scientific and social events that built common professional and personal bonds among the Gamma Knife users. Attendance was small, and true pioneers stood out," L. Dade Lunsford remembers and adds:
"And there has never been, not at the beginning or later, any risk of commercial bias while the meetings were strictly scientific and never sales events for Elekta."
Still, directly after the meeting in Pittsburgh, Lunsford founded another society: The International Stereotactic Radiosurgery Society (ISRS). In an article, he explains why:
"It became obvious that practitioners were using radiosurgery principles with a variety of technologies. I began to wonder about the value of a multi-disciplinary society dedicated to scientific knowledge acquisition, independent of the technology available at each individual center."
The new society provoked mixed reactions from some members of the Leksell Gamma Knife Society.
"Many of us were quite negative about inviting oncologists to an area they so far did not want to have anything to do with," Dan Leksell admits.
Results but no business deals
The Leksell Gamma Knife Society grew in membership as the number of installed Gamma Knife systems around the world increased. Different professionals working at the clinics were invited, including nurses and administrative staff.
"The entrance ticket was an acquisition of a Gamma Knife for three to four million dollars," Dan Leksell says.
There were discussions about inviting clinics that were not users of Gamma Knife–but in the end it was decided to keep membership to "Gamma Knife owners only".
"It was good that we didn't invite clinics that didn't have an installation, the risk would have been loss of openness and transparency, and that there would be a lot of prestige involved."
Another rule that Dan Leksell never broke was that the meetings should not be commercial; although he wanted Elekta to sell more systems, the sales people needed to be kept out.
"To the members I was a colleague, and even if I always cared about Elekta's results, my driving force was scientific which meant keeping the society free from commercial activities."
Dan Leksell told people at Elekta, including his brother and CEO, Laurent Leksell, that there was no point in trying to influence the agenda for the meetings.
"I didn't want any quirky product launches; the meetings had to be kept strictly scientific for them to be credible. Sometimes there was a bit of whining among the sellers, but it was often possible to solve by letting them have their presentation at another venue, before or after the meeting."
The focus for the scientific program has changed over the years.
"I followed the literature very closely but ignored occasional anecdotal stories; it took good quality published results to capture my interest. Then I asked myself what we needed to know more about and contacted potential speakers who were given 20 to 30 minutes to share their experiences."
As an example, Dan Leksell mentions brain metastases, which, for the first 15 years, were forbidden ground for users of Gamma Knife largely because it would be difficult to obtain long-term follow-up data. But the need for treatments was great, and he invited lecturers who could take the development further.
"A group of Japanese surgeons gave excellent lectures at our meetings; they managed to convincingly show that radiosurgery was superior and could be used to treat both single and multiple metastases."
Lena Höglund, who worked with marketing for over 35 years at Elekta, was part of the team planning the meetings. She highlights the closeness to the customers that the society created, not least in the critical U.S. market.
"To be as close to the customers, as we have been, is definitely one the key success factors of Elekta's growth journey. And the clinics had benefited from being able to express their opinions so that Elekta could develop products that suit them."
The meetings also had a social purpose, and they tried to pick up local traditions when choosing activities.
"There were dinners and entertainment. When in Stockholm, we visited a former Viking village, Birka, in the archipelago, low key but fun. People got to relax and have conversations."
All those years, the participants paid for the travel themselves. But over time, travel budgets for clinics around the world decreased. Also, climate reasons spoke against long-haul air journeys.
The last Gamma Knife Society-only meeting took place in 2018 in Dubai, and Dan Leksell then explained that radiosurgery was now entrenched in neurosurgery and that annual large international meetings were becoming a burden on both time and wallets.
"The Society remains, and we continue collecting treatment statistics. The Society organizes virtual educational events such as webinars and keeps the membership up to date on new developments, on the literature and on other things," Dan Leksell says.
In 2019, Dan Leksell retired and Lena Höglund took over leading the Leksell Gamma Knife Society.
The future is big data
In June 2022, Catherine Gilmore-Lawless took over the role as chair of the Gamma Knife Society. She doesn't believe that in-person meetings have played out their role. The society recently met in Milan, Italy, at a meeting that was held in conjunction with ISRS, the society that Lunsford created 30 years ago.
"I think there are still many reasons to gather together, network and share experiences. And that's what we just did in Milan. We only had a half day program that was exclusive for Gamma Knife practitioners, but I think our members found it valuable."
On the agenda for the Milan meeting were topics such as AI and machine learning.
"One beautiful thing about Gamma Knife is that the system and the techniques utilized are very homogenous which makes it sort of a perfect ecosystem for automation and machine learning, and that was a reason to include those topics on the program," Catherine Gilmore-Lawless says.
She also sees combining treatments as a promising paradigm for the future—radiosurgery, drugs and immuno- and targeted therapies.
"We're expecting several important trials to happen in that area."
Today, the society has around 2,000 members. Each year, a grant is awarded to two to four young neurosurgeons and radiation oncologists who are given the opportunity to spend three months at a reputable Gamma Knife Center in the U.S. or Europe.
Two years ago, a collaboration was also started with a Gamma Knife Center in Morocco, which means that the clinic is responsible for the fellowship with focus on African doctors.
"The first fellowship winner from Africa, Dr. Okwuoma from Nigeria, has just completed his training and he is very satisfied and eager to spread his knowledge further in Nigeria," says Lena Höglund.
The Leksell Gamma Knife Society will continue its meetings in some form as members have indicated that they still see a value in sharing information and peer-to-peer interaction.
Discover more of our story
The Early Years
1972 - 1986
A Company Grows Up
1986 - 1993
Important Turns
1994 - 2005
A Modern Approach
2005 - 2022