Entering the US market
A Company Grows Up, 1986-1993
Reading time: 6 minutes
Entering the US market was a do or die move for Elekta. It meant building trust and establishing a solution previously unheard of in a market with fierce competition.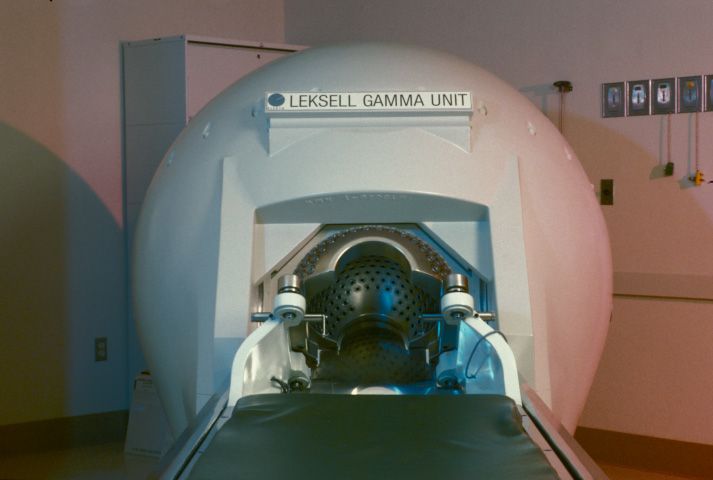 The gamma knife first attracted international attention in the 1970s, but it would be many years before it made a real breakthrough outside of Sweden. During those years, a steady stream of foreign neurosurgeons came to Stockholm as visiting researchers. They saw first-hand how the knife could be used in the treatment of different patients and were impressed, explains Rolf Kjellström, who started at Elekta in 1988 and is now in 2022 vice president in charge of neuroscience sales and marketing.
"Karolinska was considered a Mecca in neurosurgery. It was an honor to come to Stockholm and rub elbows with some of the big names at Karolinska, of which Lars Leksell was one. And everyone who completed their fellowship in Stockholm went home and said, 'we must have a gamma knife'."
Now, as markets went, the US market was of course of prime interest to Elekta, as the company looked to start selling internationally. But the first gamma knife in the US was not a sale, but a donation. In November 1981, the first prototype which had been in use at Sophiahemmet in Stockholm was moved to UCLA in Los Angeles. The formal handover took place at a clinic with close to five hundred guests in attendance. The machine was installed for research purposes – but would a few years later pave the way for the gamma knife's clinical application in the US.
Around the same time, Dade Lunsford, a young American neurosurgeon, was a visiting researcher at Karolinska University Hospital. His saw tremendous potential for the gamma knife. Upon his return to the US, he began pushing for a gamma knife to be installed at the University of Pittsburgh Medical Center, says Catherine Gilmore Lawless, who was one of Elekta's earliest employees, a Canadian who happened to live in Stockholm at the time.
"So as a young guy, Lunsford saw the potential. He was convinced, and he jumped through a lot of hoops. He moved mountains to get that machine at the University of Pittsburgh."
Meanwhile, the first gamma knives outside Sweden were sold to a hospital in Buenos Aires, Argentine and a hospital in Sheffield, UK. Elekta did not make these machines themselves, but they were manufactured and distributed by Nuclitec, a Swiss subsidiary of the Uppsala-based company Scanditronix, which produced the gamma knife under license from Elekta for a number of years.
In the early 1980s, Elekta was a small company yet to make a breakthrough and its marketing and sales were focused on Lars Leksell's earlier stereotaxic instruments. To boost sales, the company enlisted the help of the Johnson Group's foreign sales staff and the British company Downs Surgical.
"Not long into the 1980s, we passed a million kronor in sales for the first time and a lot of things started to happen", says Larry Leksell.
"If anyone can do it, Dade can do it."
In 1983, Leksell reached out to Downs Surgical's American salesperson, John Rigby and asked him to start a subsidiary for Elekta in the US. Rigby lived in Atlanta at the time, and since there was not enough capital to pay for a move, Elekta's US headquarters ended up in Georgian capital. One year later, Catherine Gilmore Lawless moved there too, to strengthen US sales and boost international operations.
"The gamma knife was still in the early stages and Scanditronix owned the rights. But there was a lot of interest from dad's star pupil, Dade Lunsford in Pittsburgh", says Larry Leksell.
Lunsford had convinced the hospital director of the benefits of investing in the ground breaking gamma knife. To say that Lars Leksell was excited is an understatement.
"Dad told me that if Dade is able to get a gamma knife, he will establish the method once and for all."
Larry Leksell reached an agreement with the Pittsburgh Medical Center on the terms of a deal. Seeing where the winds were blowing, he decided to leave his successful consulting company Nordic Management and become a full-time CEO for Elekta. This would prove to be a critical period in the company's history.
Leksell immediately got to work terminating the license agreement with Scanditronix and regained the rights to the gamma knife for Elekta. He also managed to secure financial guarantees from the state-owned investment bank Investeringsbanken, which gave Elekta the muscle it needed to move forward with its own production. Leksell re-established contact with engineer Hans Sundkvist, who had been there when the first prototype had been made. Sundkvist found the drawings for the beam knife in the attic of the Motala workshop. And so, after more than twenty years, production of the gamma knife was started in Sweden again.
The Pittsburgh deal was also subject to approval by the US Food and Drug Administration (FDA), which is usually a lengthy and complex process. But the company had an ace in the hole – the research unit that had already been installed at UCLA paved the way for a smooth approval process for clinical use.
In 1986, the contract was signed in Pittsburgh – the first time Elekta sold a gamma knife under in its own brand. Before Professor Leksell passed away the same year, he got the news that the deal was final.
Getting the knife to Pittsburgh
The actual transportation and installation process for the gamma knife in Pittsburgh was a challenge in itself. The rules for equipment that used radioactive sources were extremely strict. The gamma knife could not be shipped from Sweden with radioactive cobalt sources; the radiation sources had to be transported separately from the other equipment.
The first patient in Pittsburgh was treated in August 1987. In the years that followed, Dade Lunsford performed a series of treatments that demonstrated the clinical benefit of the gamma knife. Catherine Gilmore Lawless praises his work.
"He opened the door for the new method and the opportunities it offered. We couldn't have asked for more in terms of a pioneer who then systematically elucidated the role of the Gamma Knife in each cranial indication. So arteriovenous malformations, meningiomas, pituitary tumors, metastases, etc.. Metastases in this location, meningiomas in this type of pituitary. He published extensively on it all."
Rolf Kjellström agrees. "Dade Lunsford was a very big part of our success. He was extremely energetic. If you look at all of the literature, he probably has the most publications and is considered to be the most important factor in making the gamma knife what it is today."
At around 35-40 million Swedish kronor, the gamma knife was a relatively large investment, but studies soon presented evidence of the method's economic viability. Soon more orders came in the US. The second gamma knife went to the University of Virginia and Professor Neal Kassell. Then units were shipped to Chicago and Florida. Elekta had gained a strong foothold in the American market.
"One factor in its success was the robust technology", says Catherine Gilmore Lawless. "The technology itself was unique. We had competition, but our technology was superior and right out of the gate it worked. It was Swedish quality and it worked. It did exactly what we said it would do, sub-millimetric accuracy. It basically never broke".
When entering the American market, Elektra benefited from the gamma knife's simple, elegant design and the good reputation of Swedish-made products.
"Its simplicity, which Lars Leksell stood for, is really hard to achieve. Sweden has a reputation for high quality, maybe thanks in part to Volvo in the old days, and we benefited from that", says Catherine Gilmore Lawless.
Pittsburgh became a hub for American neurosurgeons who were eager to learn how to use the gamma knife. Dade Lunsford was a mentor for a new generation of stars in radiosurgery. They would go on to practice at other hospitals in the US or in other countries, says Catherine Gilmore Lawless.
"For example, Doug Kondziolka who runs the Gamma Knife program at New York University, Jason Sheehan who runs it at UVA, but many international practitioners as well. So we couldn't have asked for a better first site, just not possible, or a better leader and Lunsford has had many accolades since then."
Elekta now took a decisive step towards become a leading export company. The organization grew, sales increased to north of 20 million SEK and a number of key employees were recruited.
"Looking back, this period is extremely important," emphasizes Dan Leksell, who was responsible for the company's research and development for many years. These years were crucial for Elekta's survival and for the survival of the gamma knife, he says.
Discover more of our story
The Early Years
1972 - 1986
A Company Grows Up
1986 - 1993
Important Turns
1994 - 2005
A Modern Approach
2005 - 2022