Disciples spreading the word
The Early Years, 1972-1986
Reading time: 8 minutes
The environment that Lars Leksell nurtured at the Seraphim Hospital and the Karolinska Institute became a hotbed for talented neurosurgeons from different parts of the world. They later became the strongest advocates for the disruptive methods in surgery that Leksell and Elekta proposed – and would help open many doors for Elekta during their own careers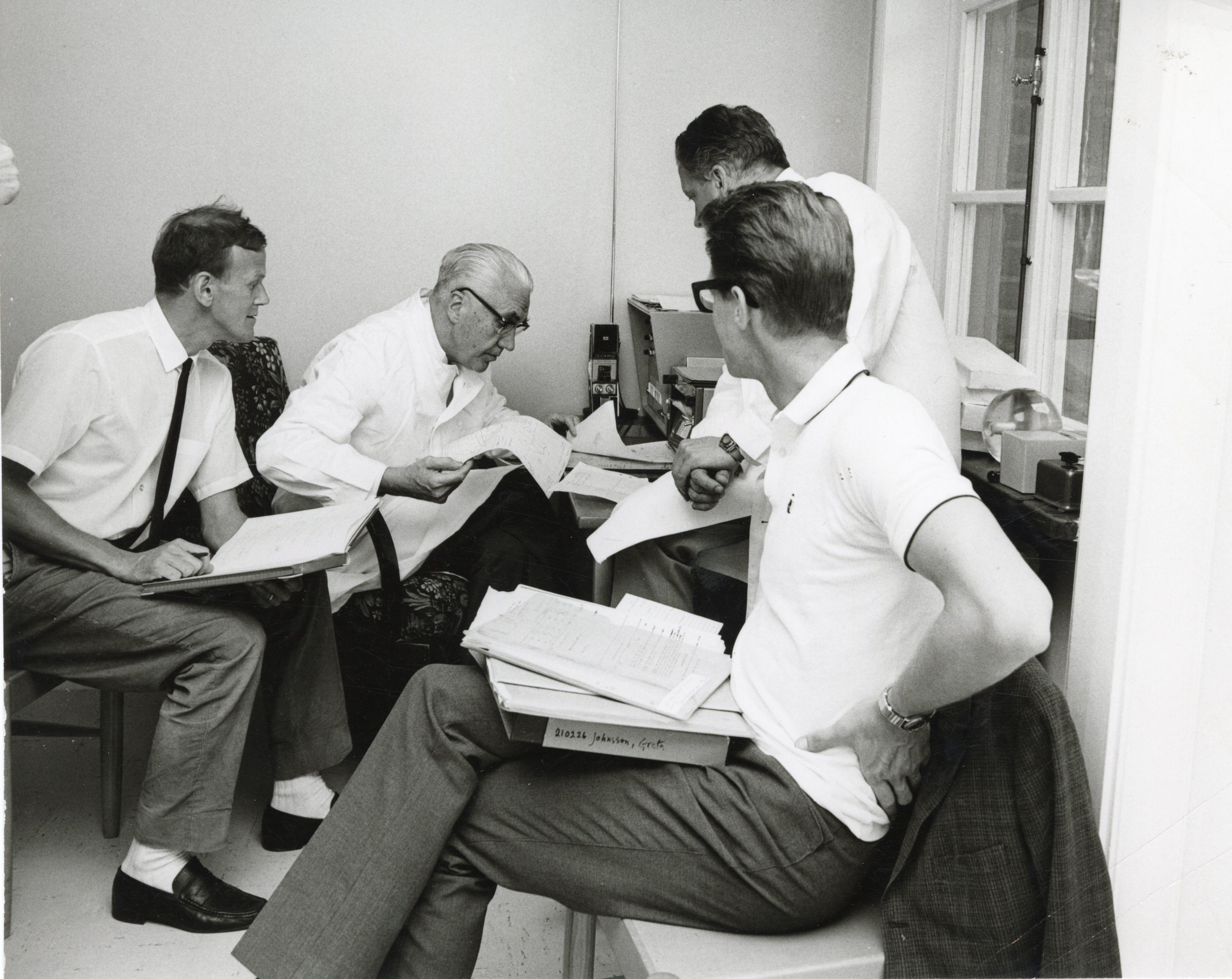 Lars Leksell was a pioneering researcher and innovator. He was also keen to ensure that his scientific work would lead to applications that would be used and disseminated internationally. But he did not want to be in the limelight or do any pr-work for the technique, says his son Dan Leksell, himself a doctor and for many years responsible for research and development at Elekta.
"Dad was not particularly fond of travelling around the world and talking about what he did. He was quite shy and insecure when dealing with people and never spoke freely, preferring to use carefully prepared manuscripts."
Dan's brother Larry Leksell agrees and remembers a memory from the 1970s.
"Dad could be social and charming, but fundamentally he was quite shy and introverted. When he was older, he could sometimes take sick leave at short notice ahead of a lecture. I remember once when I was on a trip to Boston, where dad was to receive one of the finest medals in neurosurgery and was an honorary speaker. But shortly before the speech, he laid down in the hotel room and insisted that I take over. I only had a few key points to go on, so it was no easy task to deliver an unprepared speech in English in front of the world's leading researchers in the field."
Disciples around the world
But in his daily profession, Lars Leksell was a fervent communicator – and he gathered disciples and ambassadors for the stereotactic method and radiation surgery around him. His sons Dan and Larry Leksell along with a number of doctoral students became early external faces for the new technique.
"We continuously shuttled back and forth to all the congresses and lectured on new treatment methods and indications," says Dan Leksell.
Lars Leksell planted ideas for potential developments in his students but then let them assume responsibility for their own projects.
"It was often the case that dad got an idea, for example using radiotherapy on the acoustic nerve. He used radiotherapy in a single case, then waited for the results over six to twelve months and published a case report. He would then approach his employees, in this case Georg Norén, and say: you should develop this indication. In this way, the message about the new technology spread around the world in a credible way and for a long time," Dan Leksell explains.
Letting the students shine
One of Lars Leksell's first students and close associates was Erik-Olof Backlund, known as "Backis". He participated at an early stage of the development of radiosurgery and focused his research on stereotactic treatment of pituitary tumors. At the Nobel Symposium in 1968, Backlund lectured on the first successful clinical trials with the Gamma Knife at the Sophiahemmet private hospital, a method that was considered controversial at the time.
Backlund defended his dissertation in 1972 and became an associate professor of neurosurgery at the Karolinska Institute (KI) and chief physician. He became something of an international celebrity when he performed the first transplants of adrenal medulla tissue to the brain for the treatment of Parkinson's disease.
Another Leksell student was Björn Meyerson. He became a pioneer in functional neurosurgery, especially in the treatment of severe pain conditions through electrical stimulation of the nervous system. Eventually, Meyerson became head of the neurosurgery clinic at KI and professor of clinical pain research.
Leksell student Sten Håkansson accidentally discovered a new treatment method for trigeminal neuralgia, a painful facial disease. It turned out that the injection of glycerol to the nerve had a pain-relieving effect. The method was the focus of Håkansson's doctoral dissertation and was widely circulated internationally.
Tiit Rähn primarily studied radiotherapy of lesions in the pituitary area. Ladislav Steiner, who together with Lars Leksell introduced radiation surgery as an effective treatment for arteriovenous malformations, was responsible for general training in the neurosurgical technique. Christer Lindquist was also active in radiation surgery and together with Steiner introduced microsurgical techniques to the neurosurgery unit at KI. Over a number of years, special courses were organized in radiation surgery that were headed by, among others, Tiit Rähn, Christer Lindquist, Bodo Lippitz and Bengt Karlsson.
The importance of Dade Lansford
But it was not only young Swedish researchers who were spreading the message about radiation surgery around the world. A decisive contribution was also made by the American Dade Lunsford. He graduated in medicine from Columbia University College of Physicians and Surgeons in 1974. A few years later, he was a guest researcher in stereotactic and functional neurosurgery at KI for a year and received his training from Lars Leksell and Erik-Olof Backlund. During his stay in Stockholm, Lunsford began to realize the potential of radiation surgery, not least thanks to his personal contact with Leksell, who had already retired at the time, but who liked to spend a lot of time at the clinic with his young colleagues.
Back in the US, Dade Lunsford started lecturing on the radiation knife and the potential of radiation surgery. In 1987, he ultimately managed to get the first Gamma Knife for clinical purposes installed in the US, at the University Hospital in Pittsburgh. Lunsford's scientific work was an important contribution to the international breakthrough of the Gamma Knife.
In recognition of his pioneering work in stereotactic surgery and radiosurgery, Dade Lunsford received the Herbert Olivecrona Award in 2017, commonly known as the "Nobel Prize in Neurosurgery". He is today the holder of the Lars Leksell Professorship in Neurosurgery at the University of Pittsburgh.
Discover more of our story
The Early Years
1972 - 1986
A Company Grows Up
1986 - 1993
Important Turns
1994 - 2005
A Modern Approach
2005 - 2022